It feels like a miracle, but we've gone from absolutely zero closet space in our bedroom (when we moved in we just had dressers) to having just as much space as our last house's big walk-in closet! We've previously covered how we installed Ikea Pax wardrobes and how we made them look built-in, so today we're throwing open every door & drawer to show you how we've organized them. If you're looking for tips to maximize your storage & specific products that can make it feel more customized, this is the post for you.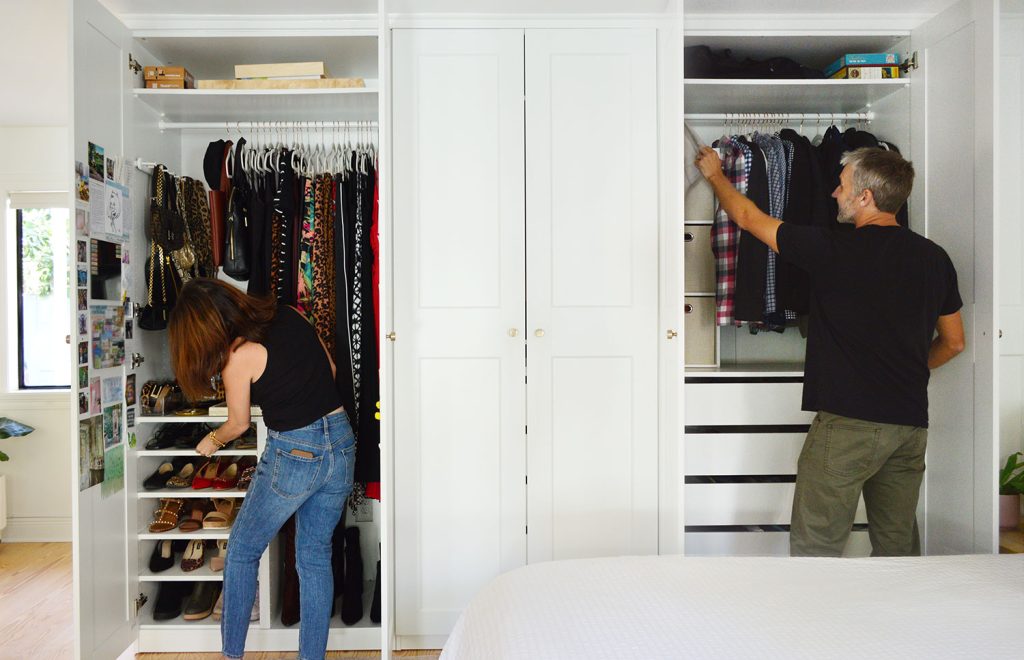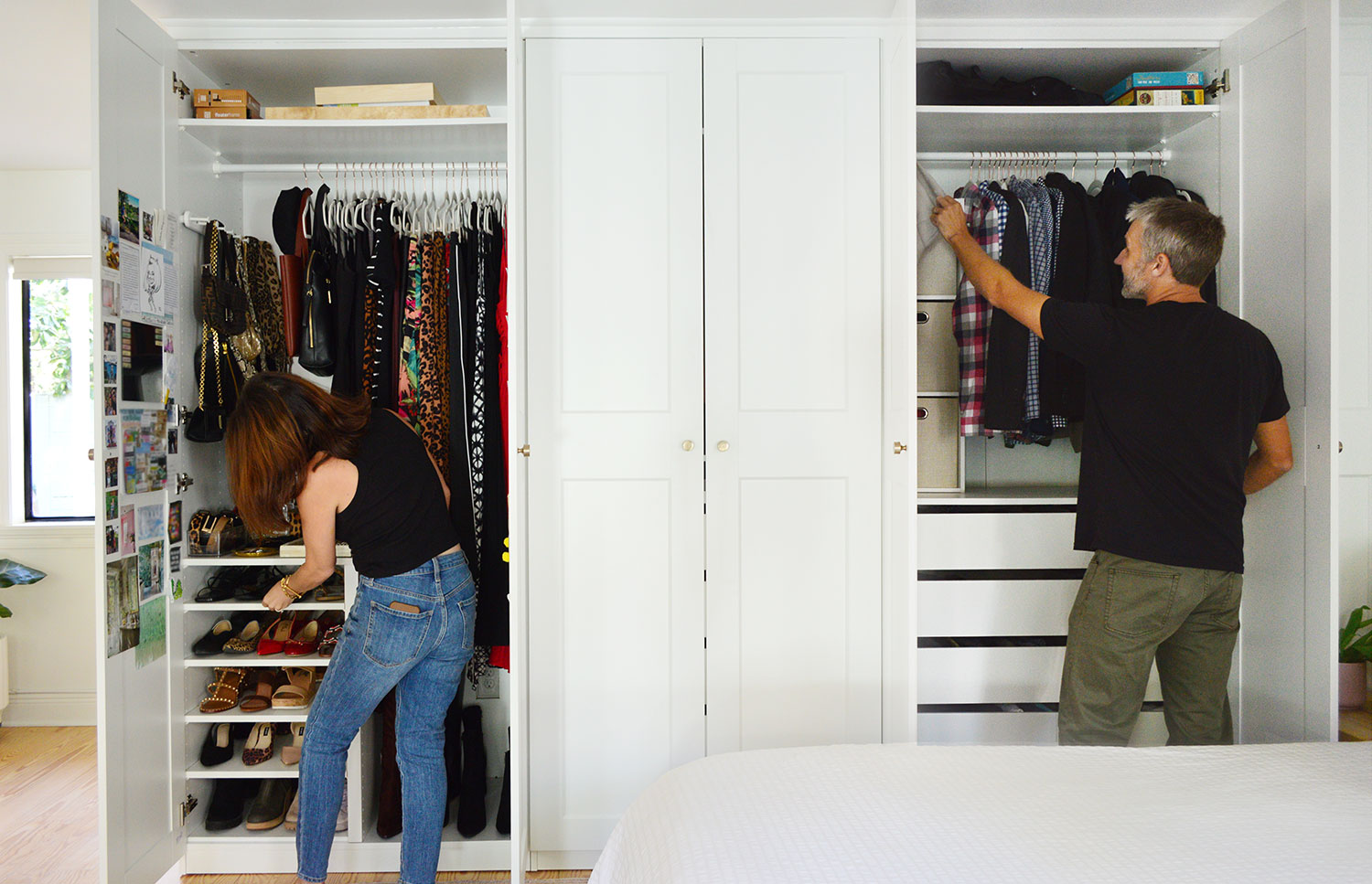 It should be said upfront that neither of us have what we'd call a large amount of clothing (although I've always had a thing for shoes and jewelry, so there's still plenty of that going on). You can read all of my tips for curating a minimal closet here – but I've actually been able to expand mine a bit lately, thanks to all of the storage we've added to our bedroom over the last 3 years.
Since our house is in a mostly-finished phase and we're spending a lot less on home renos than we have for the last 15 years, I've been having fun finding secondhand clothing/bags/shoes/jewelry with some of the cash I'm not spending on furniture and Home Depot runs – ha! So you'll see a little bit of that too (there's a video tour in here for you as well).
Why We Love Ikea Pax Wardrobes
The Ikea Pax closet system is popular for a reason. It's highly customizable, offers tons of interior fittings and organizers, and can also be "hacked" with paint, hardware, and more to give it a personalized look. This is the third house we've used it in (here was the first, over 15 years ago!) so it was a no-brainer for us when we wanted to add a wall of built-in closets to this room.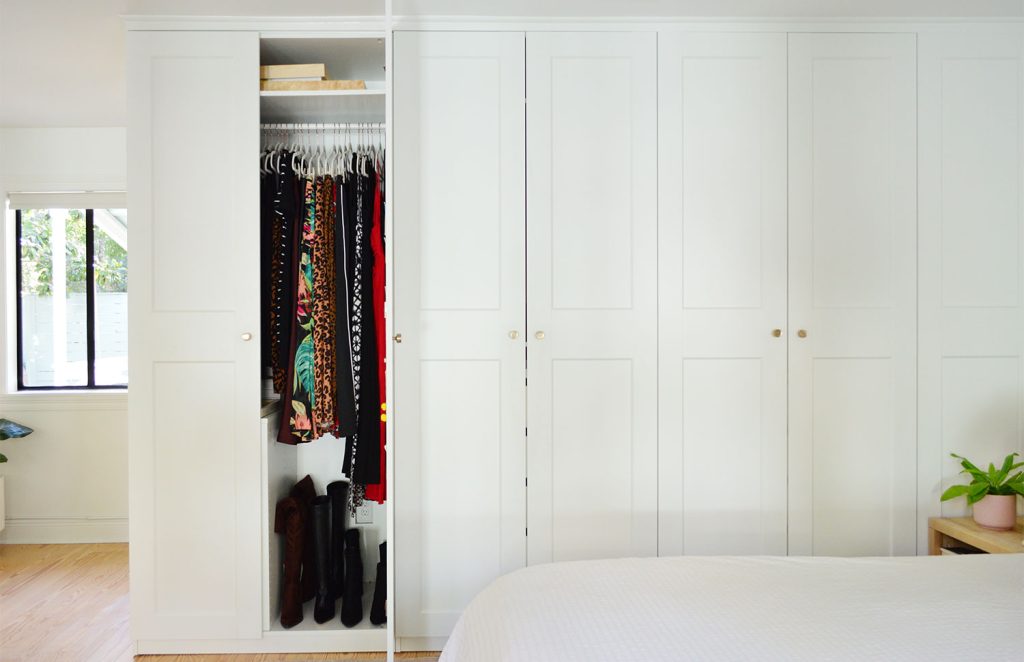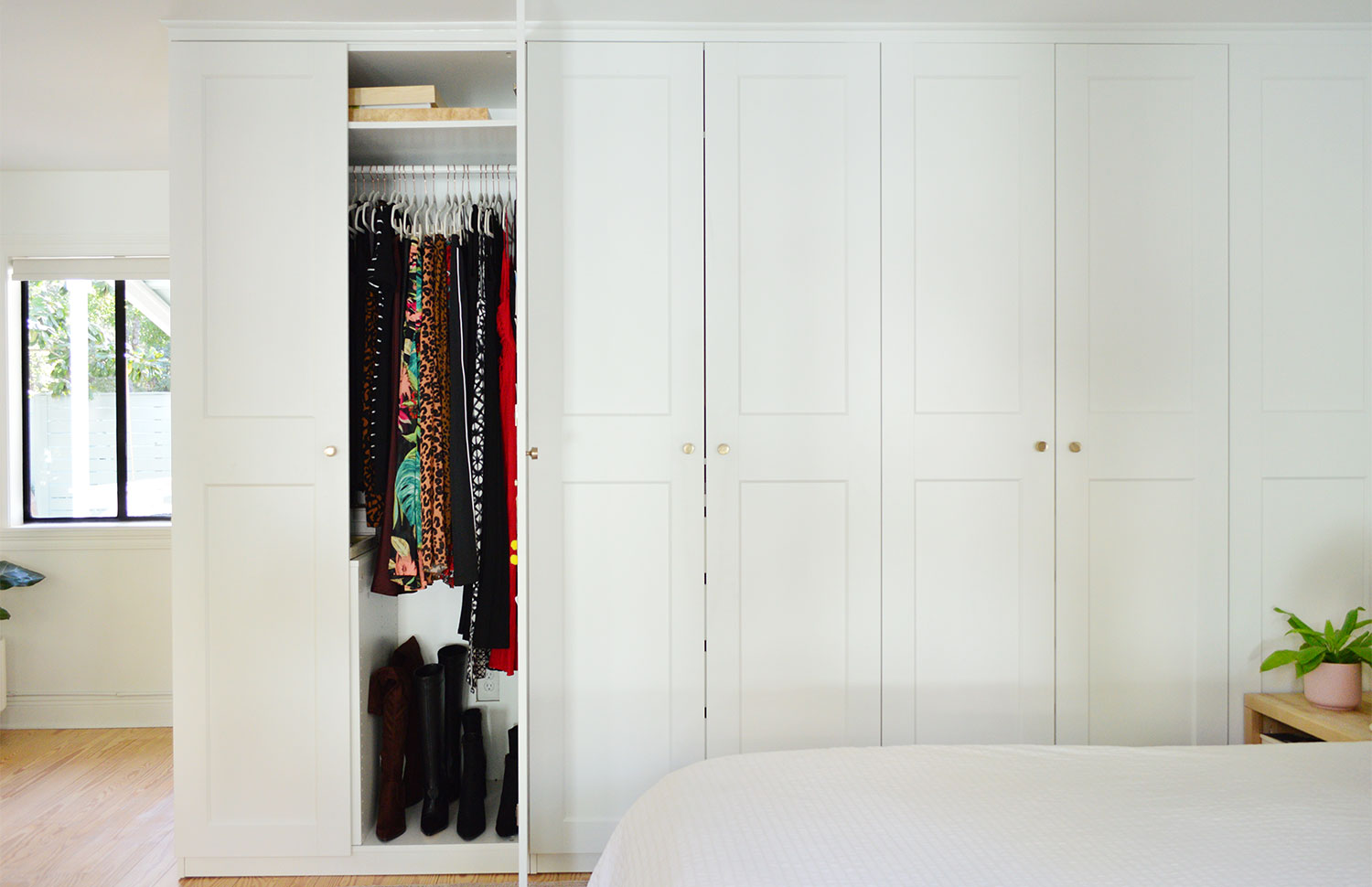 We were able to fit three 39″ wardrobe boxes (double doors) and one 19″ box (single door) along this wall (that's all the way to the right without a brass knob in the photo above). The three larger wardrobes – seen open below – act as our day-to-day closets. The smaller closet on the end contains our holiday decor and is only accessed very infrequently (John's nightstand easily moves out of the way for the couple of times a year we need to get in there).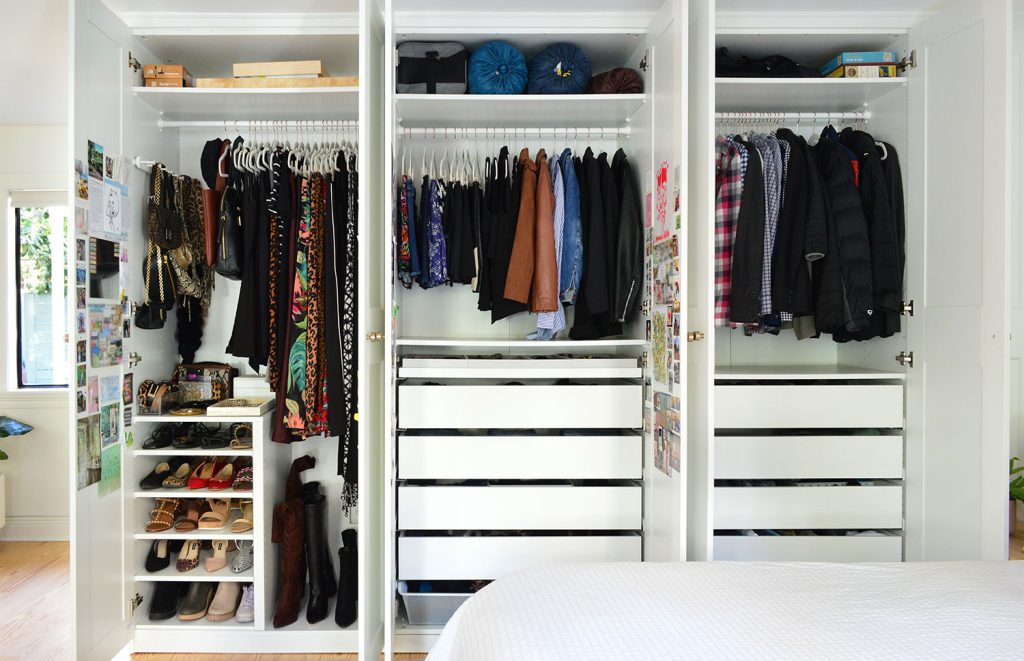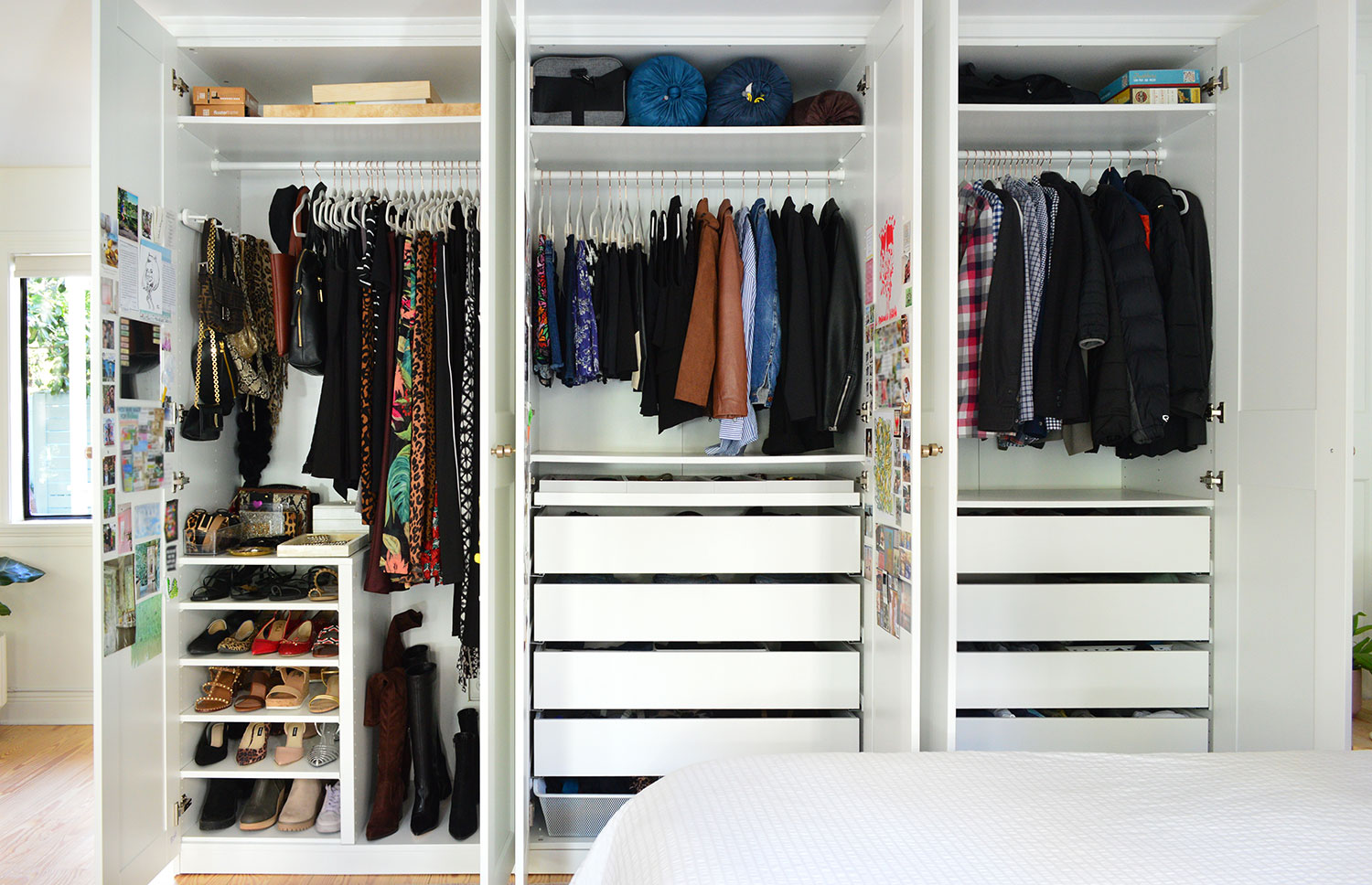 We used a lot of Ikea's interior fittings but also added some other systems along with things we already had to make each section work as hard as possible for us. Don't worry, we're rounding up everything at the end of this post for you.
Closet Organization Video Tour
You can see me open every door and drawer in the video below, so whether you want to see how things are organized or just want to poke around someone else's closets (sounds fun to me), here you go:
Note: You can also watch this video here on YouTube.
The Left Closet: Sherry's Shoes, Everyday Accessories, & Long Hanging Storage
Now we'll take you through each section one by one. The left wardrobe is the one we added earlier this year and it has really been a game changer, especially because it gives me room to store longer items like full-length dresses and boots a lot more easily.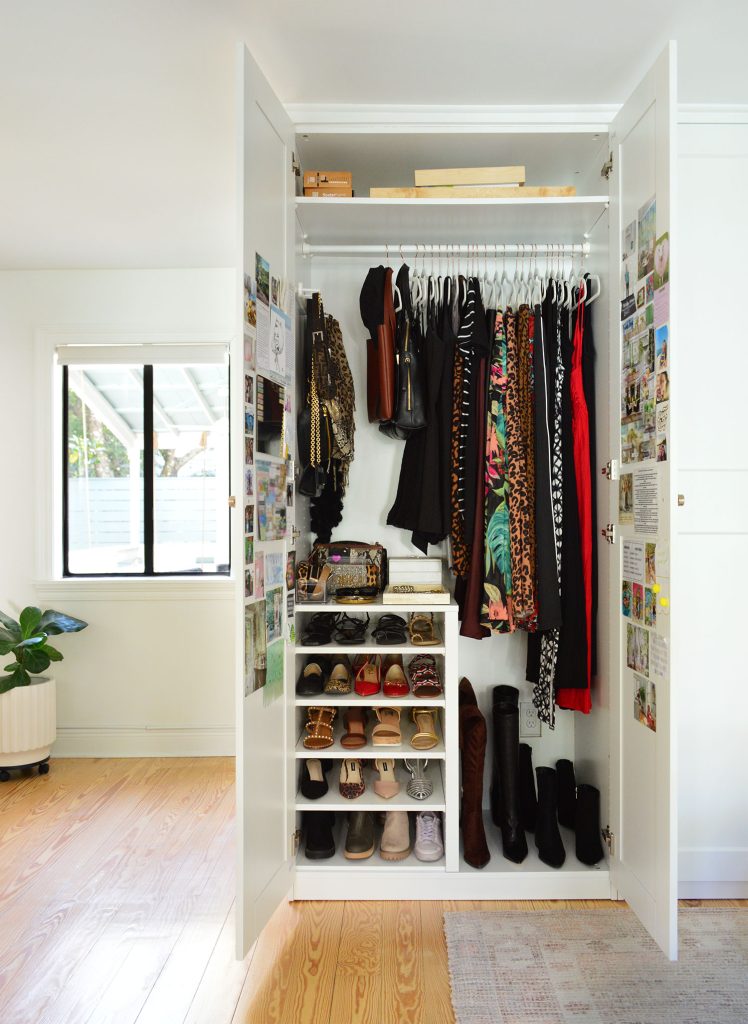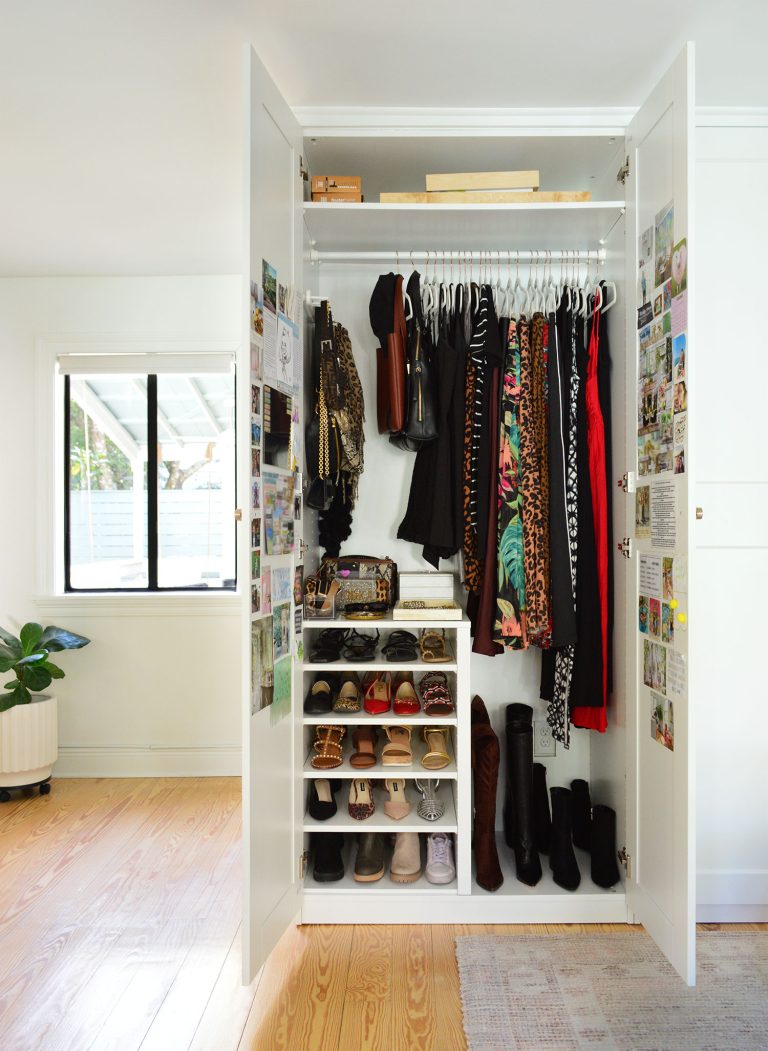 Rather than put in drawers like we did in the other two wide wardrobes, we added this Ikea divider to split the bottom into two 19″ sections. You can customize it with drawers or slide-out trays, but their slide hardware takes up more vertical space than these basic shelves.
With this configuration, I was able to fit 25 pairs of shoes and boots in here and, by lining each pair up toe-to-heel, I can see all of them from the front (the matching shoe is behind the front one). I still keep some other pairs of often-worn shoes in our kitchen porch cabinet, but this is a great spot for everything else.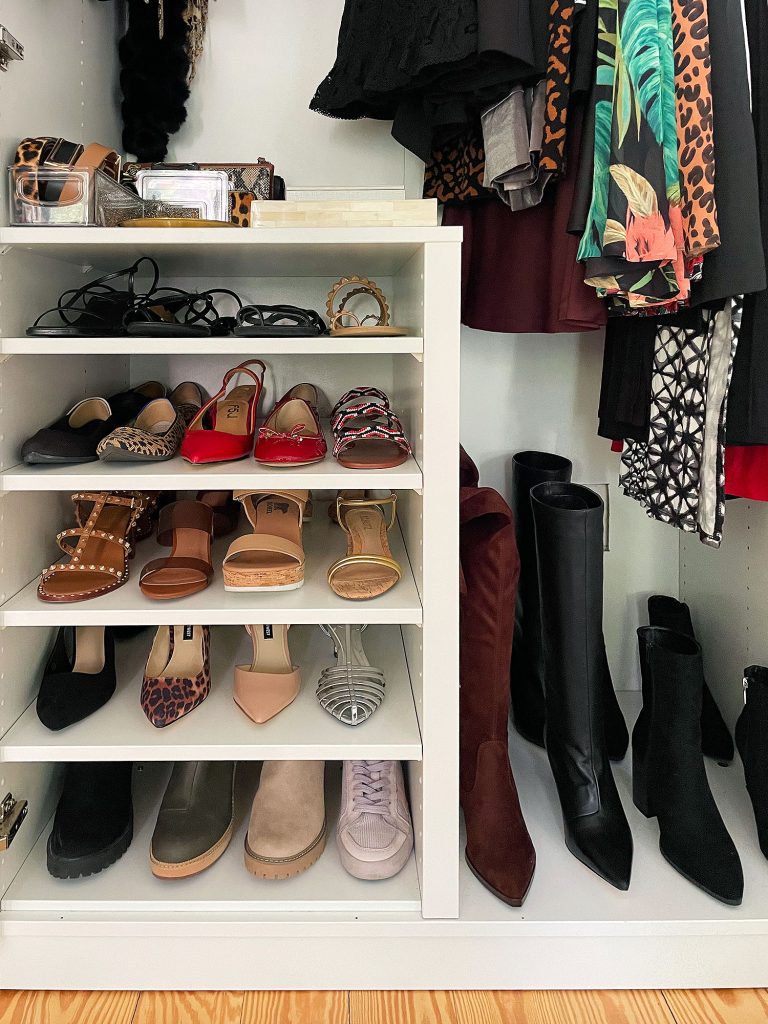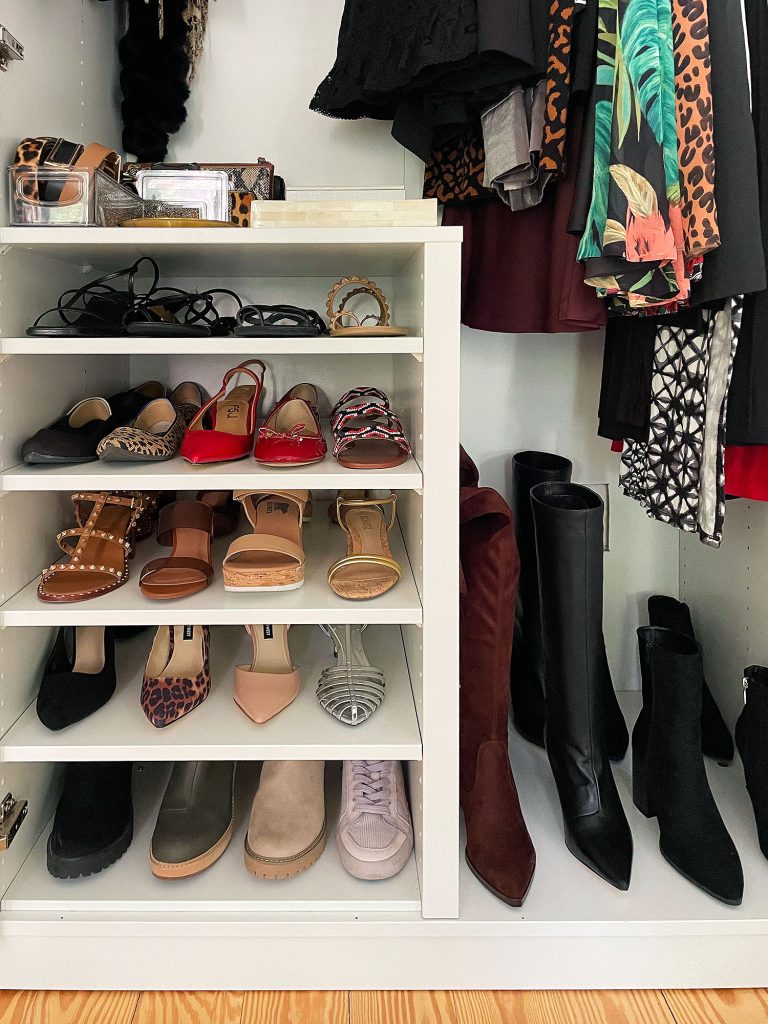 The top of the divider created a nice little landing spot for some everyday accessories that I tend to reach for, like belts, my fav sunglasses, purses/clutches, everyday jewelry I wear most often, and that sort of thing.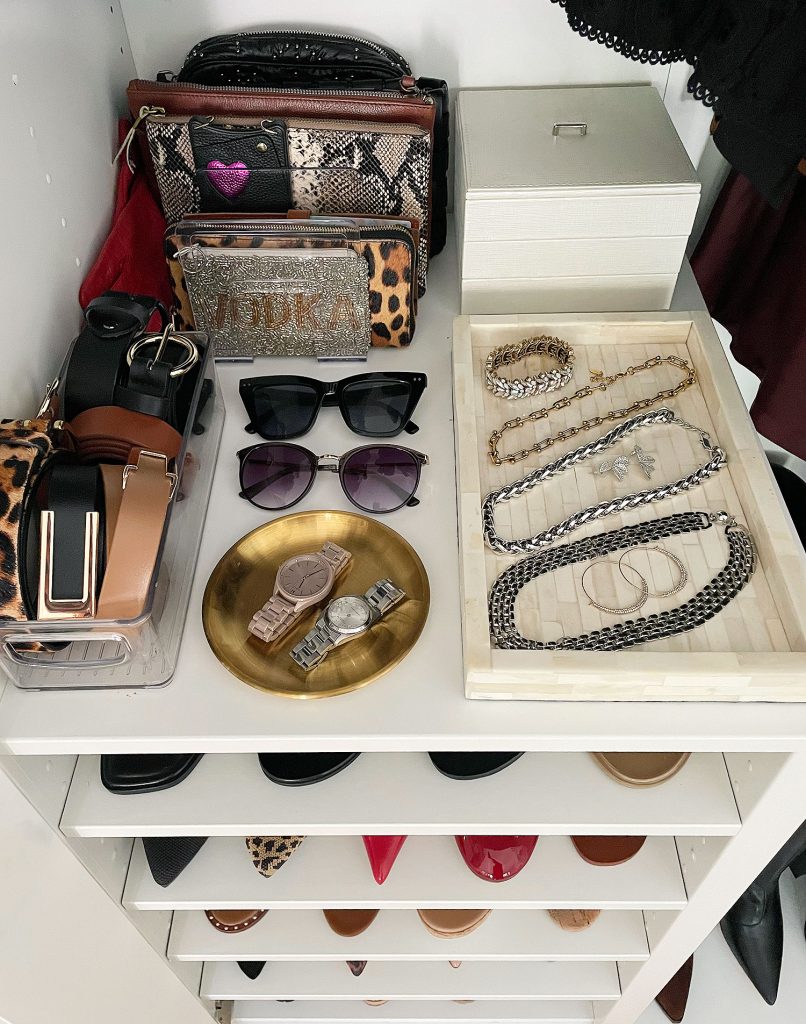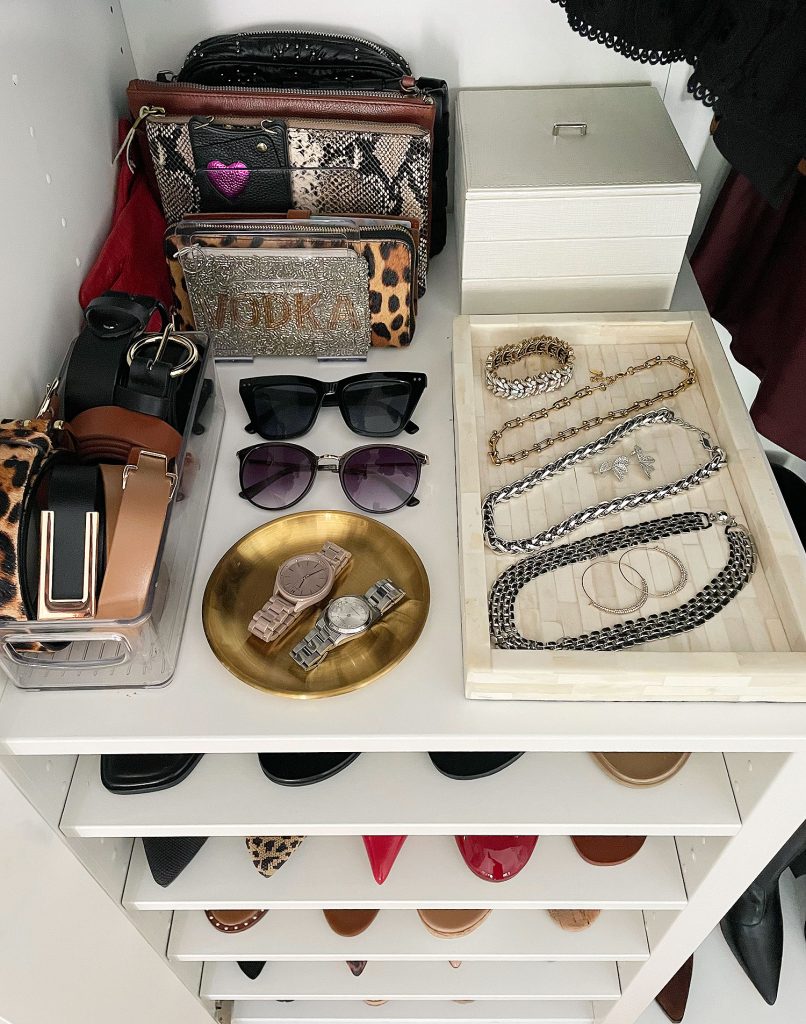 Some of the storage pieces up here are things I've had for a while, like this stacking jewelry organizer, but a more recent addition is this acrylic divider that I use for keeping my small clutches organized. It makes it so easy to slide something out without everything toppling over. Highly recommend.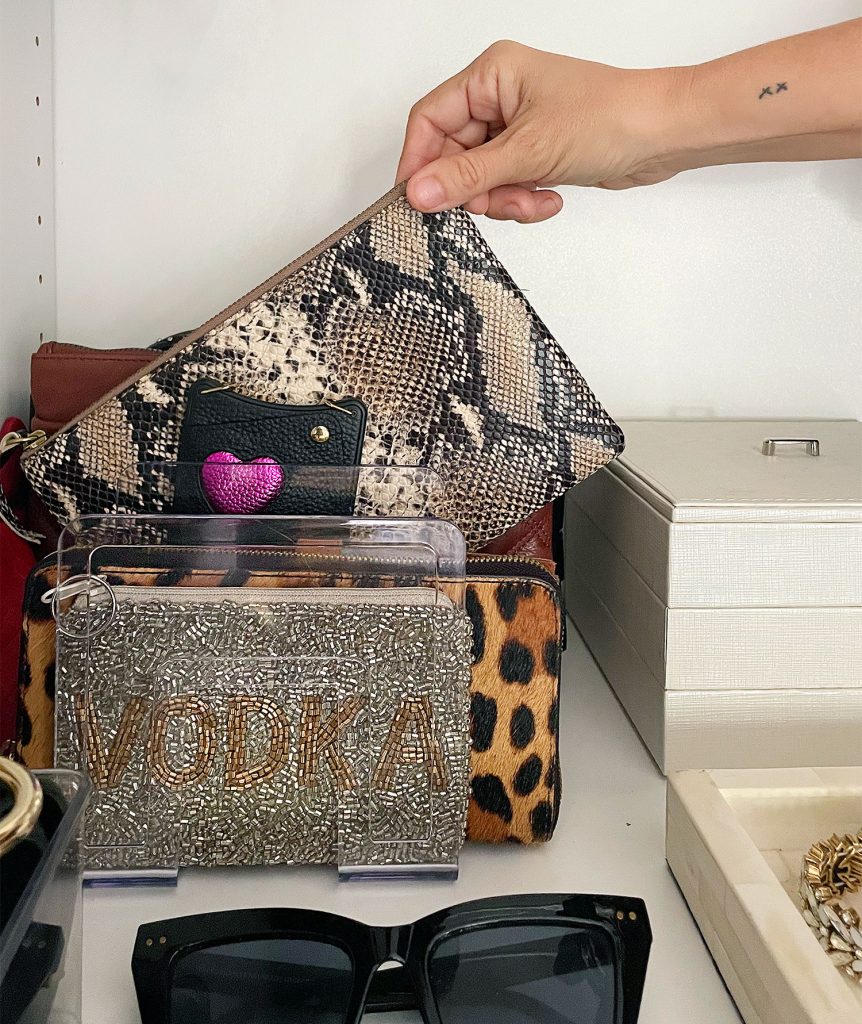 For my larger purses and scarves, we installed this pull-out hanger above the smaller items. You can see in the first photo of this section that I also have some bags hung over hangers too (be sure to watch the video for more info about why and where we put everything). It has been a great system for keeping all of my bags in one spot without taking up a lot of space. Also… why yes I did get a secondhand Fendi bag like the Jersey girl that I am. I'm a big fan of The Real Real, Poshmark, and What Goes Around Comes Around (as well as any and all in-person thrift stores). P.S. I like animal print, ok?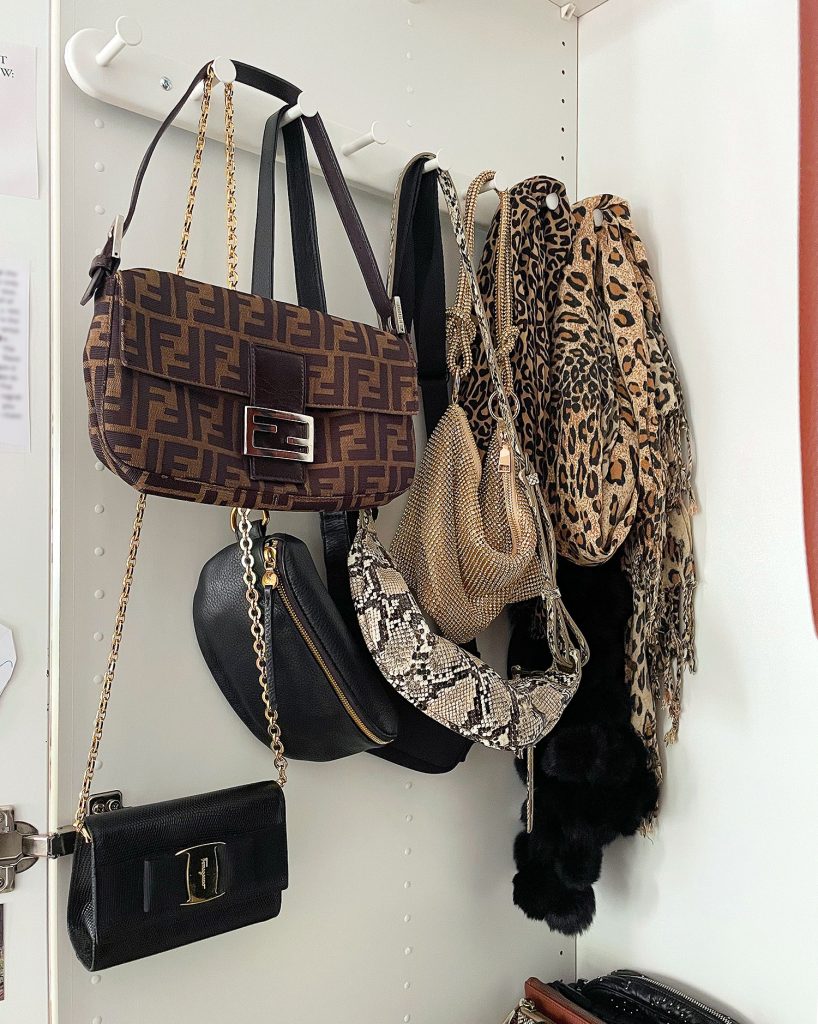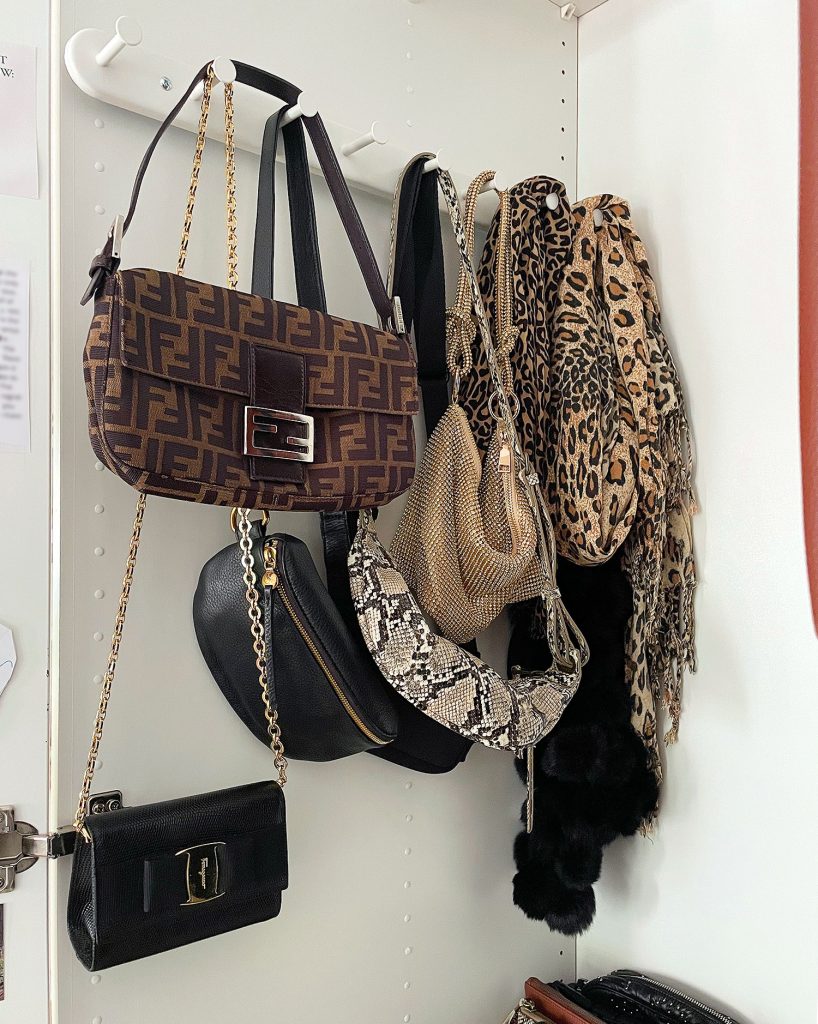 Oh and each of our three big wardrobes have a top shelf that's harder to access – John can reach it, but I need a stool – so we mostly keep miscellaneous stuff up there. For instance, in this section, I have some unused art frames and canvases.
You can also see that there is a mirror we hung on the left door (we blurred stuff that's personal like photos, drawings our kids made, etc), but that's really helpful for choosing sunglasses or throwing on a necklace or something. I also have another one of that same mirror on the left door of my other closet for makeup/earrings – just a small addition like that can make things feel super functional & efficient.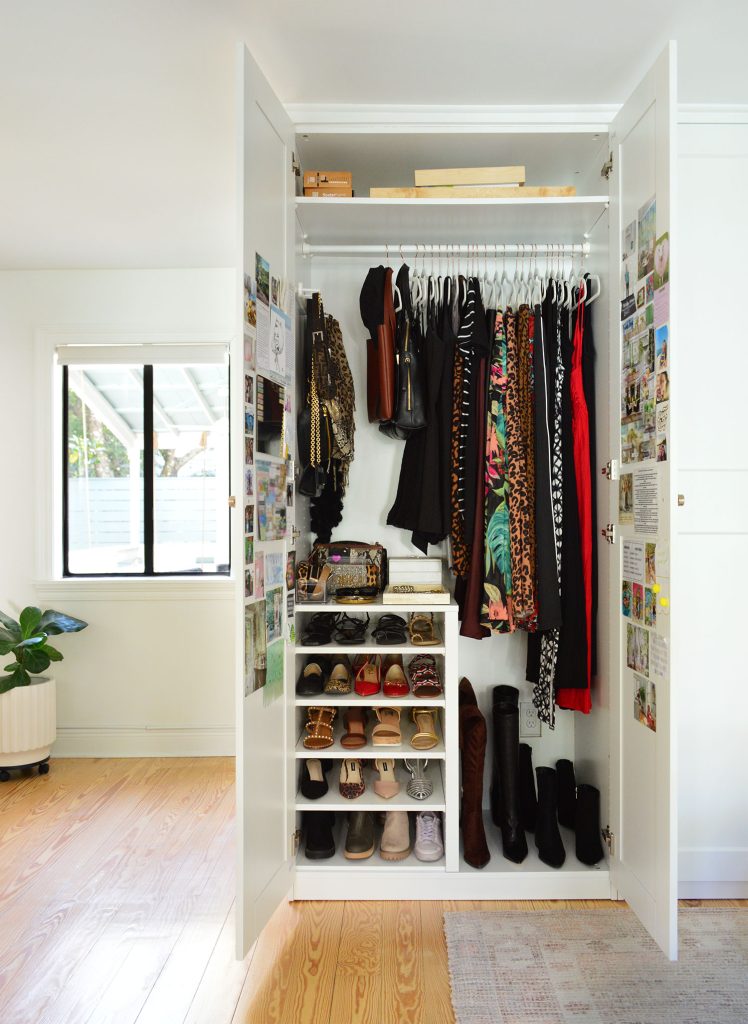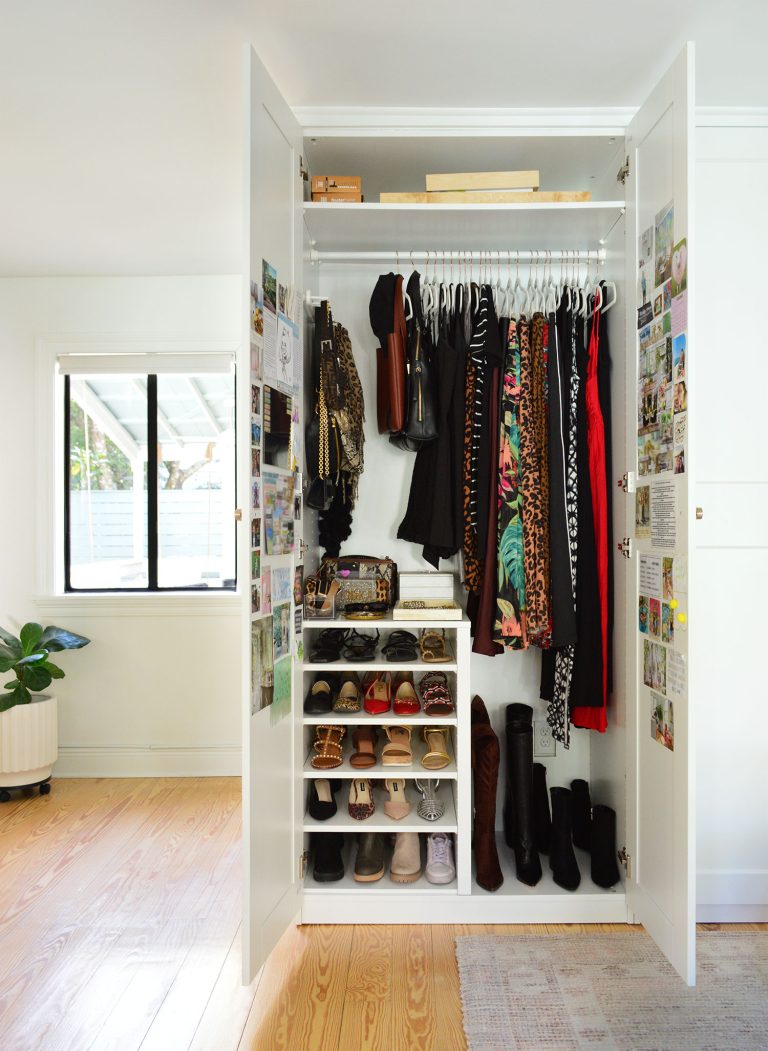 The Middle Closet: My Shorter Hanging Clothes, Folded Clothes & A Pullout Storage Tray
The middle section is also my stuff (John just needs a few drawers and a hanging bar and is happy as a clam – we'll get to his closet in a minute). Well, this wardrobe is also where we store sleeping bags and other travel stuff on that top shelf – but otherwise it's all my clothes in here.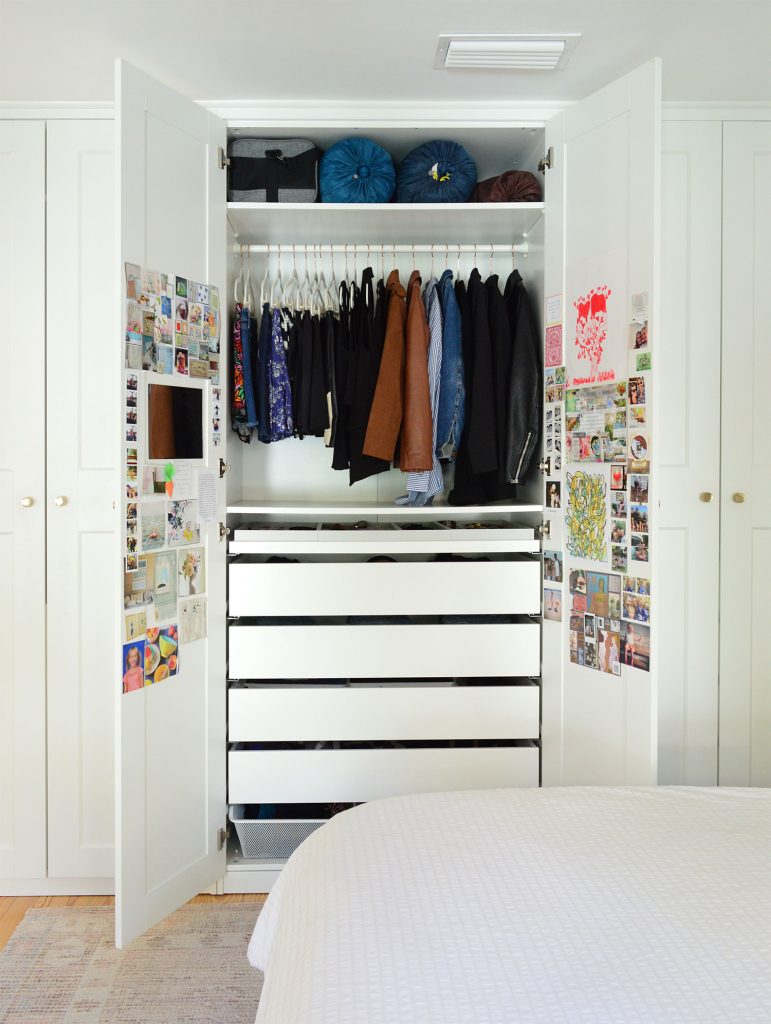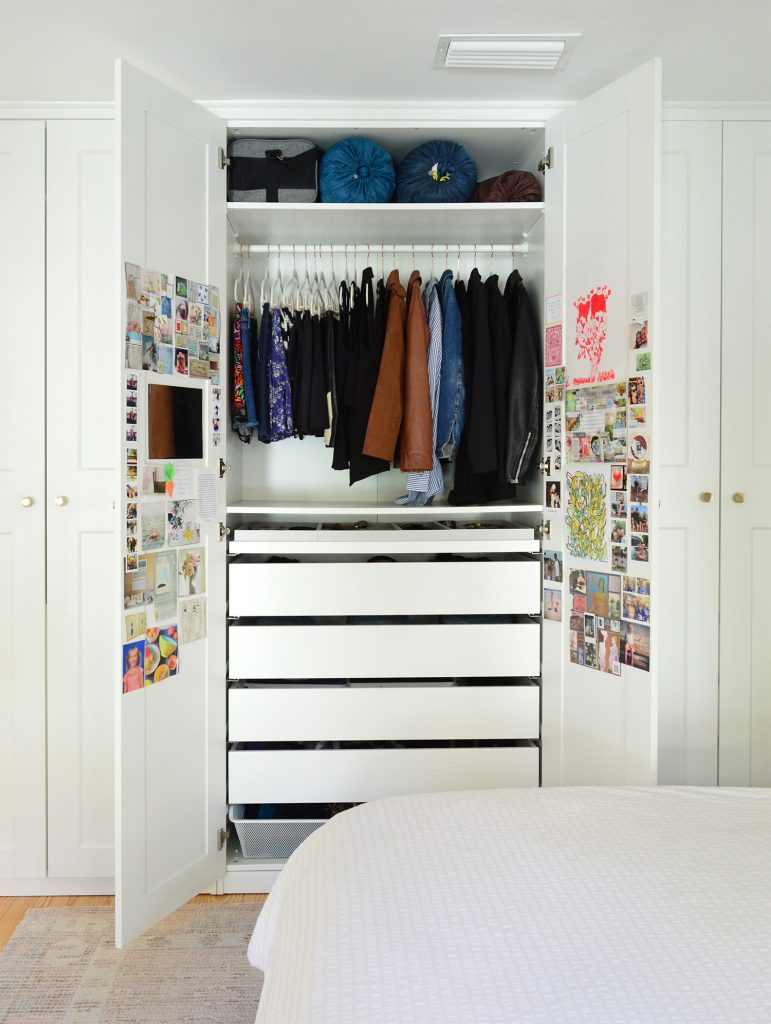 This wardrobe is set up like a pretty traditional closet. I've got my hanging bar up top and 6 drawers below. For our hanging bars, we're huge fans of these slim velvet hangers because they're so compact, they're non-slip, and they come in lots of colors (ours are rose gold). Sorry wood hangers, we've moved on 😉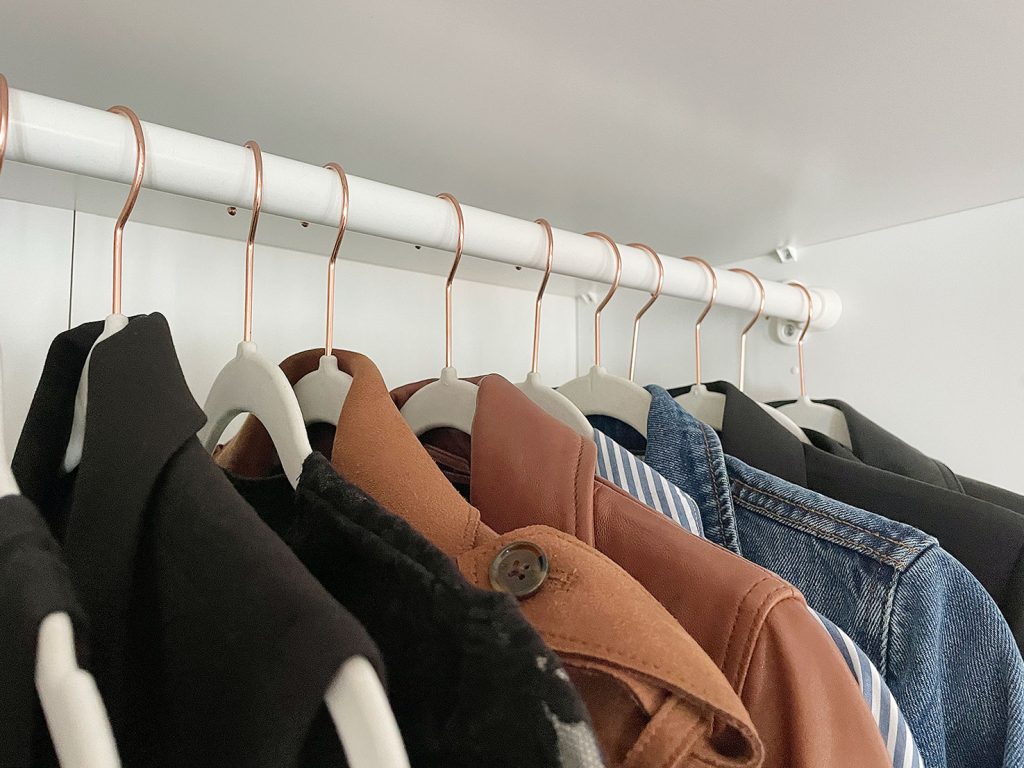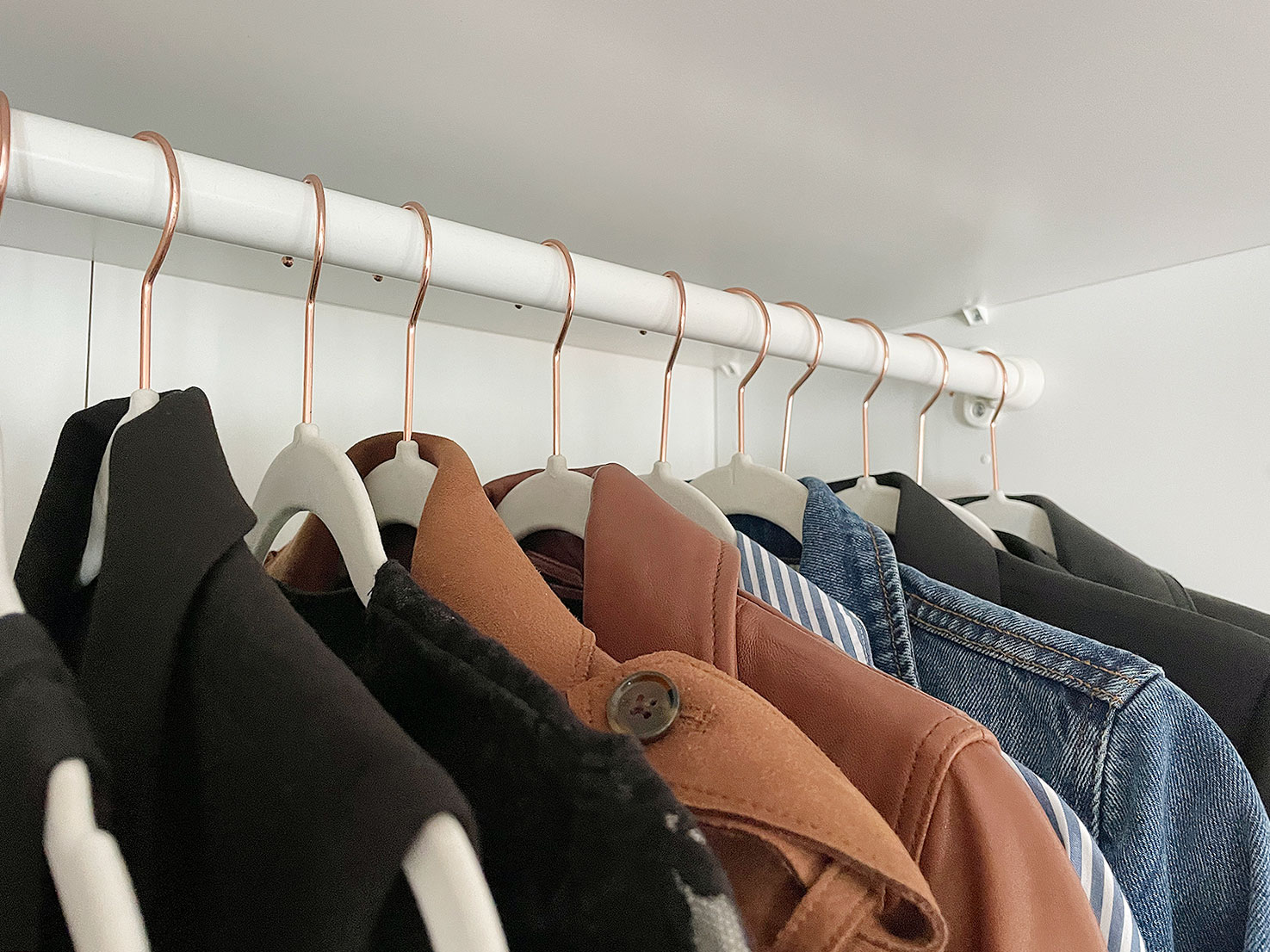 I also ordered some velvet hanging clips so I could use the same hangers for my skirts (shorter skirts are in this wardrobe, and longer maxi ones are in the other closet with my long pants and long skirts).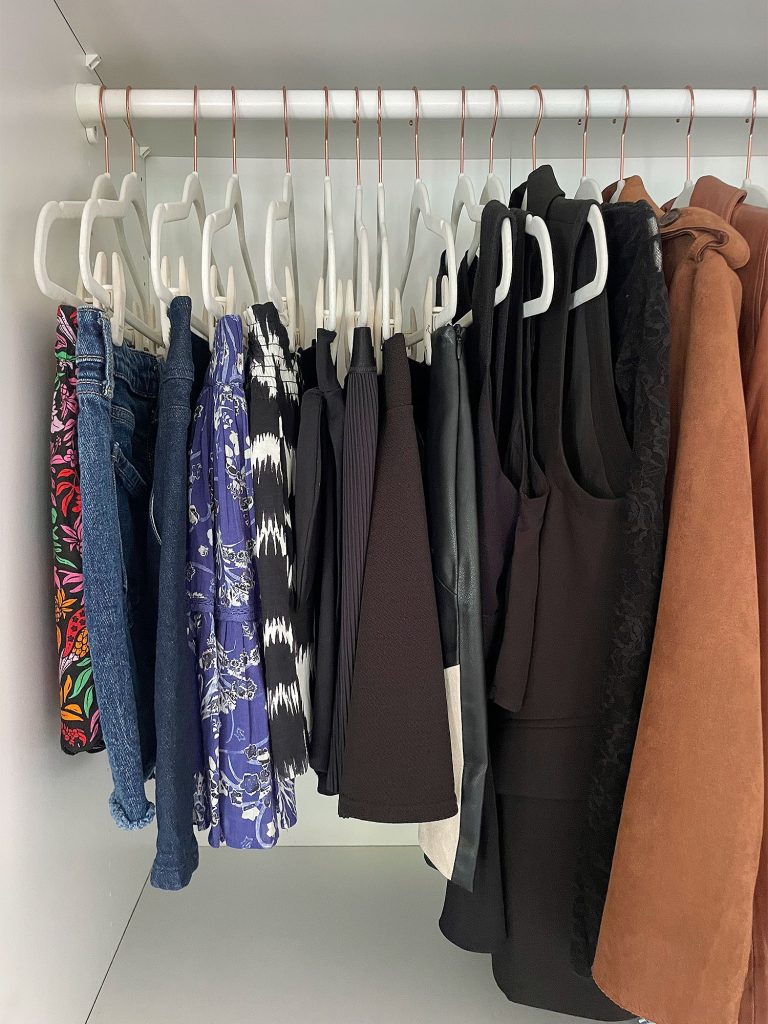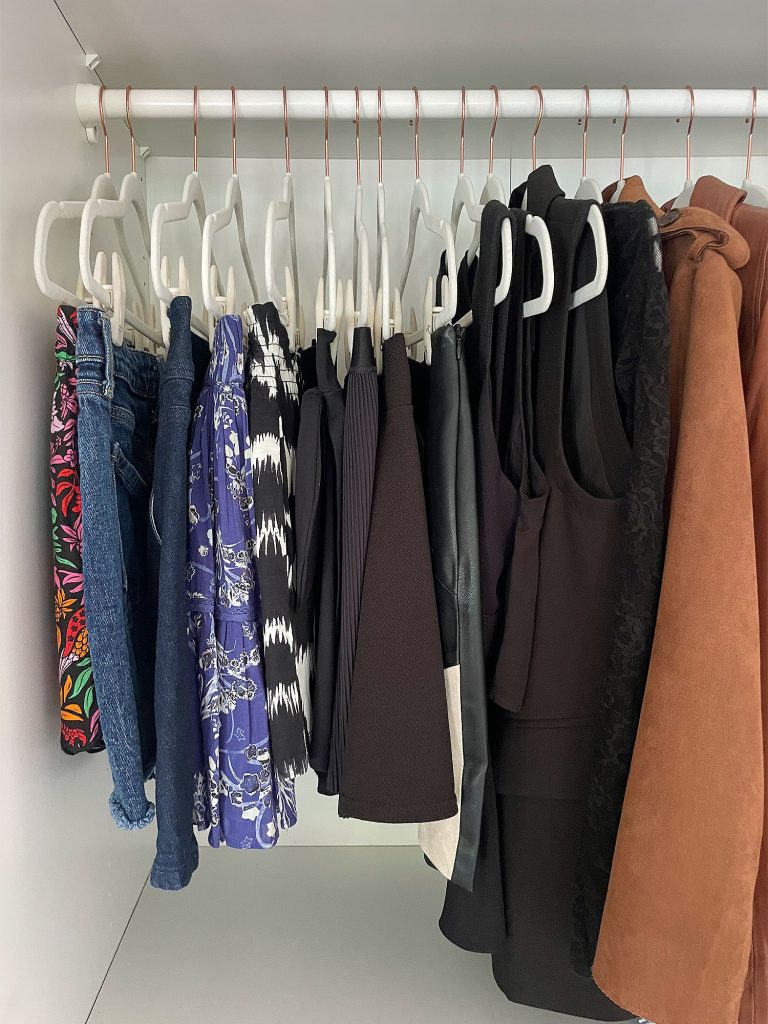 Under the hanging bar are the drawers with the rest of my clothes. Well, except for the top one which is a shallow pullout drawer outfitted with felt organizers.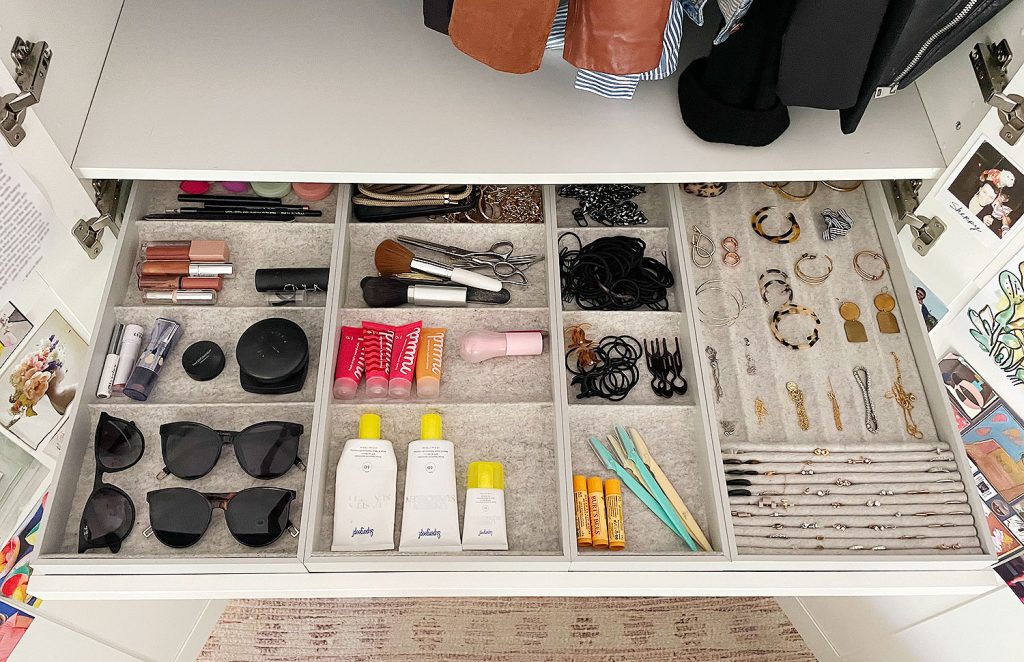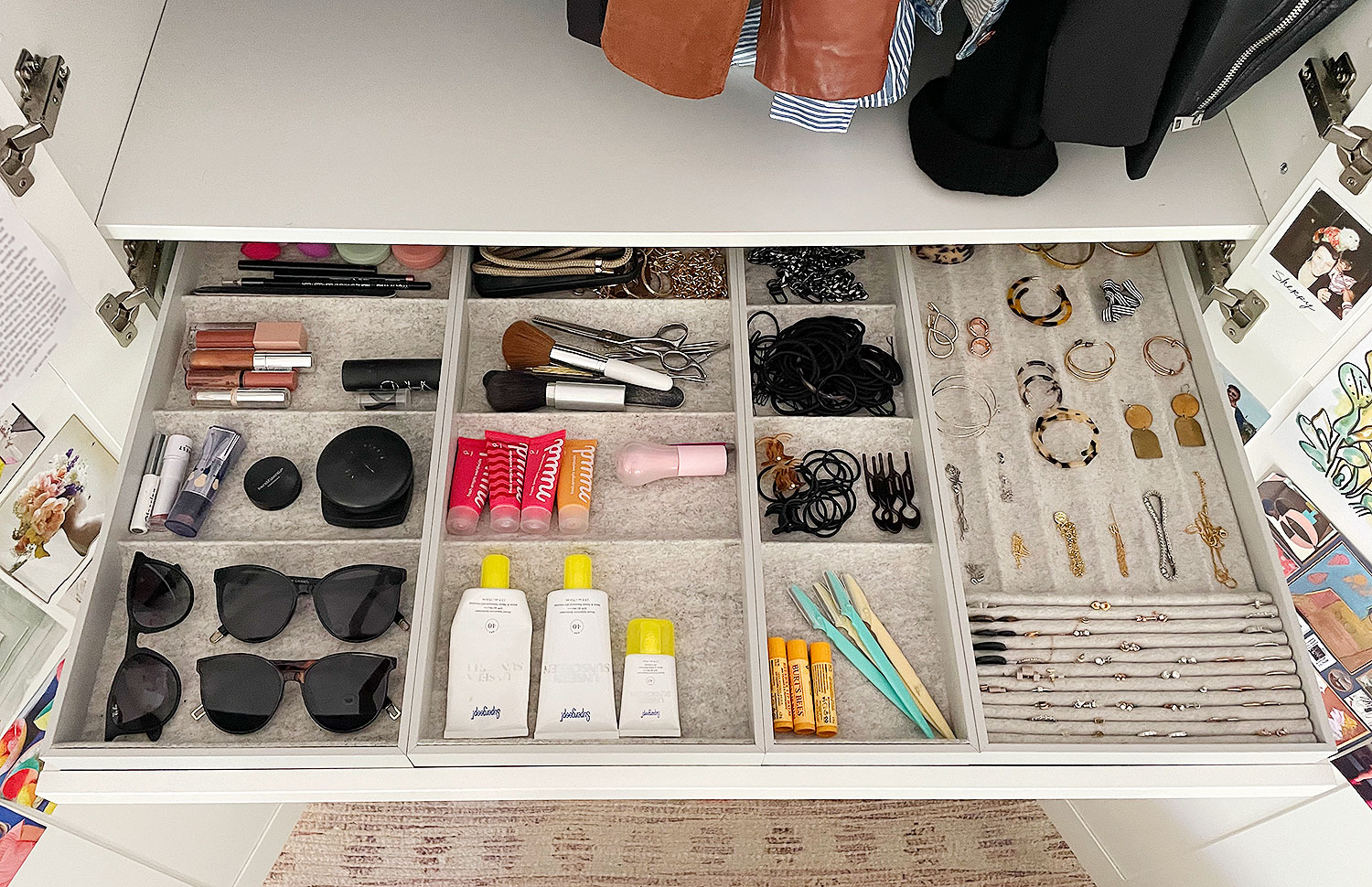 I've got random getting-ready stuff in here like makeup, deodorant, hair stuff, sunscreen, lesser-worn sunglasses and jewelry, etc.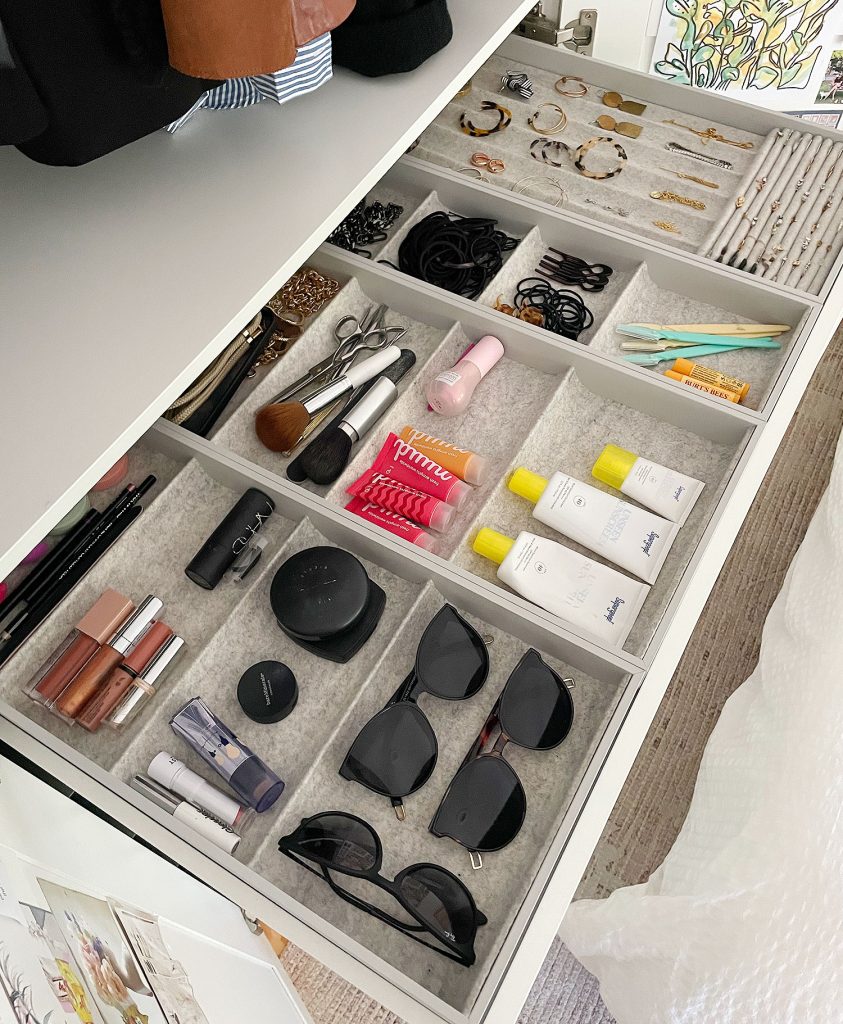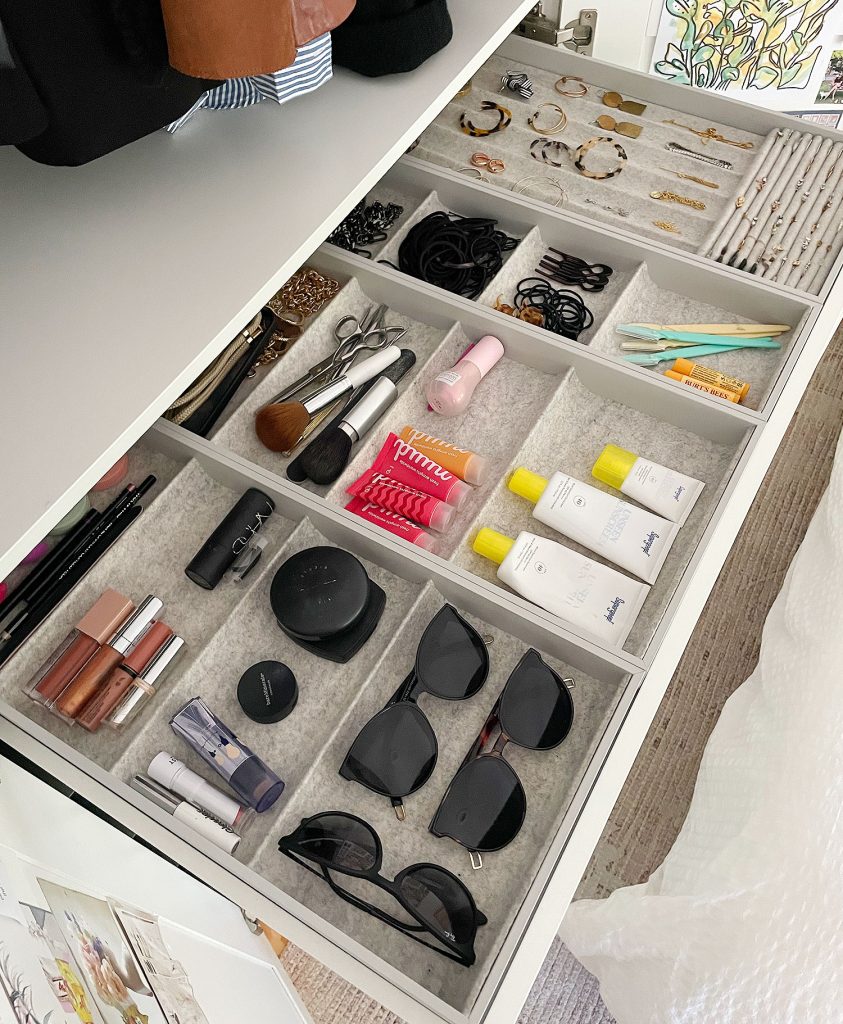 I especially love this section for storing small jewelry like rings, earrings, bracelets, and even stuff like spare buttons. And yes, those are tinkles razors that I use on my mustache. Me-ow.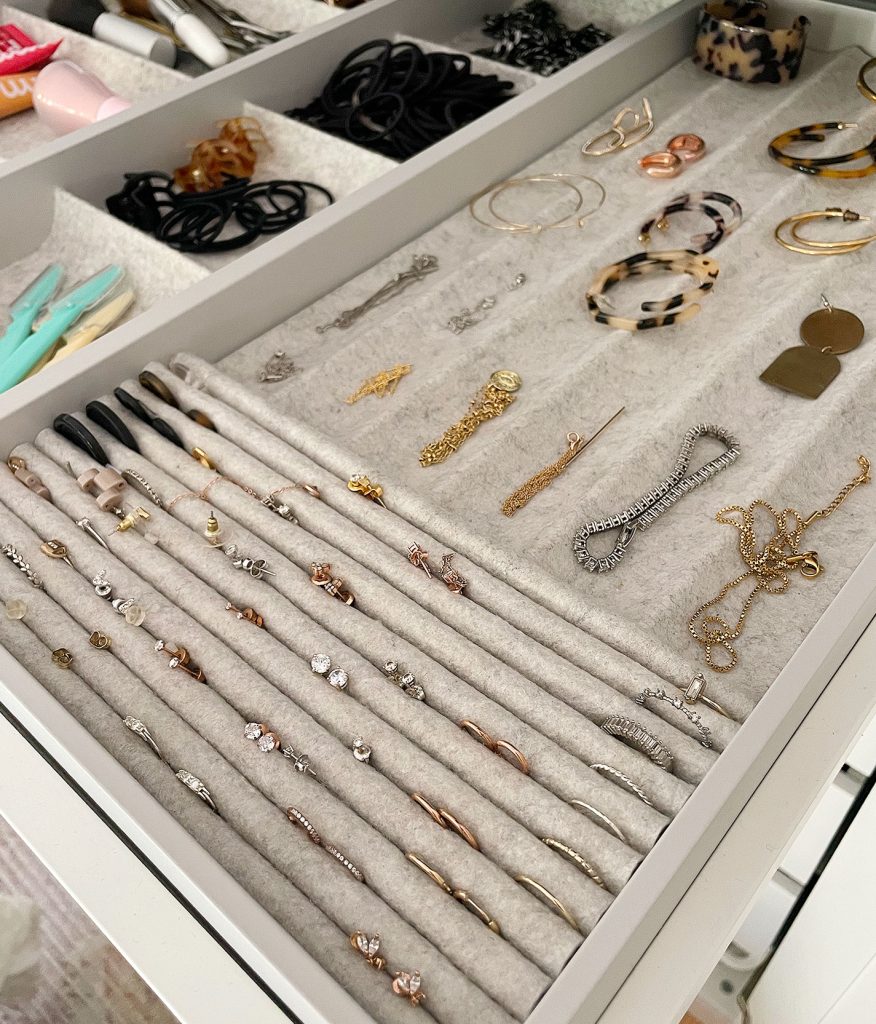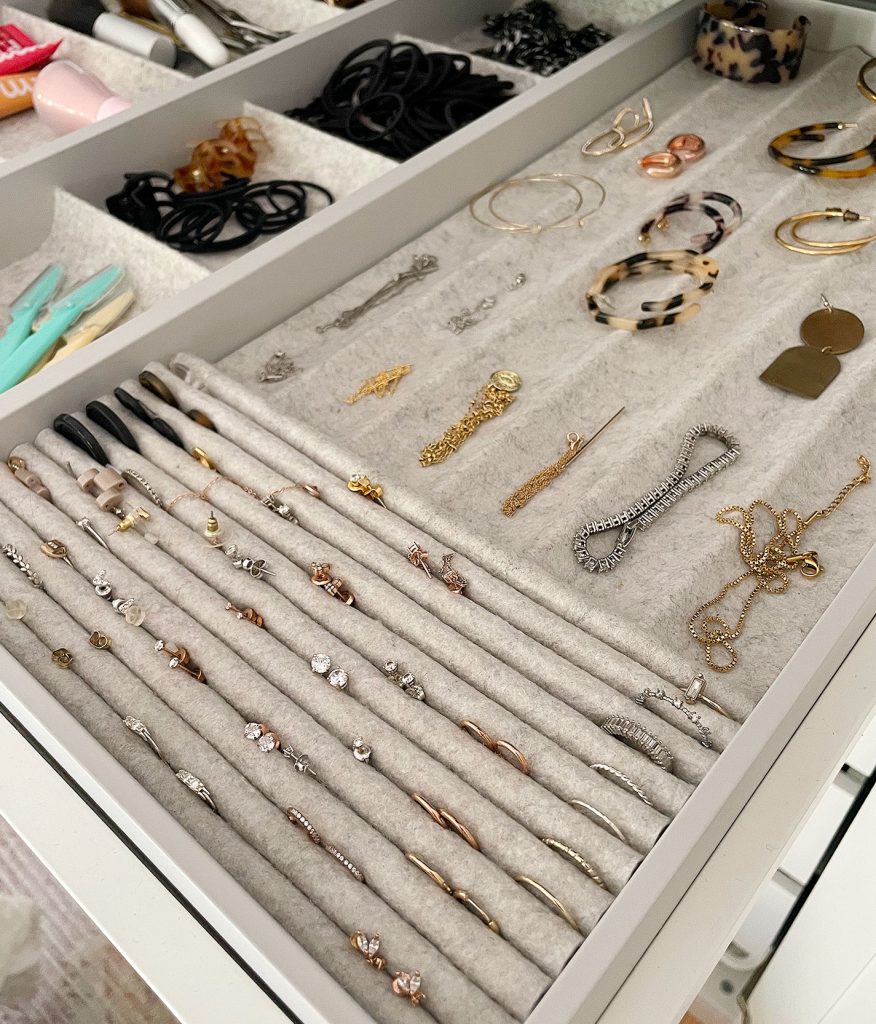 Below that shallow drawer are the rest of my clothes. You can see me pull all of them out and describe how they're organized a bit more on the video tour, but the top is basically socks and underwear and pjs and stuff like that.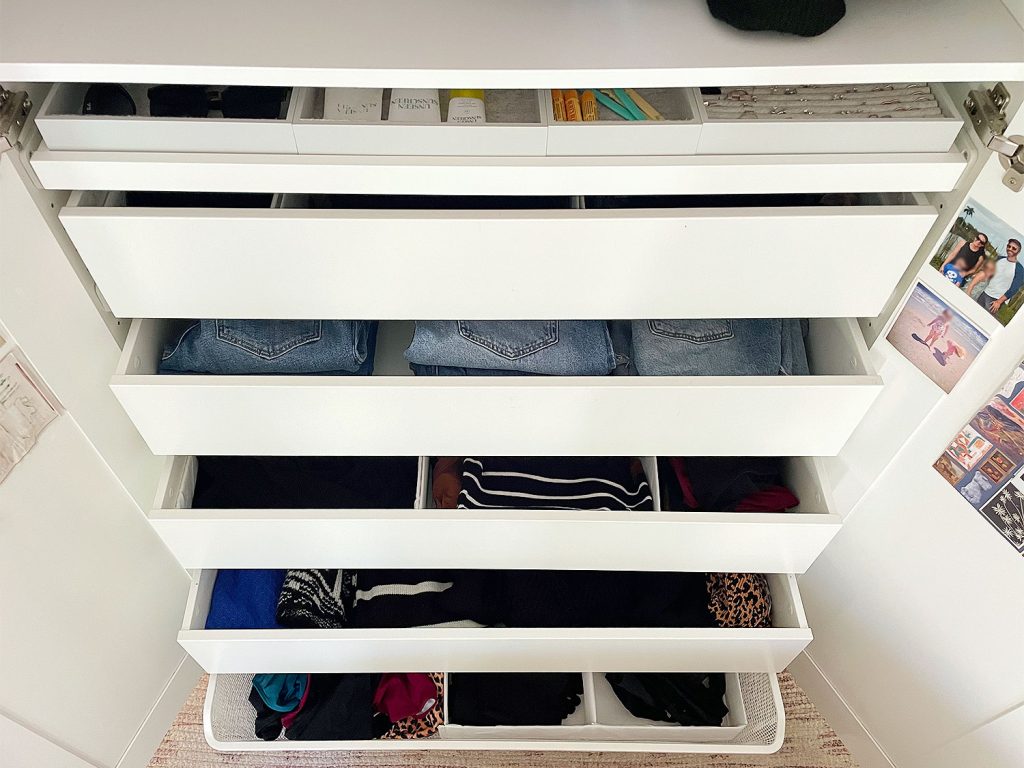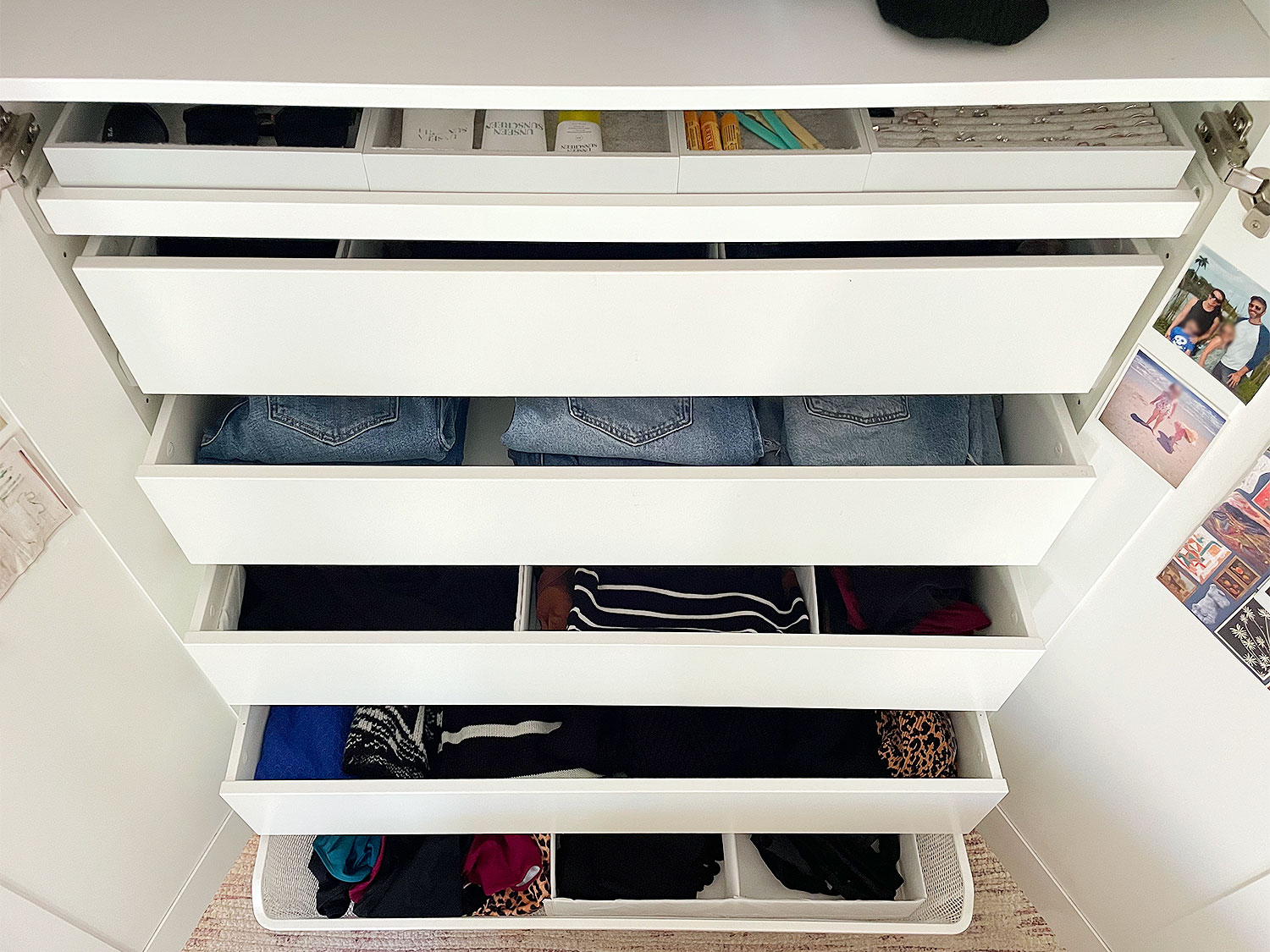 The drawer below that one is where I have all of my denim (the left two stacks are jeans and the right stack is jean shorts).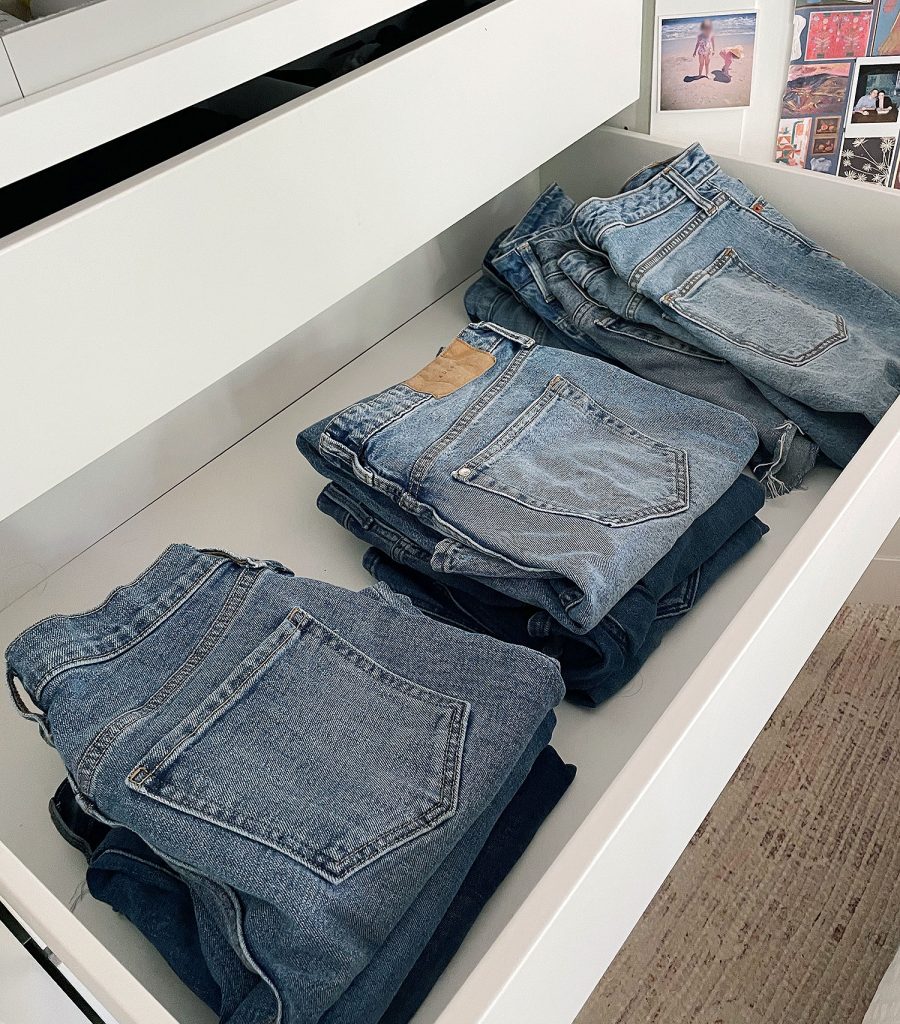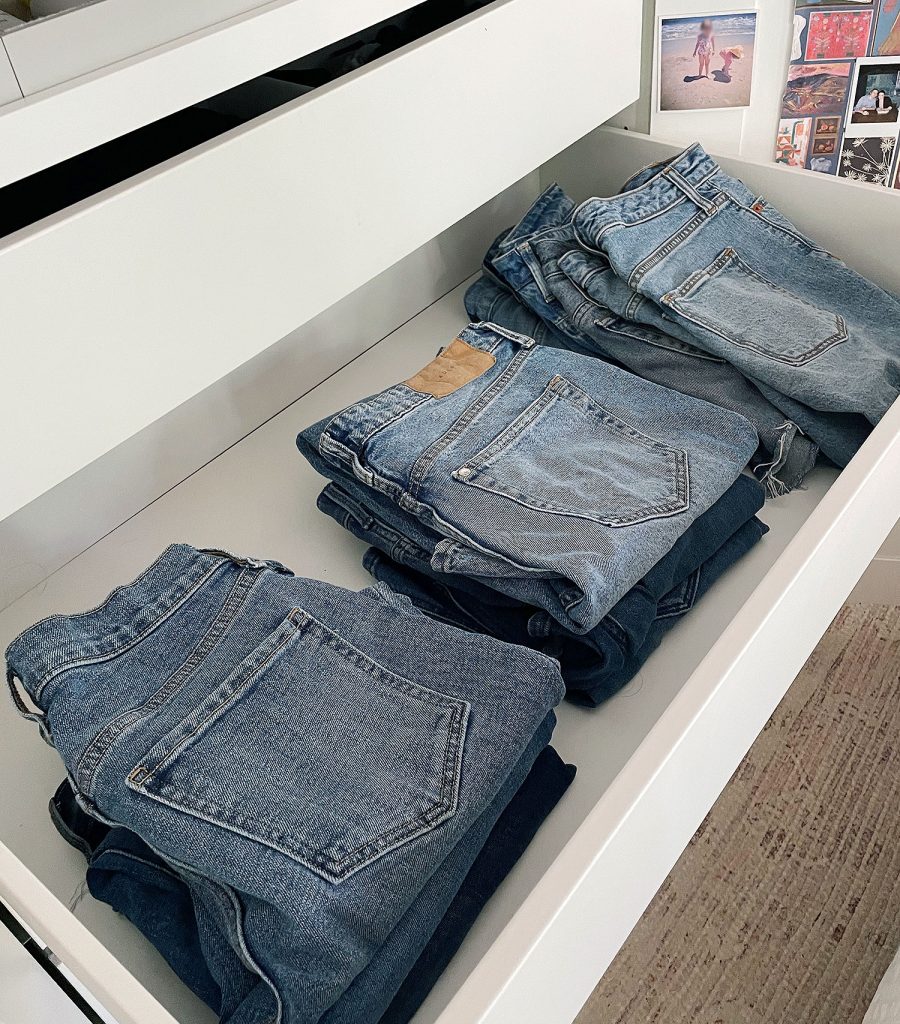 The next drawer down houses various tops, which are organized using some of these soft Ikea bins that we've had for ages. I fold my bodysuits longer in that slot on the right side and it helps me not pull out a top thinking it's a tank but it's a bodysuit (#AlmostEverythingIsBlackAndIGetConfused).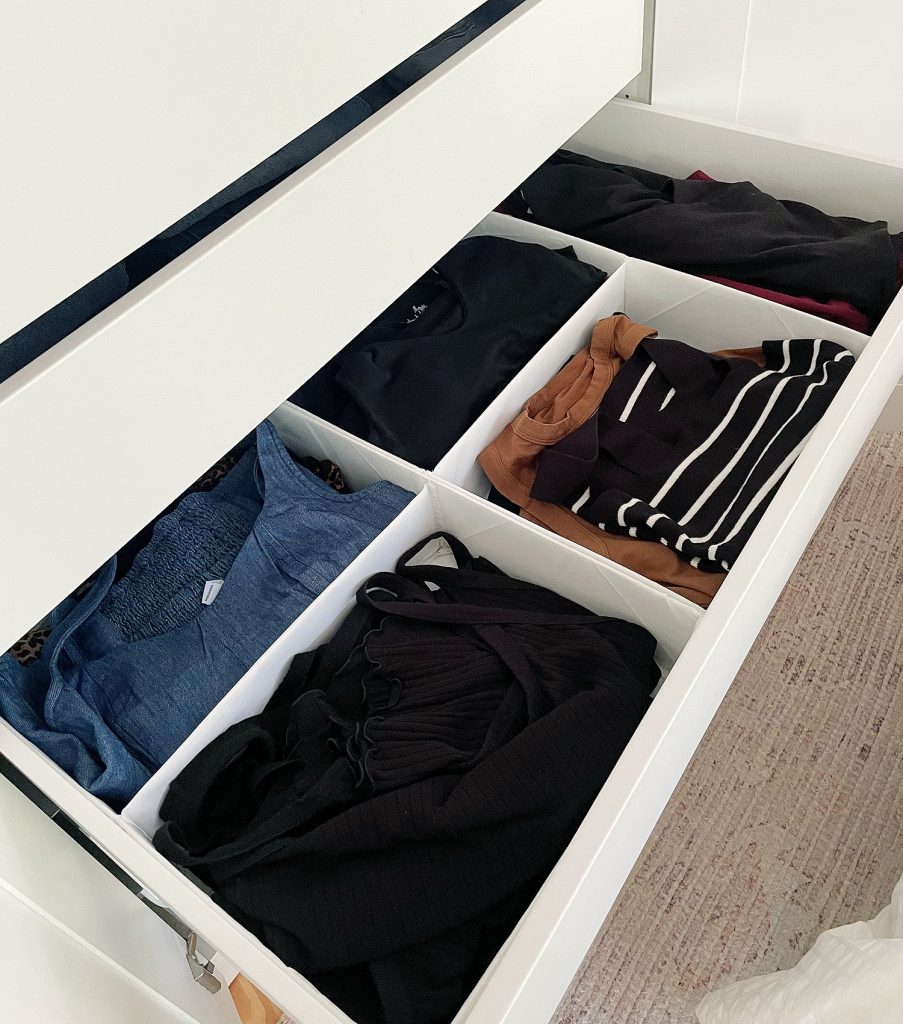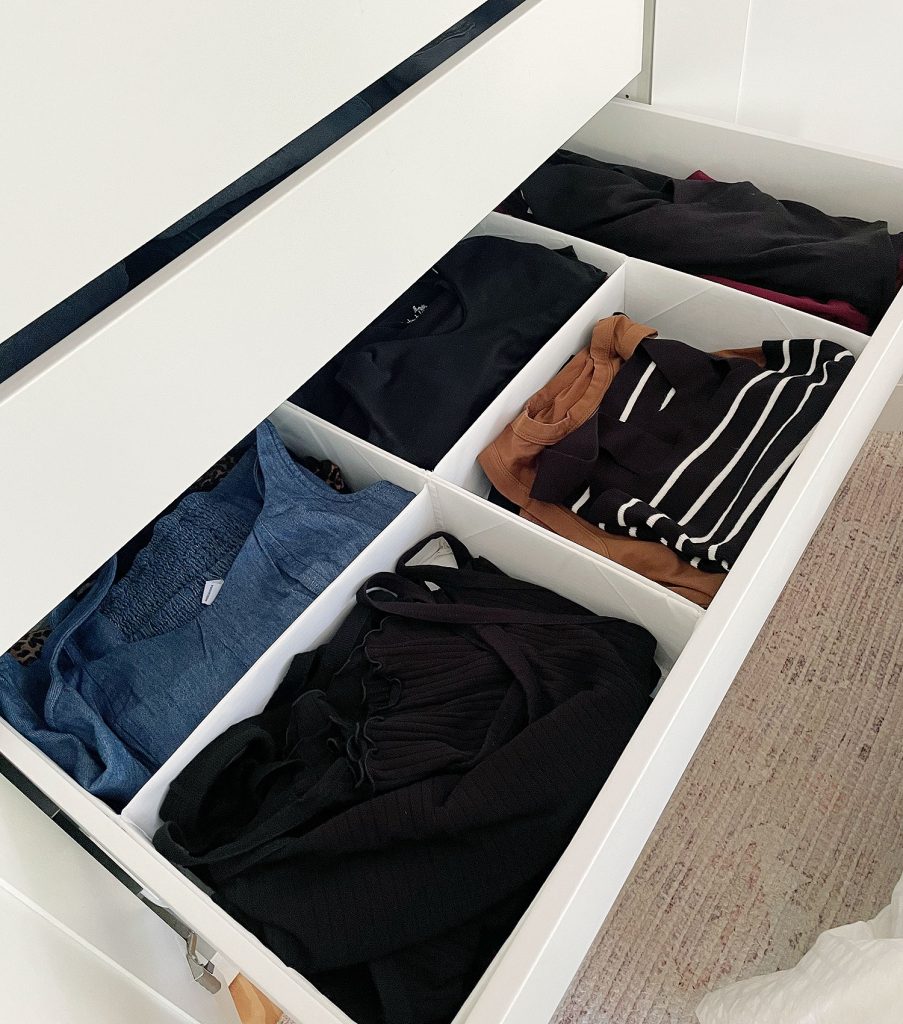 The drawer below that one is colder weather stuff, like long-sleeved tops and sweaters. Judge not my lack of fancy folding – this is my rebellion after years of working at Express in college.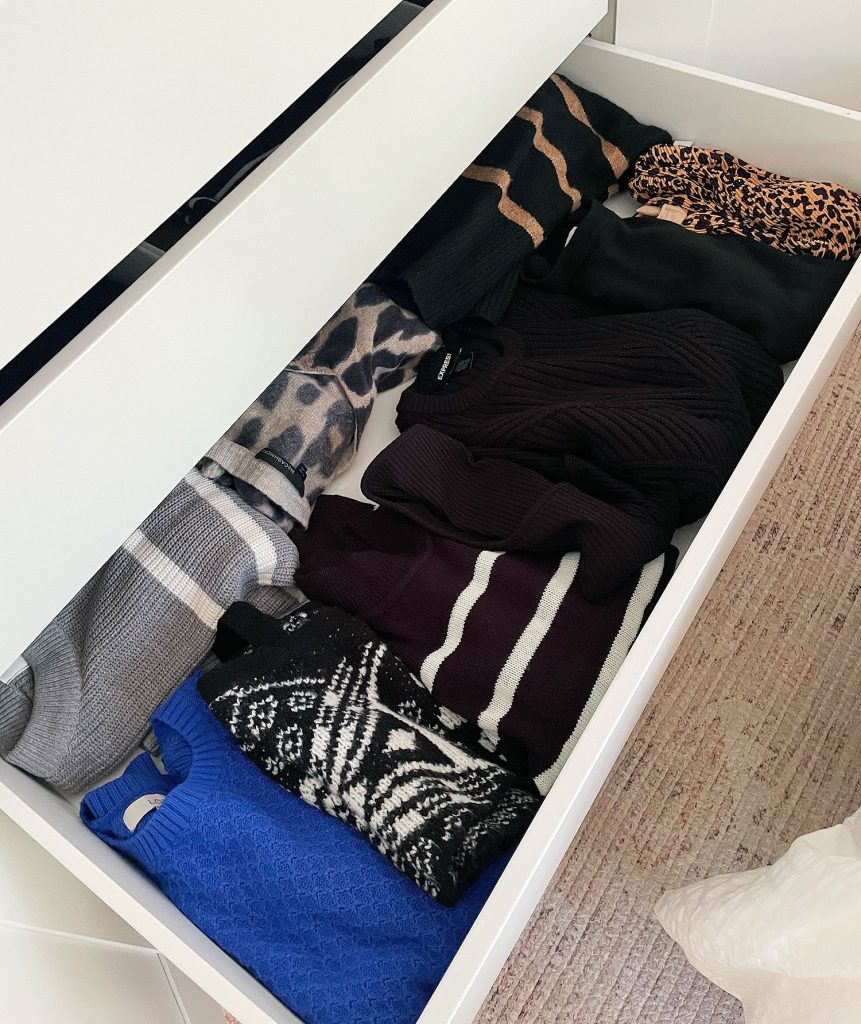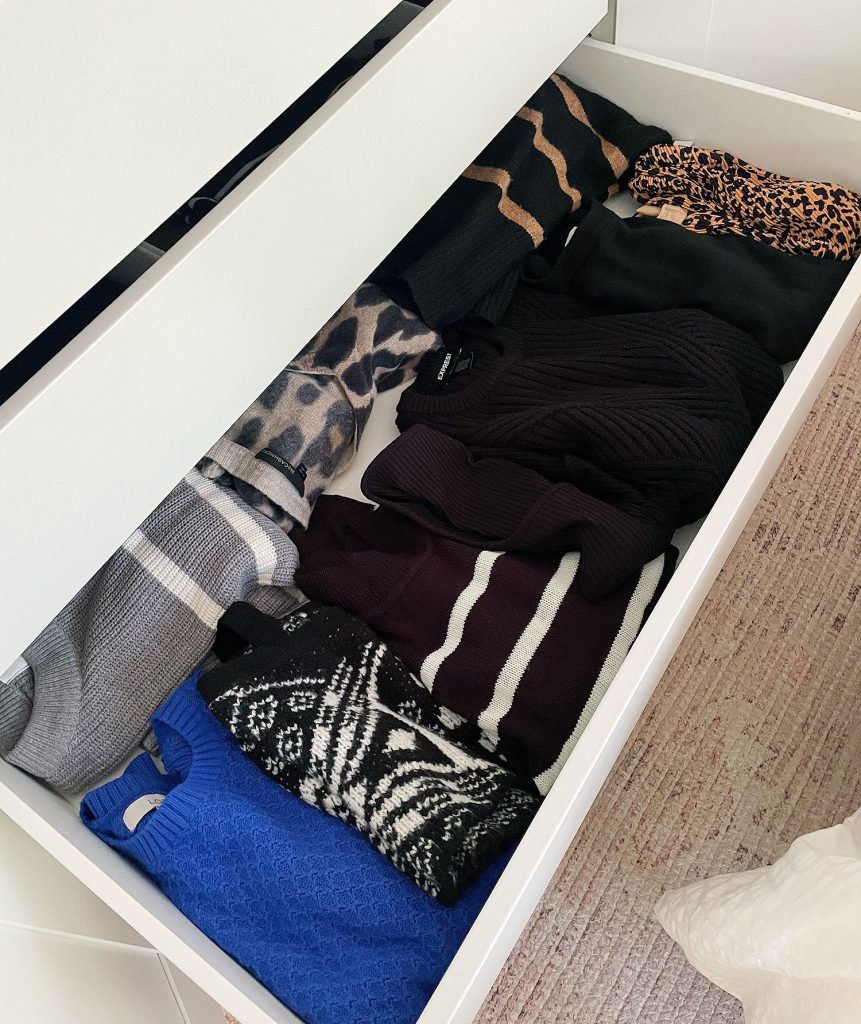 And last, but not least, the bottom drawer has bathing suits and cover-ups (the way these Ikea systems work, you can't have a normal drawer on the bottom because the closet door hinges have to go there – so this pullout metal basket is the best option we have found). Yes, I live somewhere that enables me to have an entire drawer full of this stuff. As a girl who used to have one bathing suit and could only really swim outside a few months of the year when I lived further north, this thrills me to no end.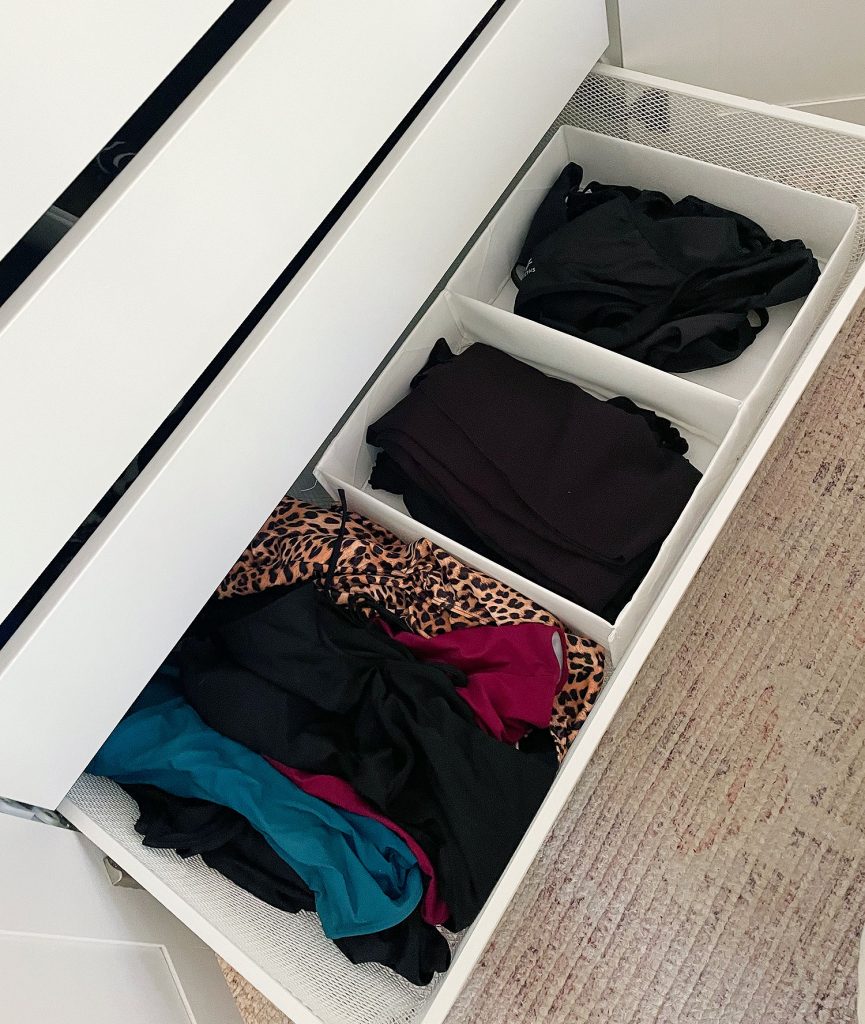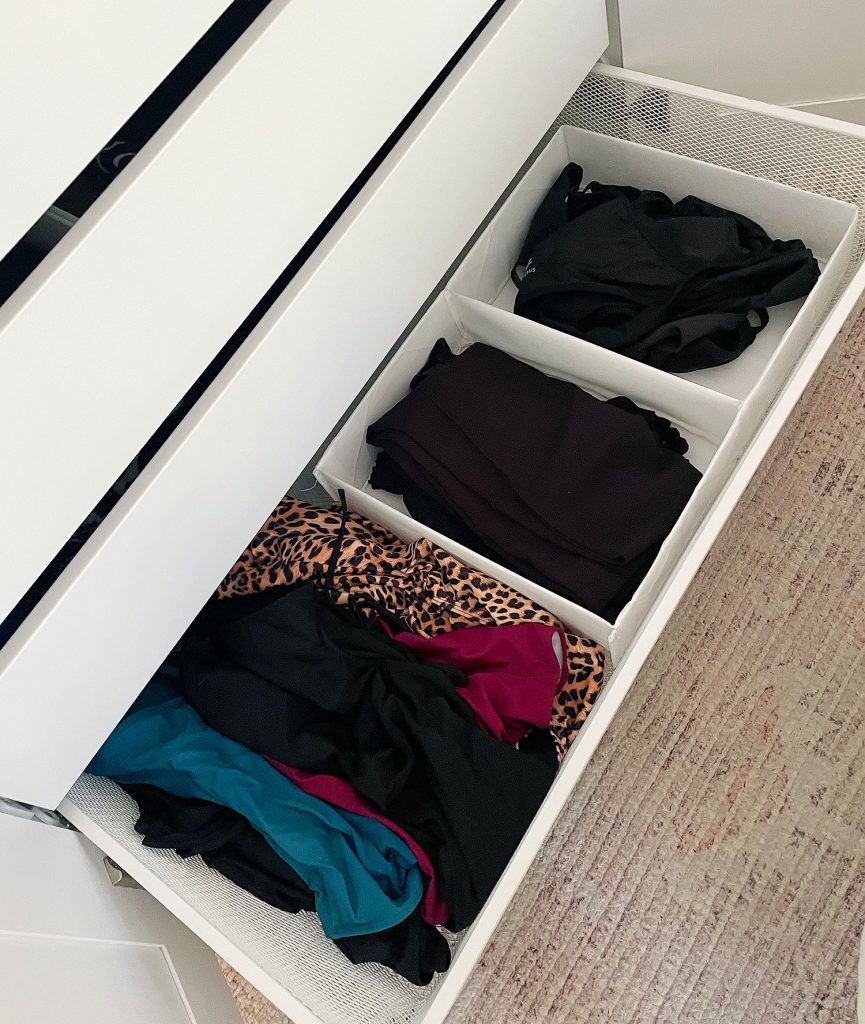 And just as I mentioned, you can see that lightweight mirror stuck to the left door of this wardrobe as well, which comes in handy while applying sunscreen, makeup, putting in earrings, etc.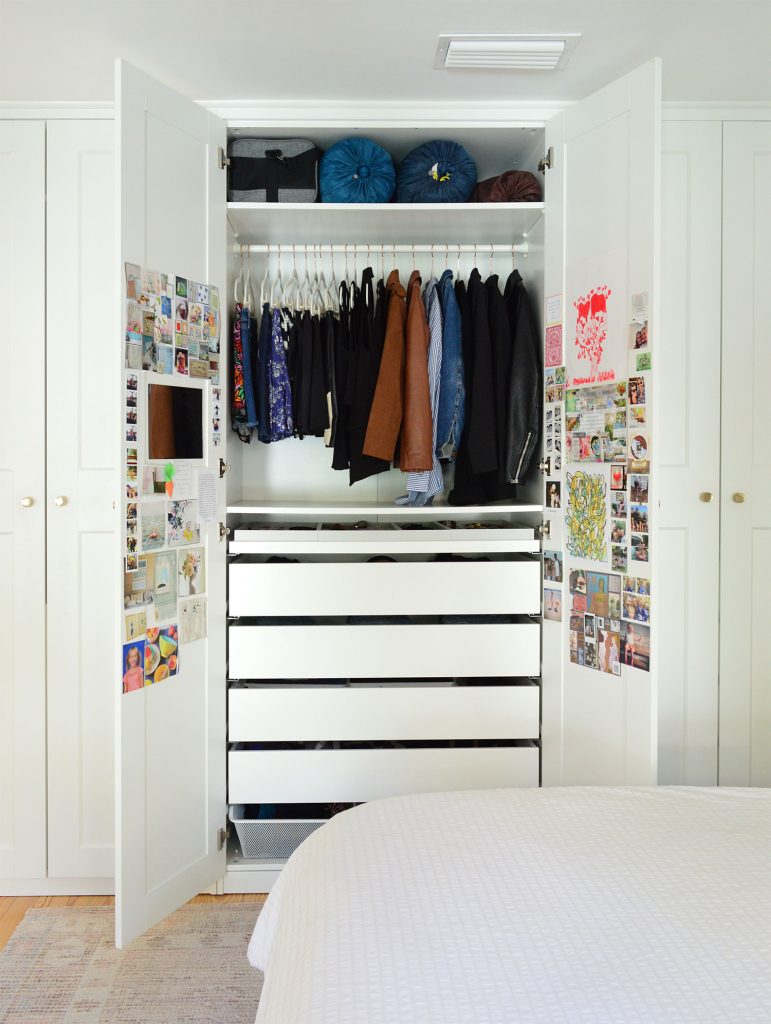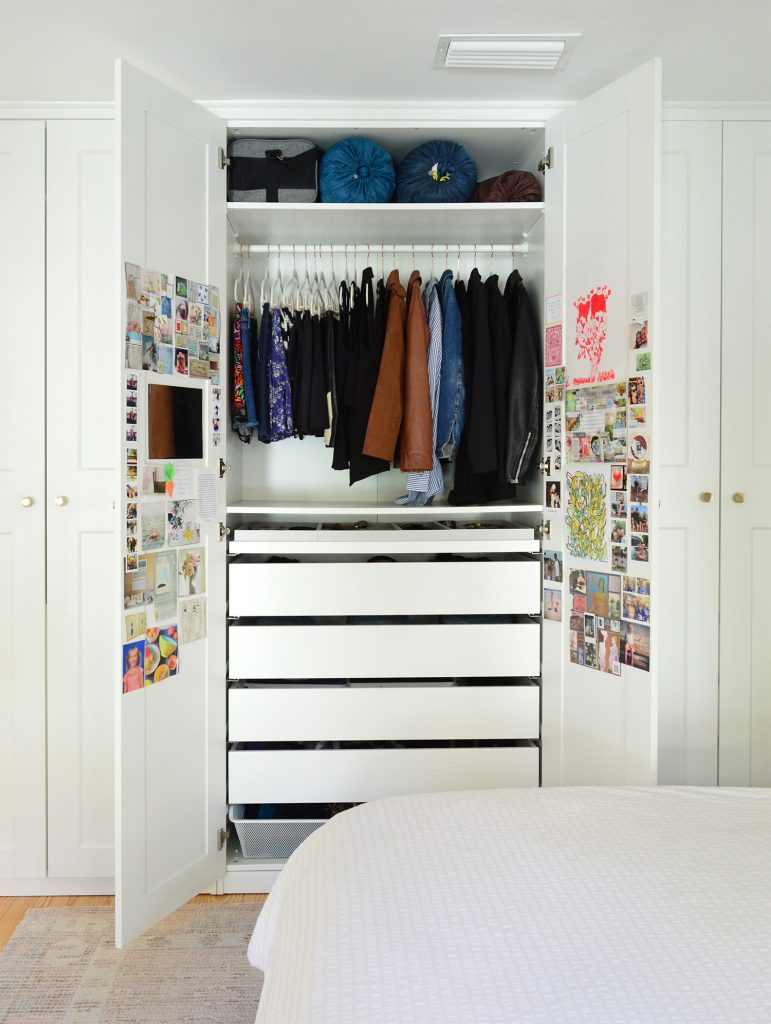 The Right Closet: John's Clothes, Hats, And Something Weird In His Top Drawer
The last of the three large wardrobes is all John's. It's more than enough space for him, for which I'm glad. Hashtag synergy.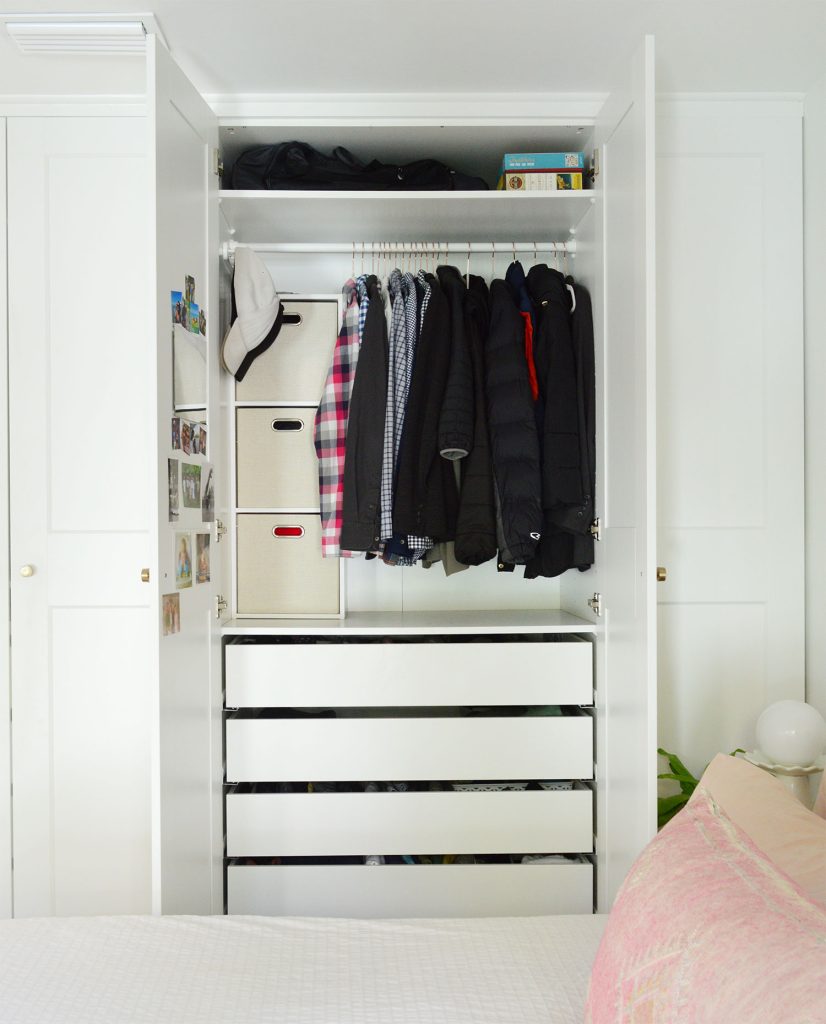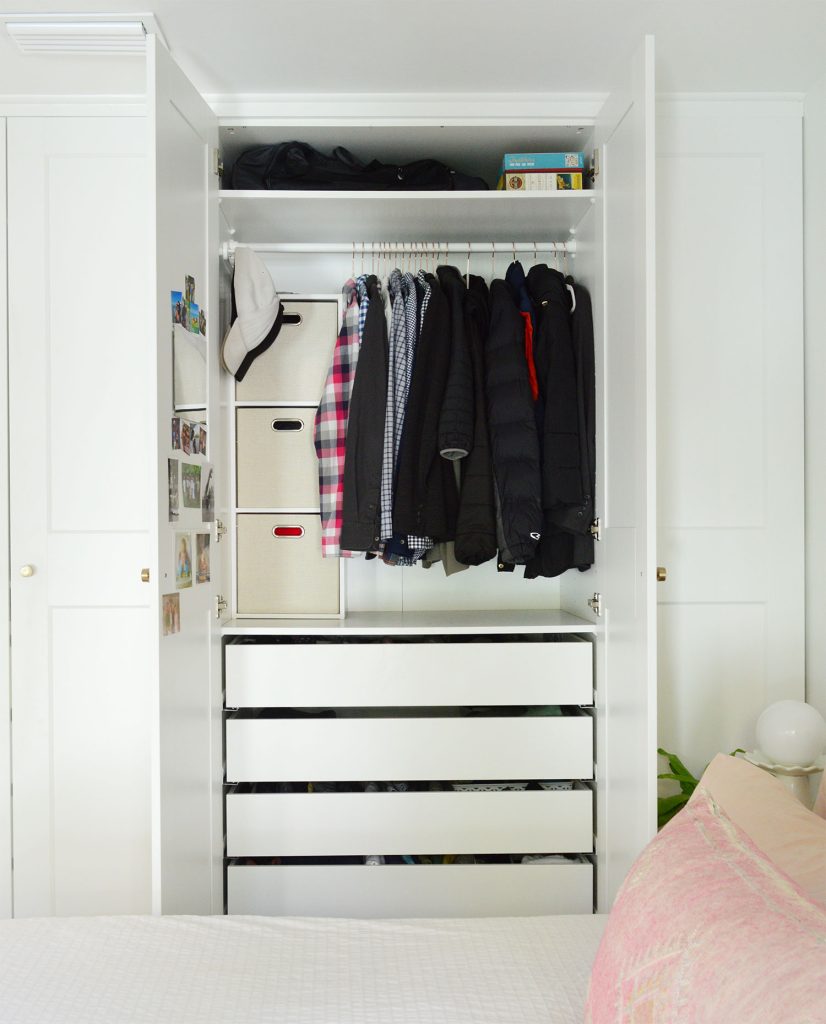 Before we tour John's stuff, let me point out that even though it looks close to the bed, he has no trouble getting to his stuff (see below). If it were too cramped, we wouldn't have upgraded to a king-size bed earlier this year. But we did, and we love it, and we're never going back.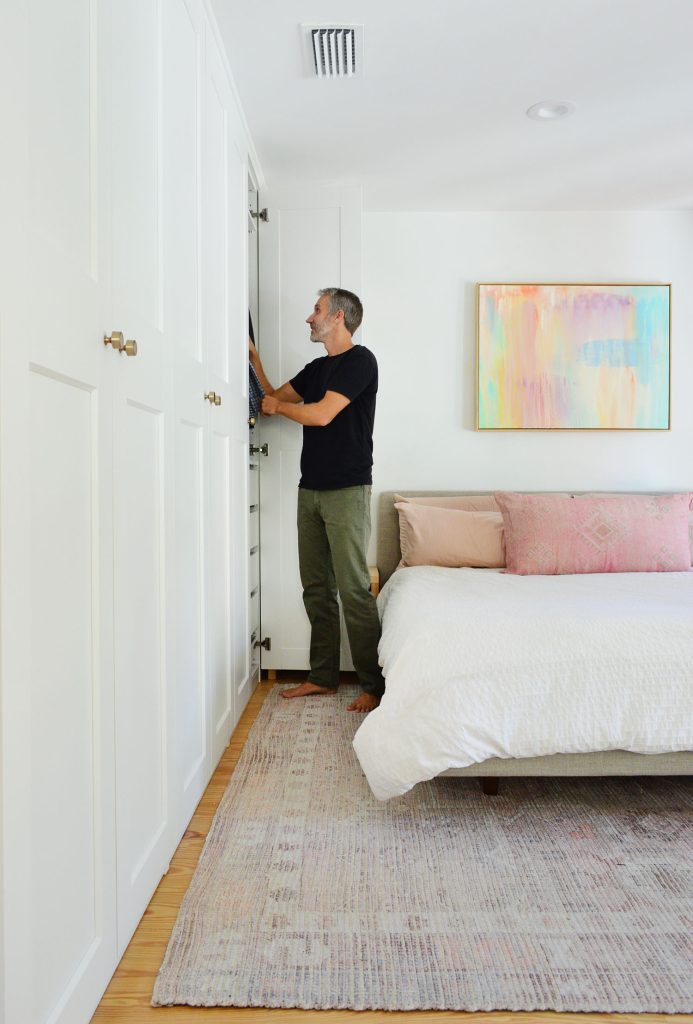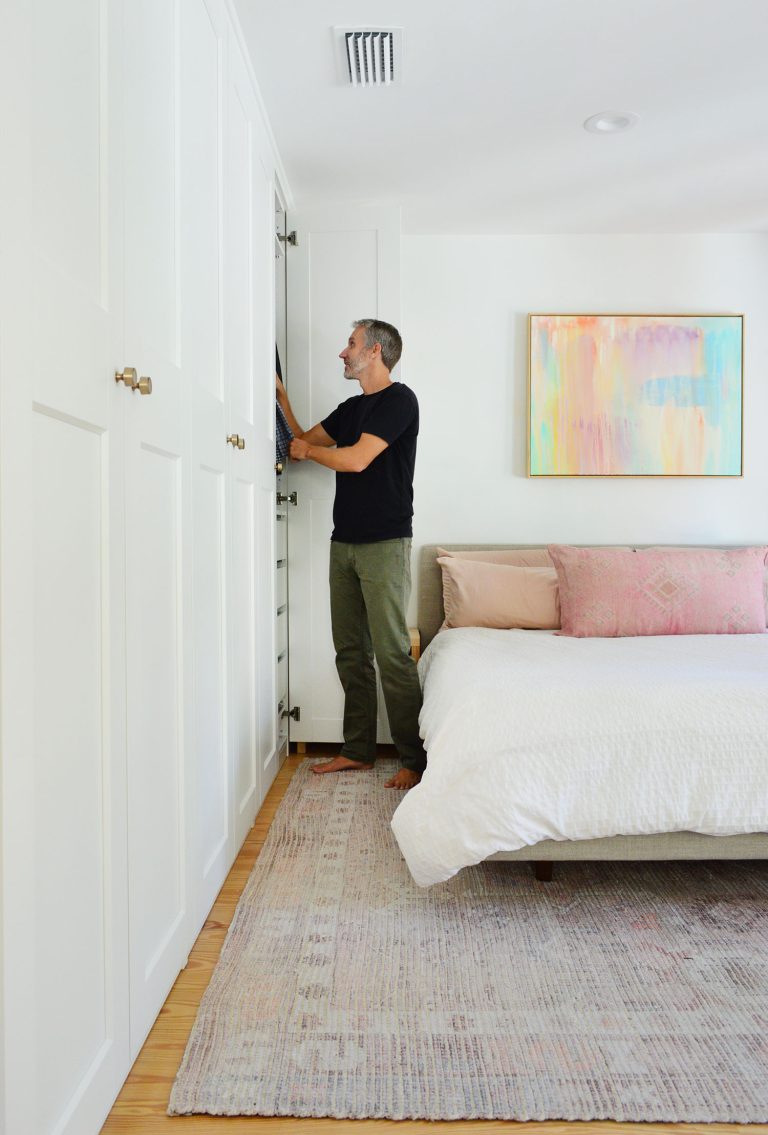 John also uses those slim hangers for his dress shirts on his hanging bar. He doesn't wear them that often these days, which is why there aren't too many (although there are inexplicably 3 variations on the same blue check pattern). His lack of ten million collared shirts provides us some bonus space to store the family's winter coats in here during the colder months. And we have a sneaky way of making them almost disappear in the summer months when we don't need them…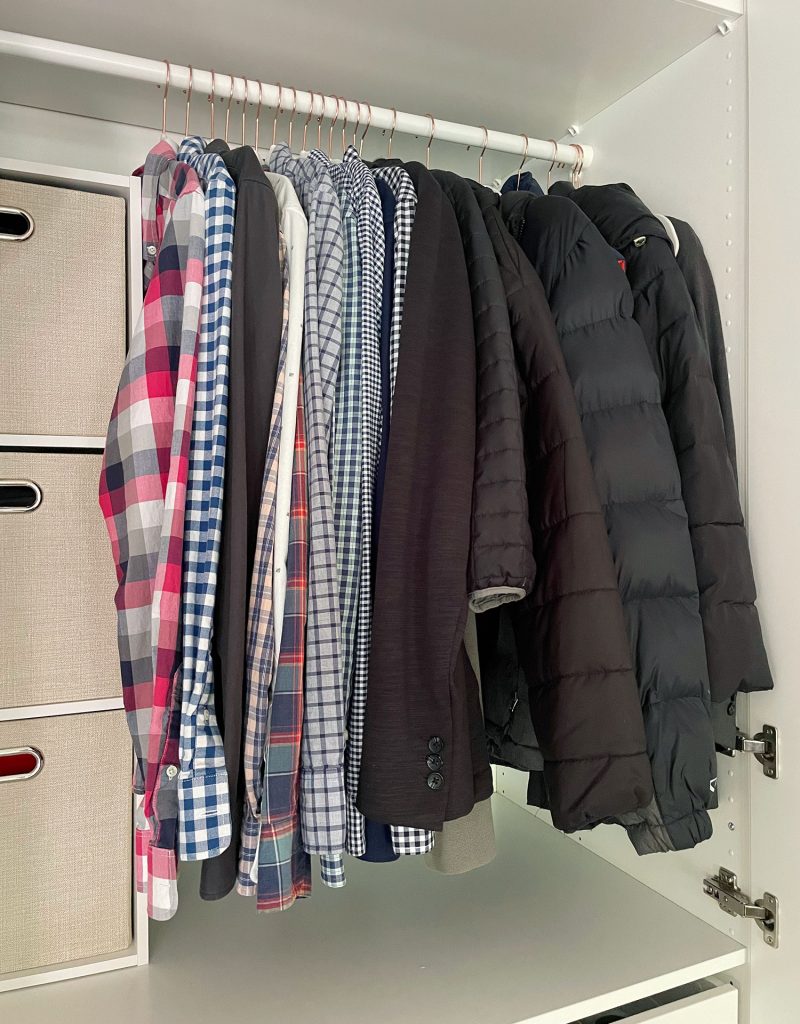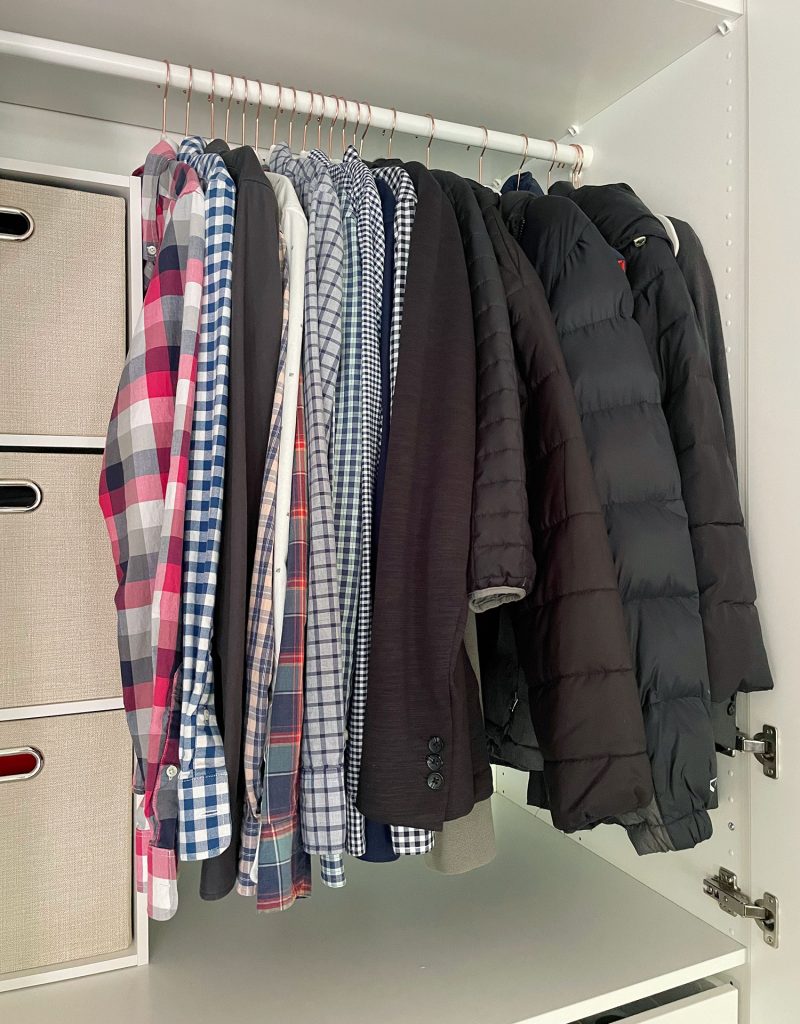 Most of the year we all get by with no jackets or lighter ones that are kept in our laundry room by the front door (see below). But it does occasionally get cold enough here to warrant a heavier coat, hence keeping them in John's closet to be at arm's reach during the winter months.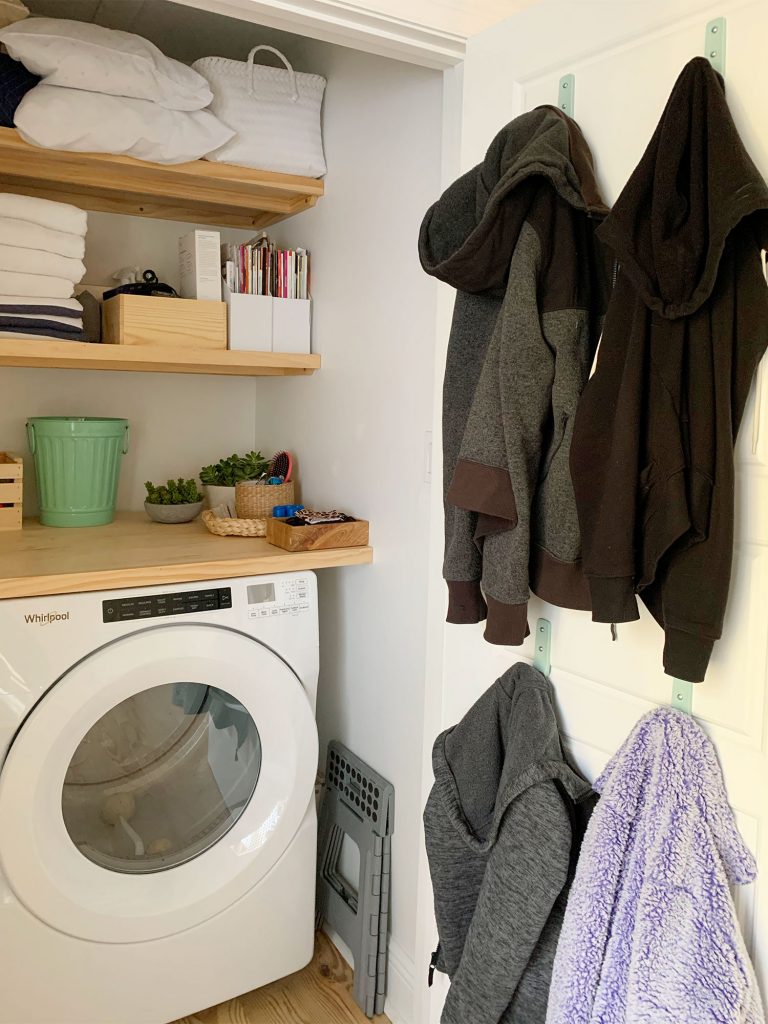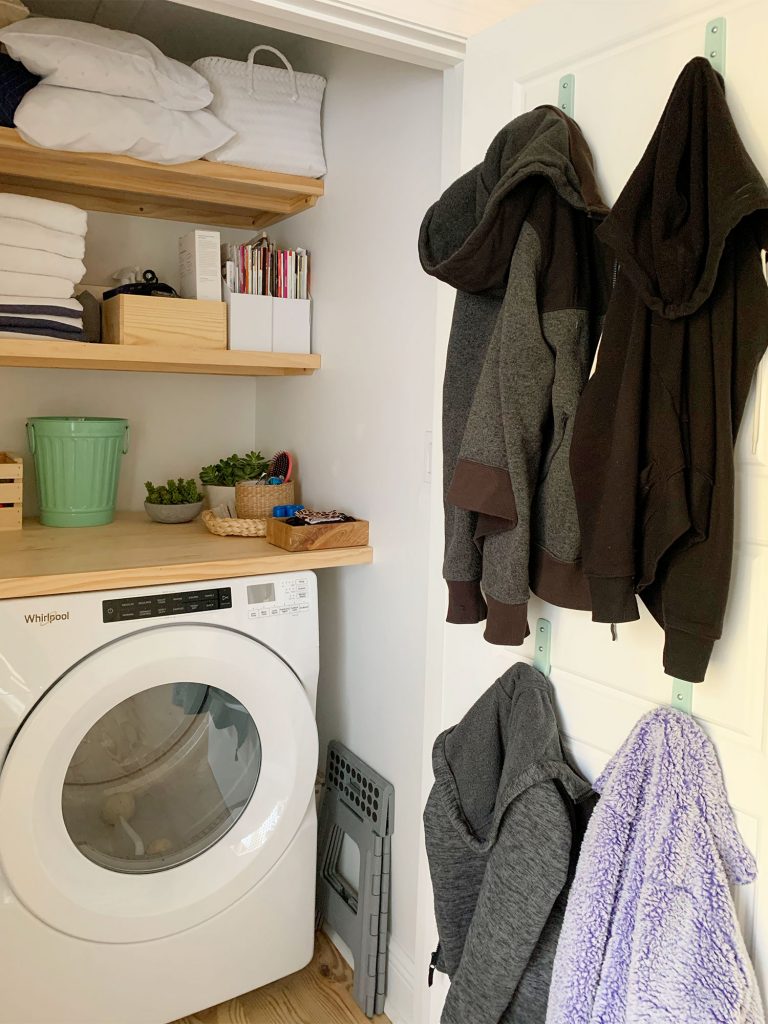 Where do they go the rest of the year? Well, we shrink them down using these space bags that attach to any standard vacuum hose. Look how these two fluffy winter coats slim waaaay down thanks to out little space bag method (top pic is before, and bottom is after)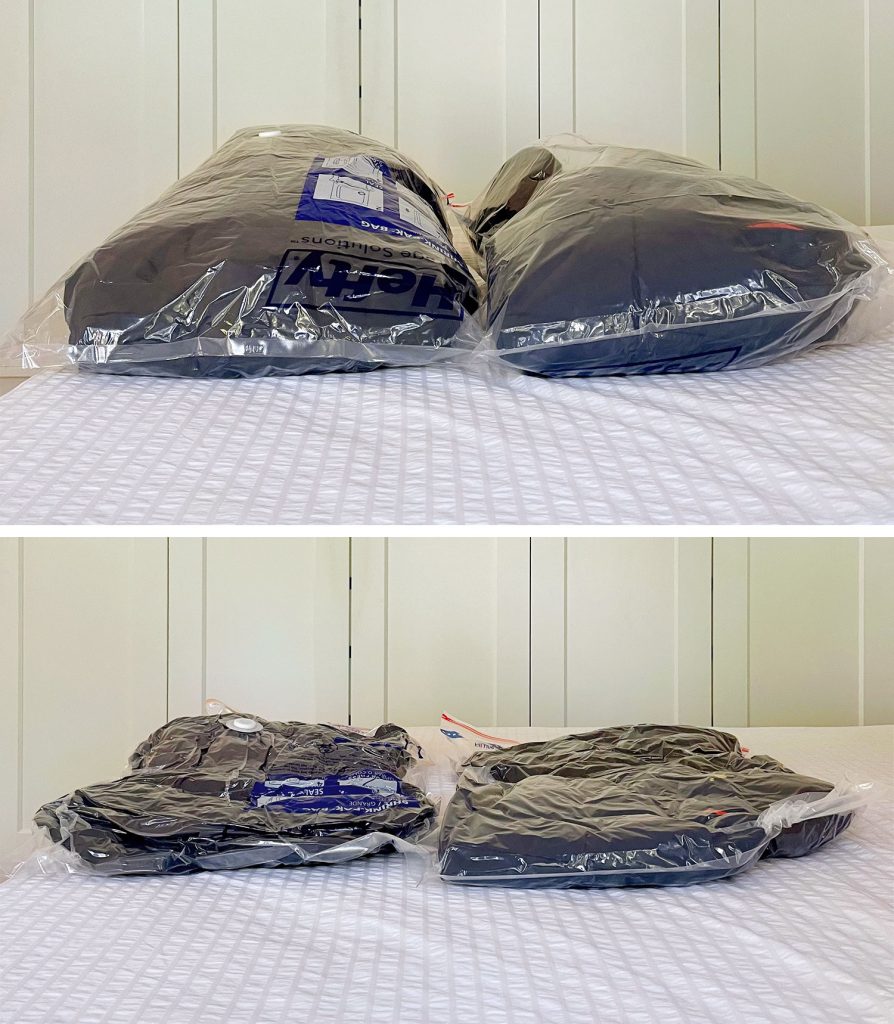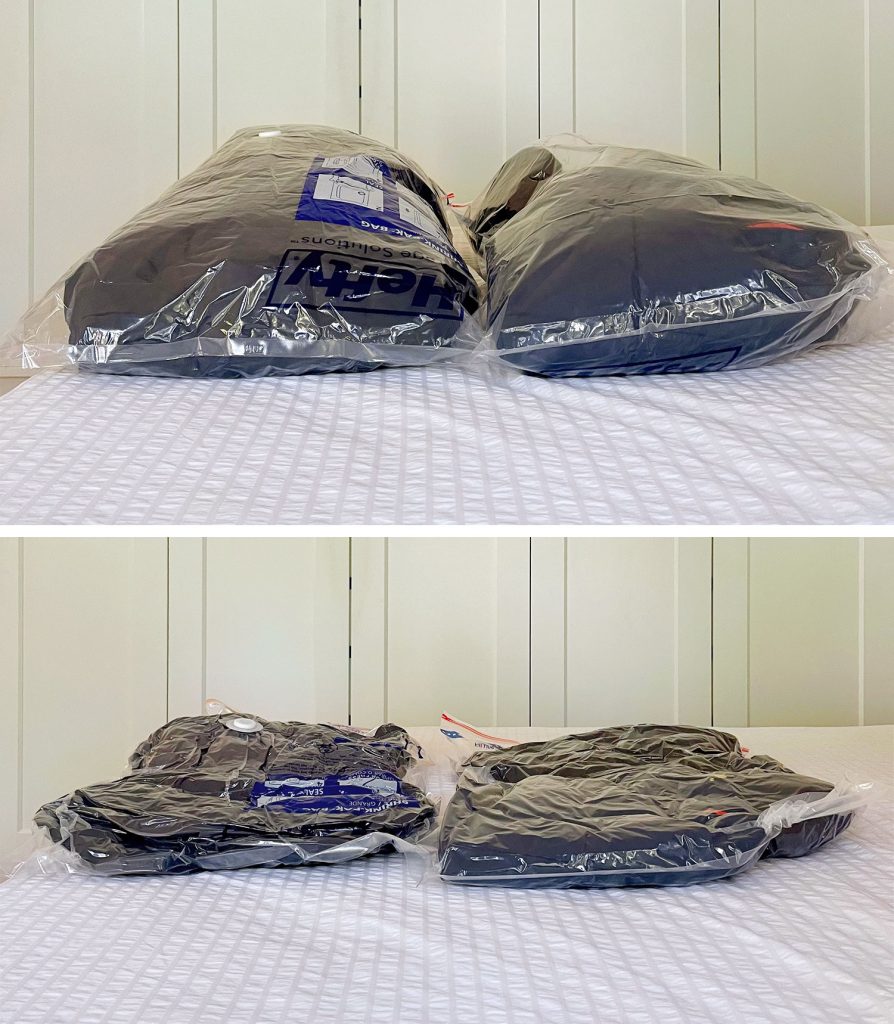 Then our little flattened coats easily slip into one of the suitcases that we store wayyyy in the back of our son's under-bed area (he has baskets he uses and can easily reach all along the front edge of the bed and our suitcases live behind those). The space bags not only keep our coats compact, but it makes them easy to unpack from the suitcase whenever we go on a trip during the warmer months.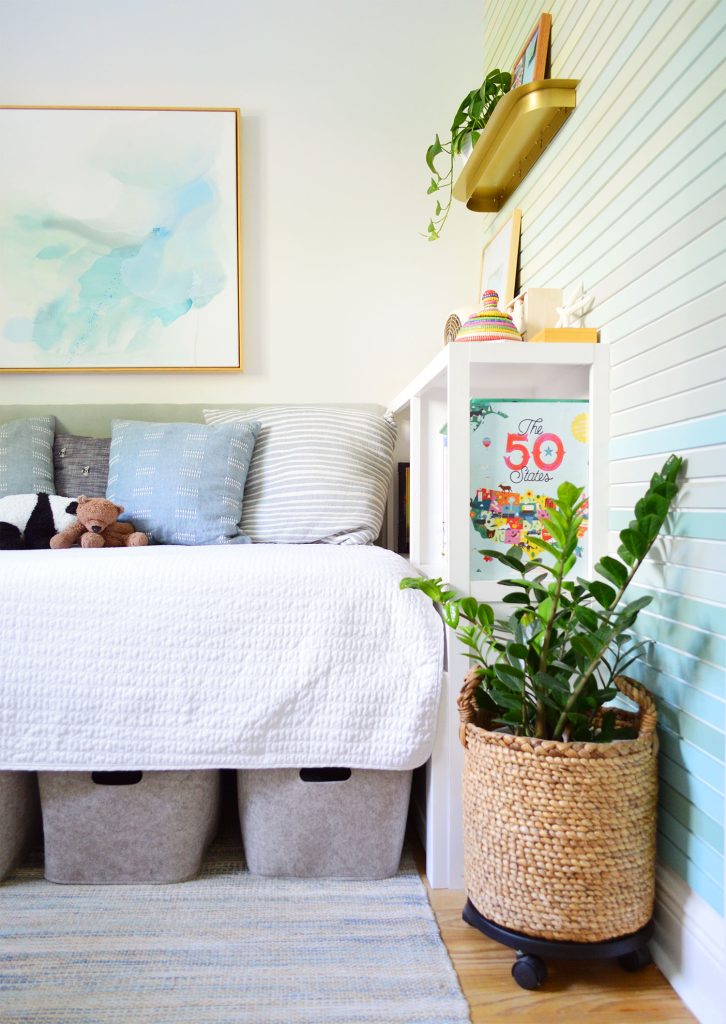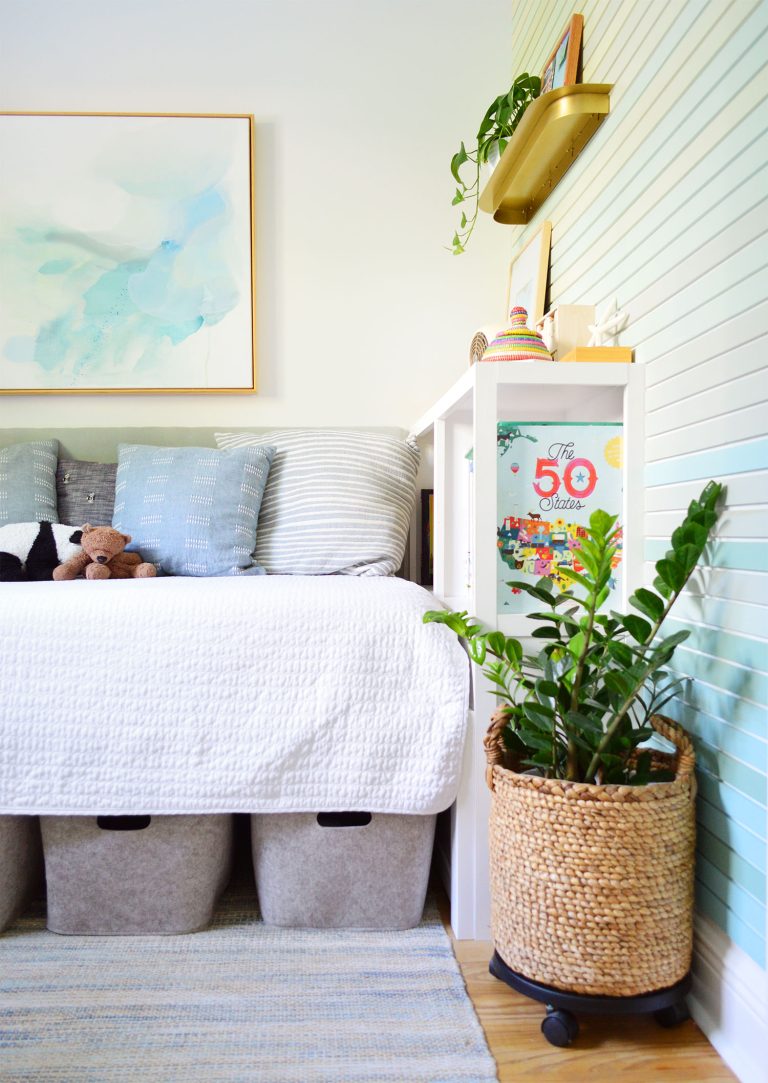 So, long story short, most of the year John's closet looks like it does below, where his shirts have a bit more room to spread out. But we wanted to show you the "winter version" of his closet to demonstrate how flexible and hard-working these spaces can be for us. And what a difference some $17 space bags can make.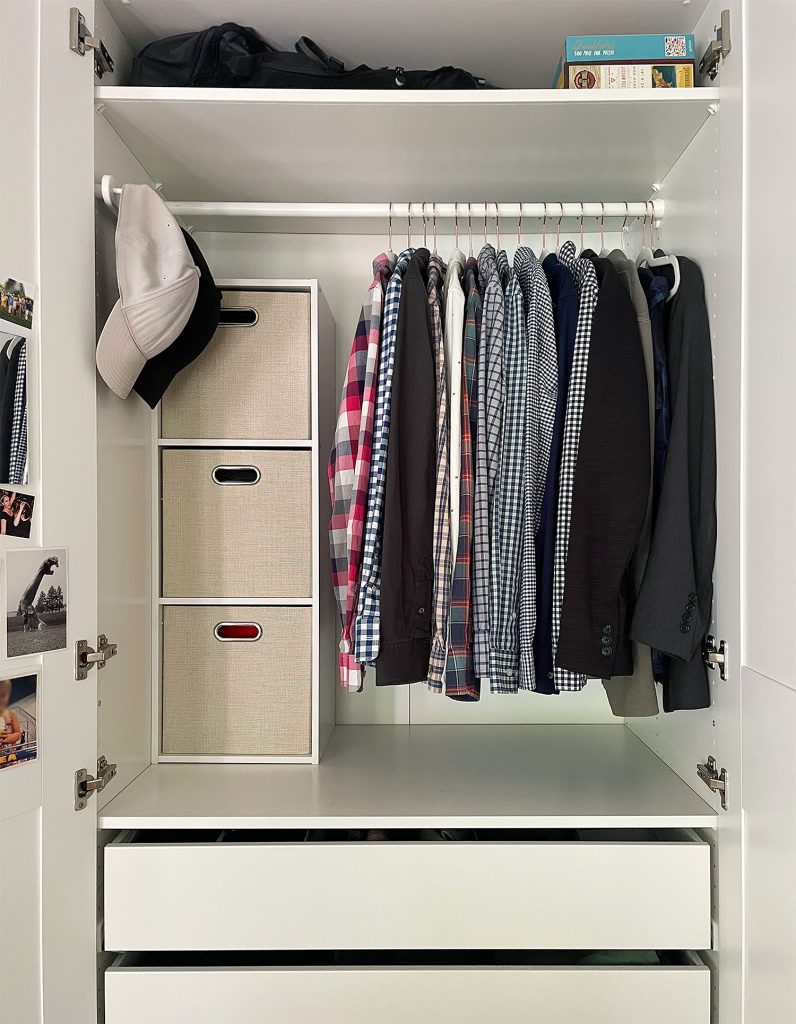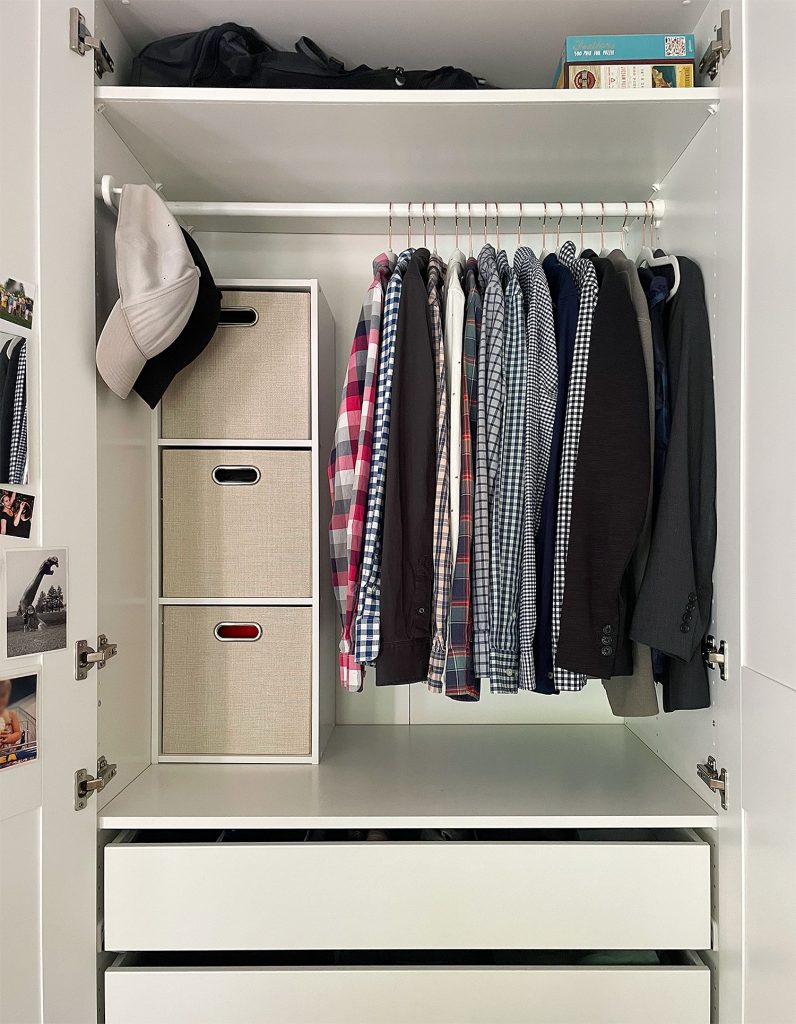 Another thing John did since he didn't need all of the hanging bar space was add this cube organizer shelf on one side. This is not an Ikea product, but it was a great size and it just sits on the shelf and fits nicely. We screwed it to the inside wall of the wardrobe to further secure it, and John uses these fabric bins to corral stuff like sweatshirts in the bottom two and the family's winter gloves and hats up top. Those winter accessories are rarely needed, which is why it's no problem to be blocked by his hanging hats (if he takes them down he can easily slide out that top basket).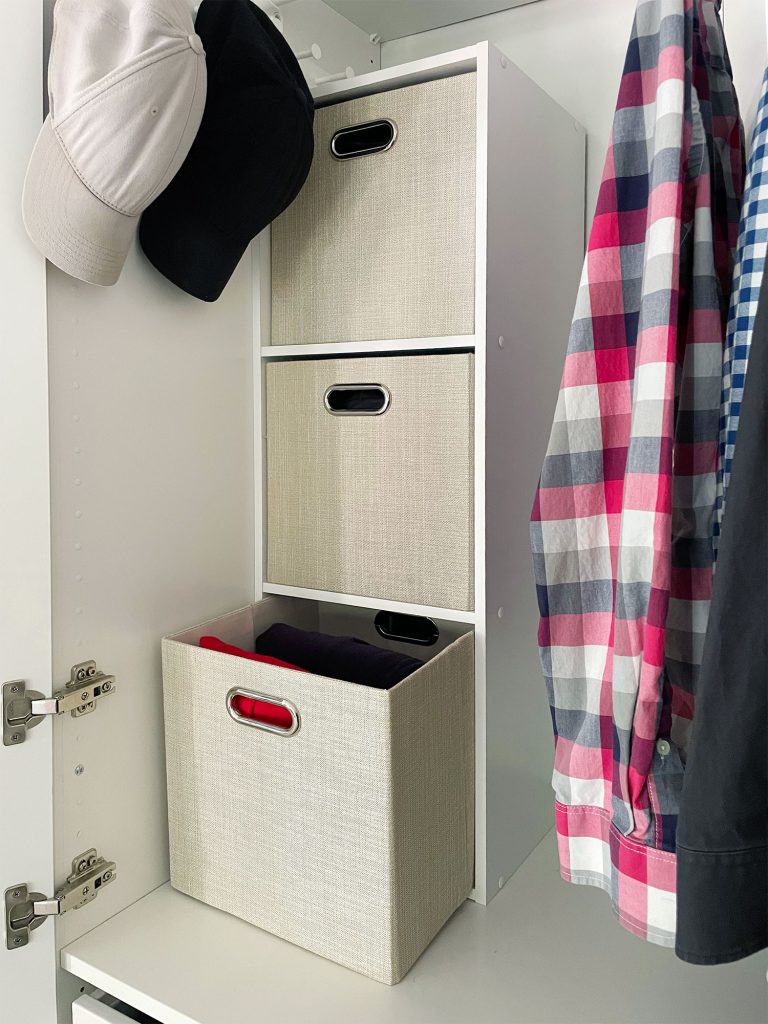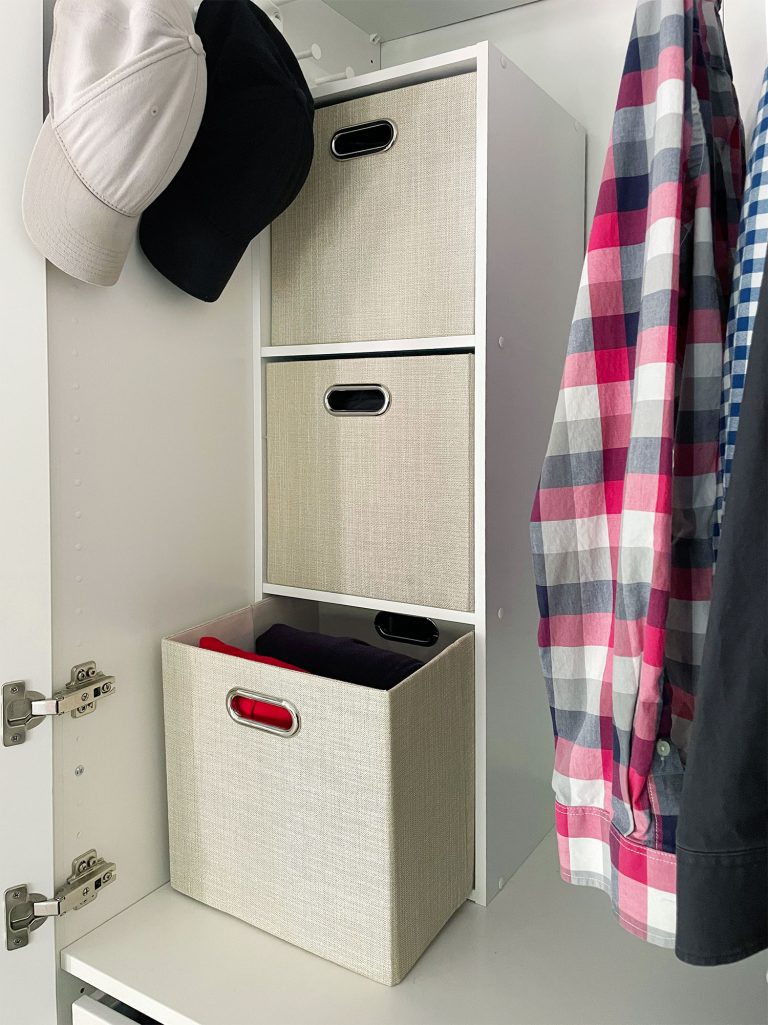 John's drawers are organized using a combination of fabric Ikea bins (like these and these) and random other containers we had around. His top drawer contains essentials like t-shirts, socks, underwear, bathing suits, more hats, and – yes – a stash of candy that he keeps hidden from his wife and kids. He's a sucker for those post-Halloween candy discounts.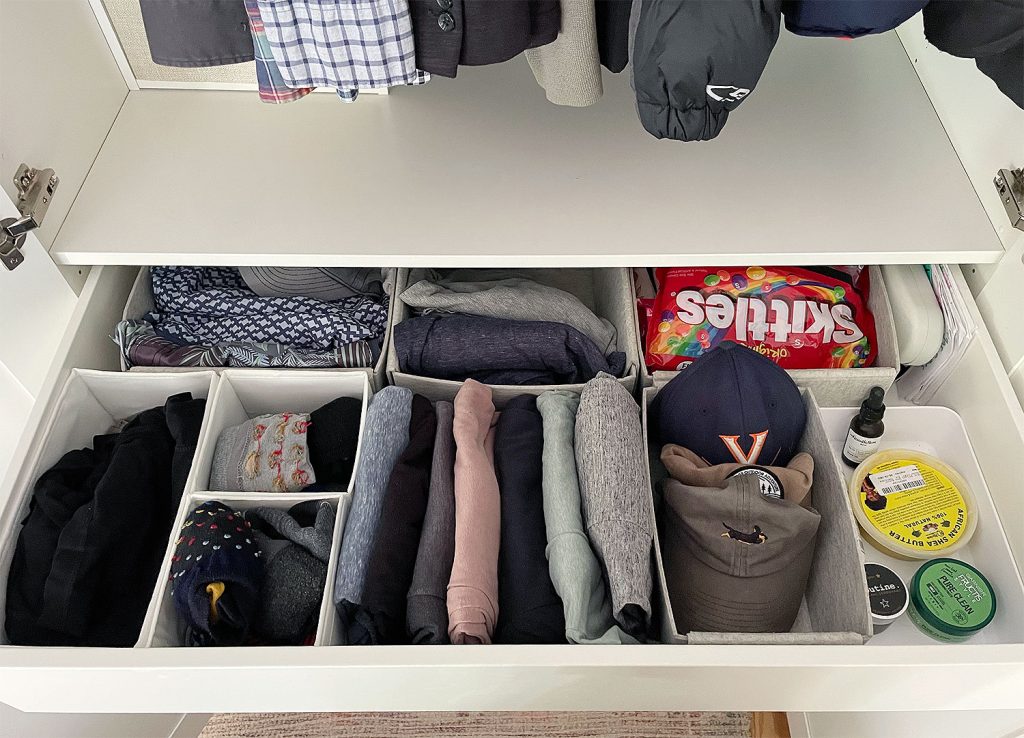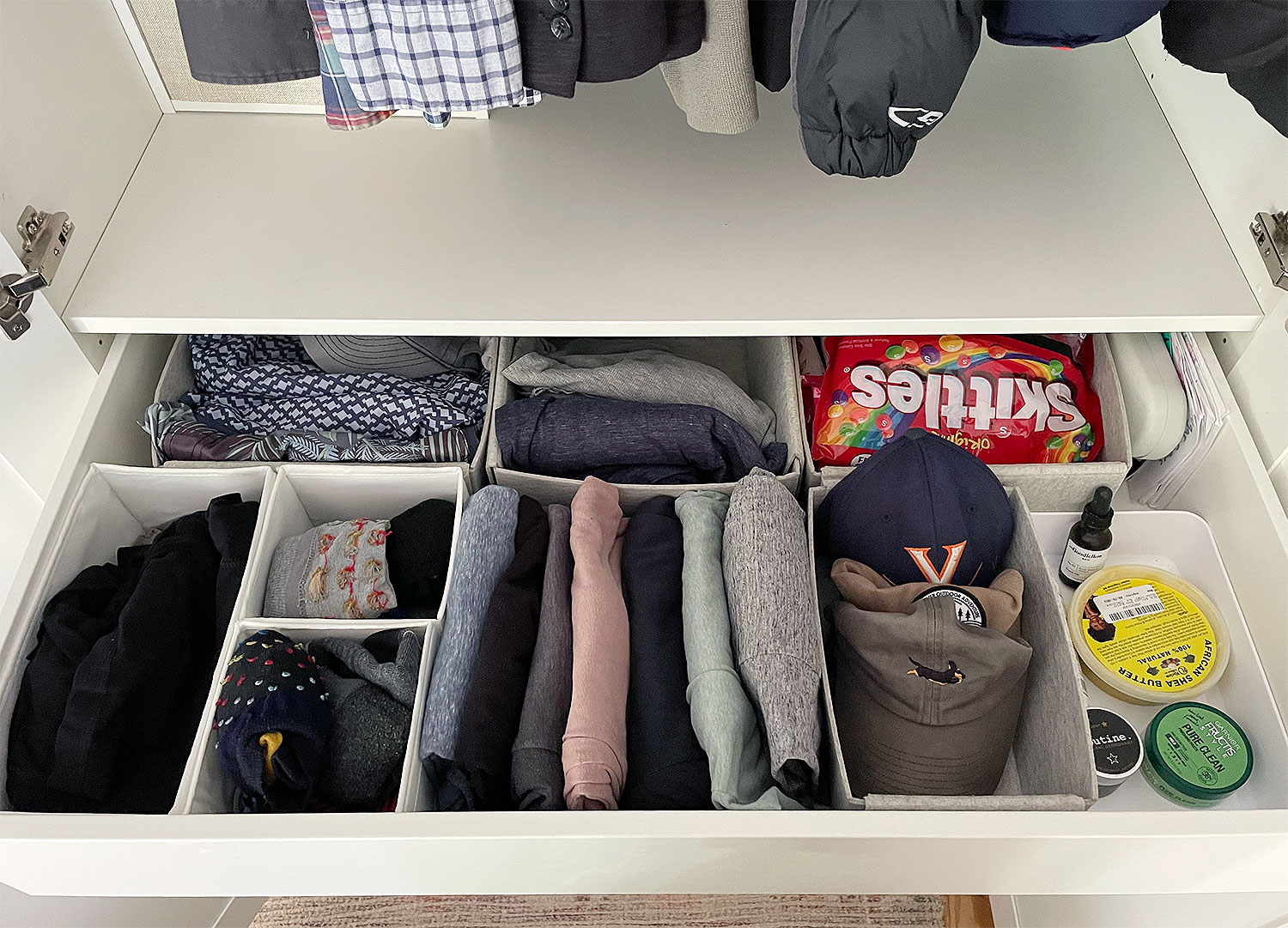 As you may have also noticed, both John and I keep some of our toiletries like deodorant and hair stuff in these closets. That's because, as we mentioned in this post about how we live with only one bathroom, we don't want anyone unnecessarily monopolizing the bathroom with things that can easily be done in another room (our daughter has a vanity-type setup in her room for example). And John and I each have these mirrors on our closet doors so we do that sort of stuff in here instead.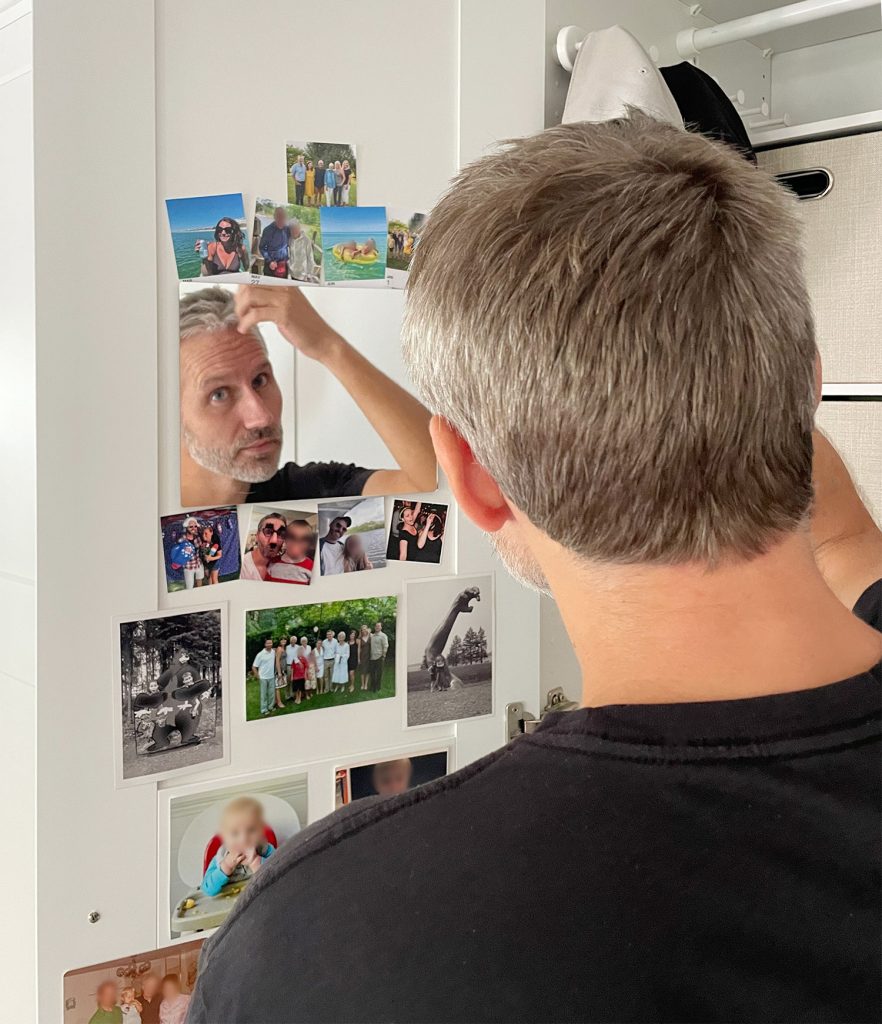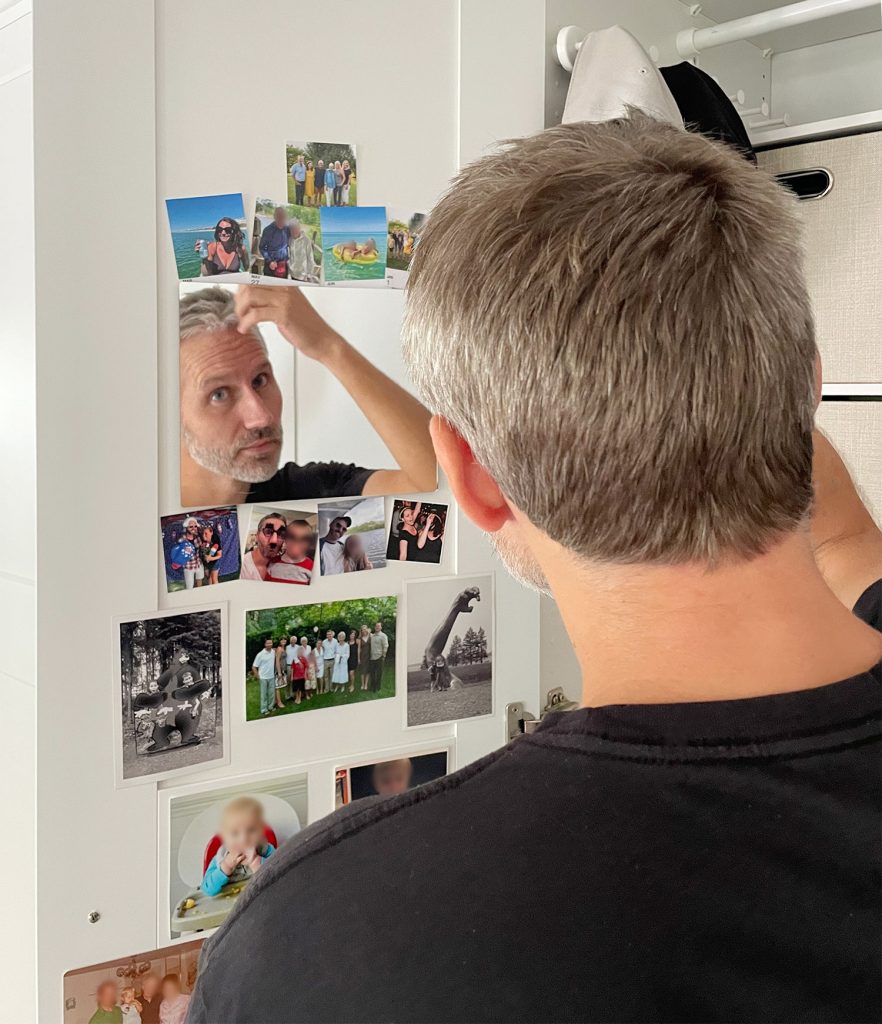 Back to the drawers. His second drawer has pants and shirts (kinda like my denim drawer) and his third drawer is all exercise clothes. He even has room in there for all of his race medals and a yoga mat.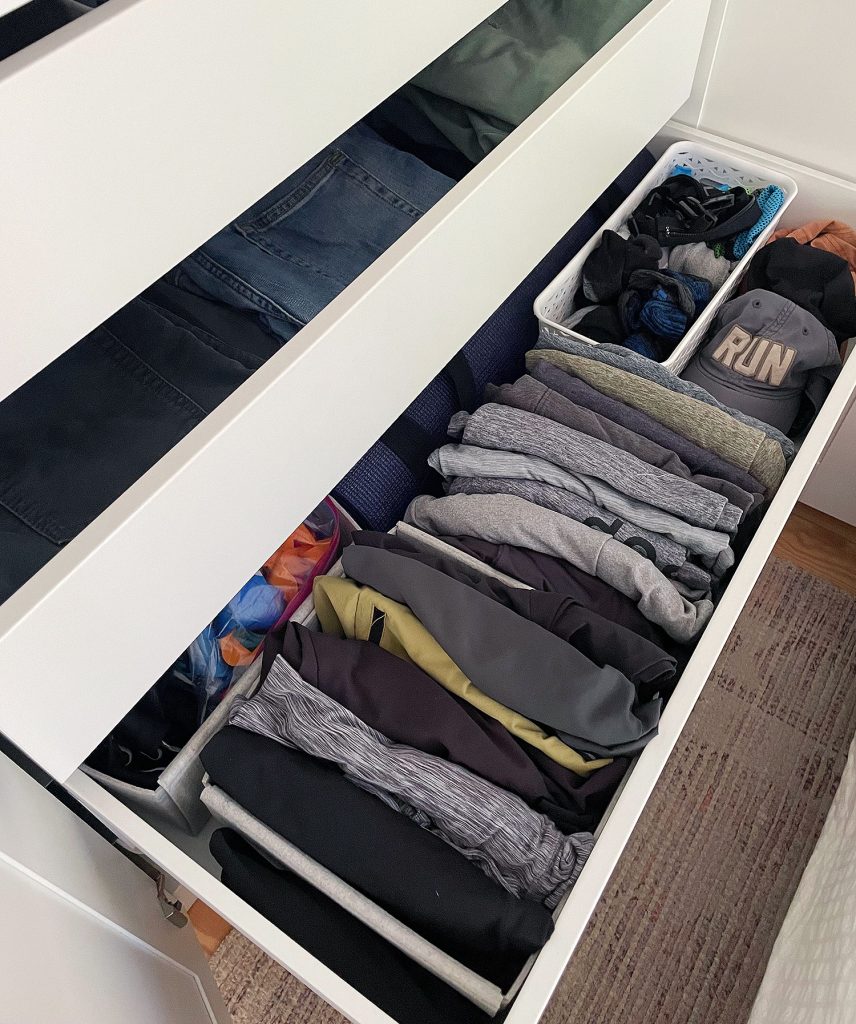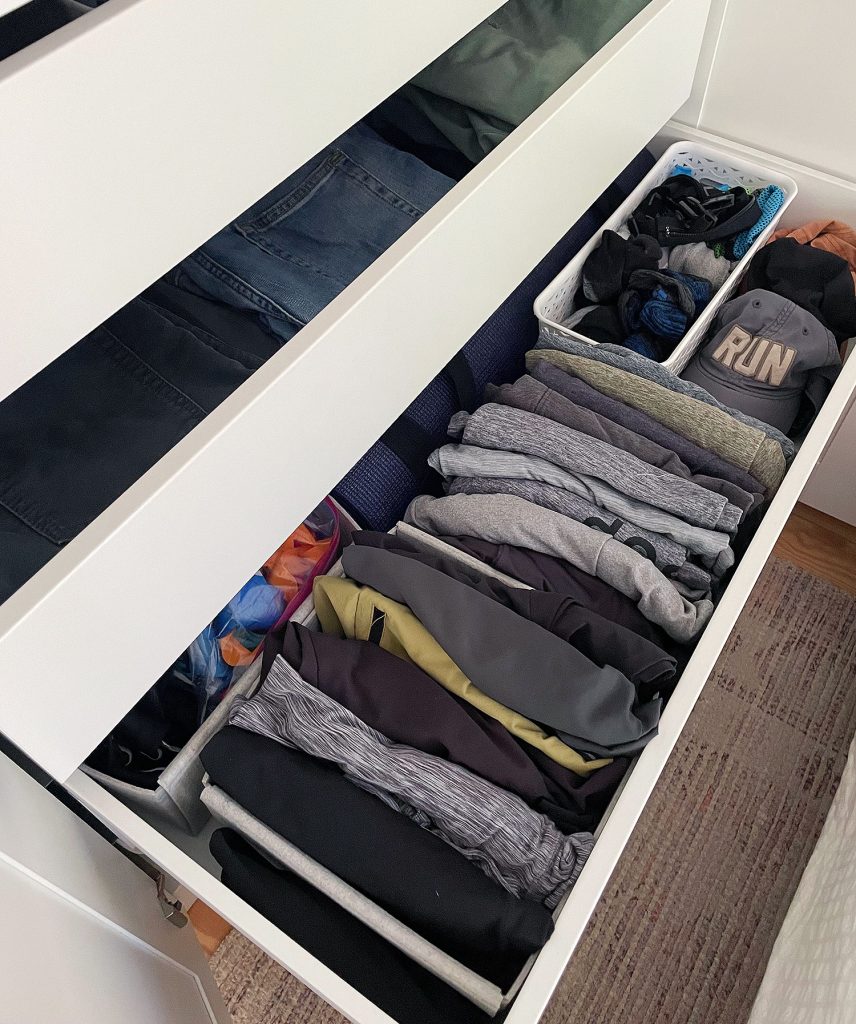 His last standard drawer contains his "messy" clothes for painting and yard work and stuff. Plus, he randomly keeps some more formal stuff in here too, like a couple of ties, undershirts, and dress shoes. Since he doesn't wear that stuff very often, he doesn't need a ton and it doesn't take up much space. His day-to-day shoes are stored in the outdoor shoe cabinet on our kitchen porch with the rest of the family's shoes.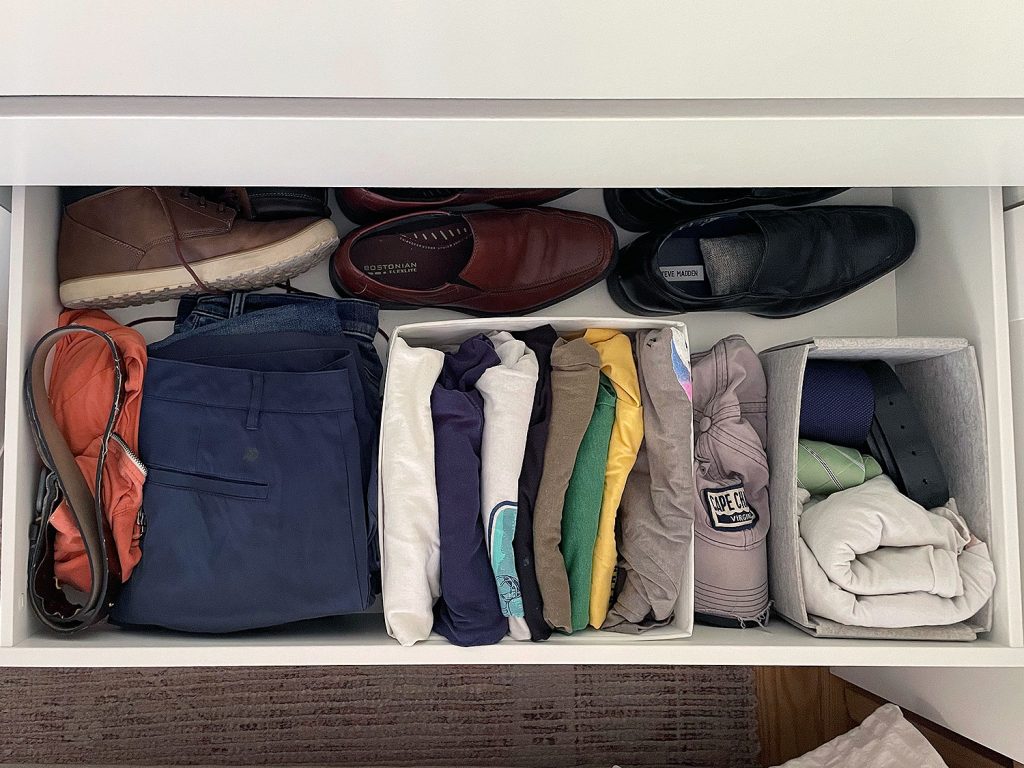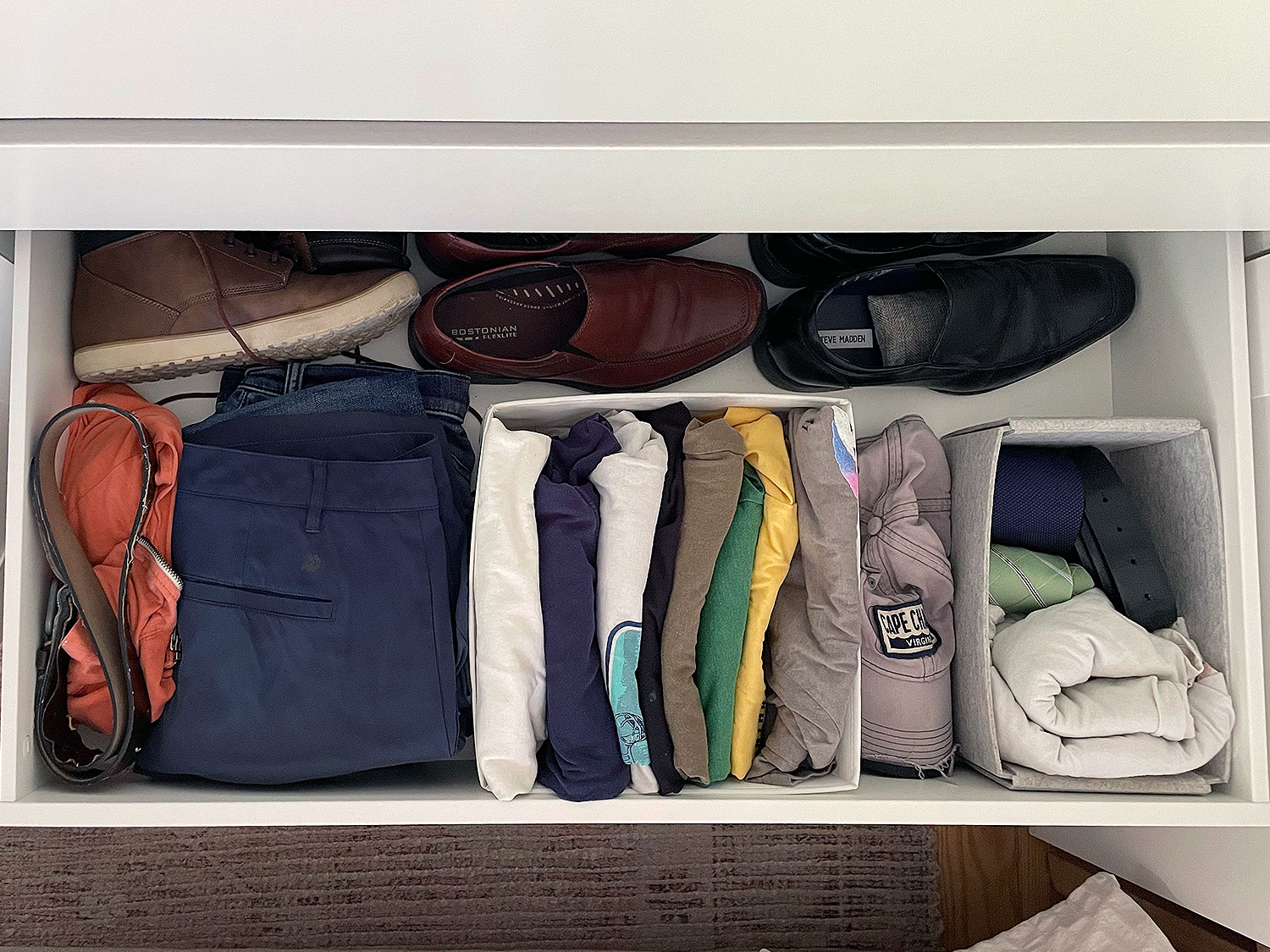 We somehow forgot to take a photo of his bottom drawer, but you can see it in the video (it holds John's laptop bag and some spare sheets along with Burger's beloved blanket that we'll keep forever). And on the very top shelf John keeps our travel duffel bag and, at the moment, some puzzles we're bringing to his mom & dad the next time we visit.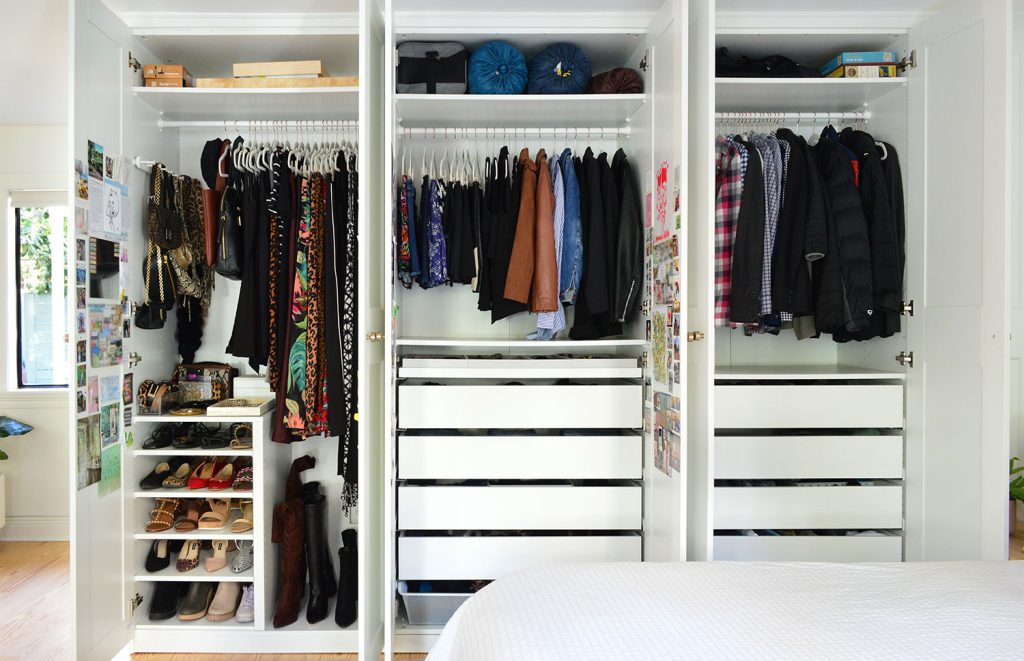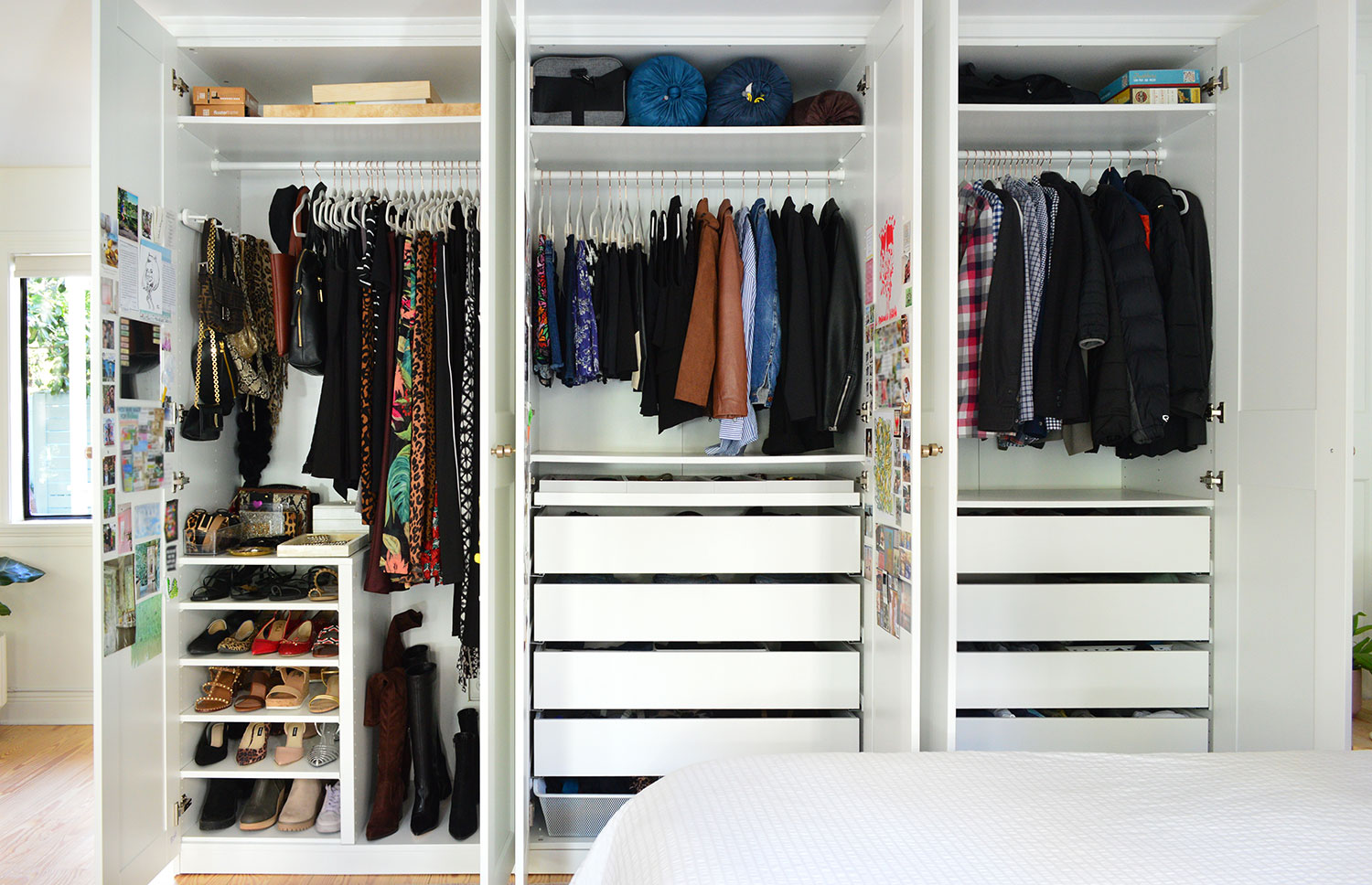 We also both have spare space under our hanging bars that's sort of a "flex space" that comes in handy if we're having guests over and need to quickly put away some mail or packages that arrive. We also use it this time of year to stash our holiday gifts before we wrap them. And speaking of the holidays…
The Bonus Closet: Seasonal Decor
Like we mentioned, there's a 19″ Pax wardrobe tucked into the right corner of this wall, and it's blocked by John's nightstand most of the time, but that doesn't mean it's wasted space. We're able to fit ALL of our Christmas decorations in there – ornaments and lights up top, random decor in the middle, and our ENTIRE 6'5″ Christmas tree on the bottom (thanks to it breaking down into smaller segments).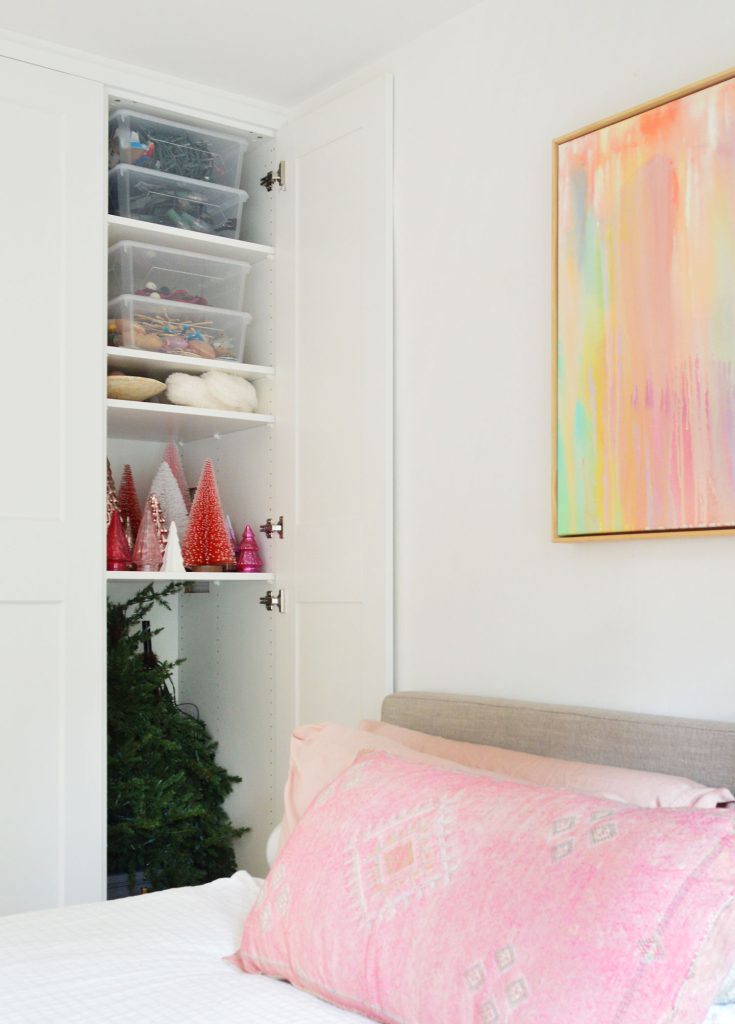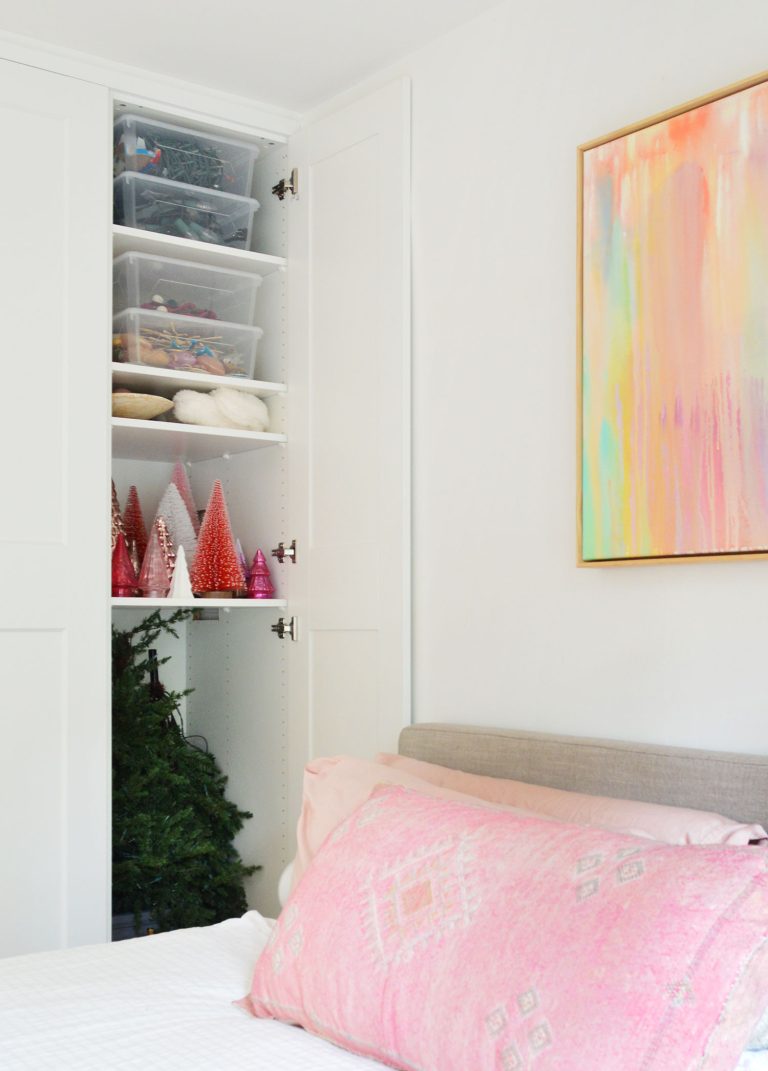 We basically only move John's nightstand and open this cabinet two times a year – once in November to get stuff out and then again in January to put stuff away. I'm so glad it's not just a dead corner that serves no purpose and we actually get to fill it with seasonal stuff. Smart storage = our love language for real.
Our Closet Organizing Essentials
I mentioned a lot of things in this post that we use to keep our closets organized, so I wanted to wrap things up by putting them all in one place for you:
So whether you have a custom closet or just a basic little nook, hopefully some of these systems can help. Even thinking about how you have it organized and seeing if you can make more sense of things. For example, I could store my short skirts with my longer ones and dresses but it just made a lot more sense to store them in the other wardrobe with my shorter hanging stuff because my brain works that way and I'd be looking for them on my "shorter hanging bar" versus on an "all-skirts bar" if I had it organized that way.
Similarly adding a cheap little mirror also helped with function so much. Anytime you find yourself walking to a second location to do something is a clue you might find it MUCH EASIER if you can create a spot to do that thing within the primary location.
And lastly, sometimes you just need candy in your top drawer. No judgment.
Other Closet & Organization Posts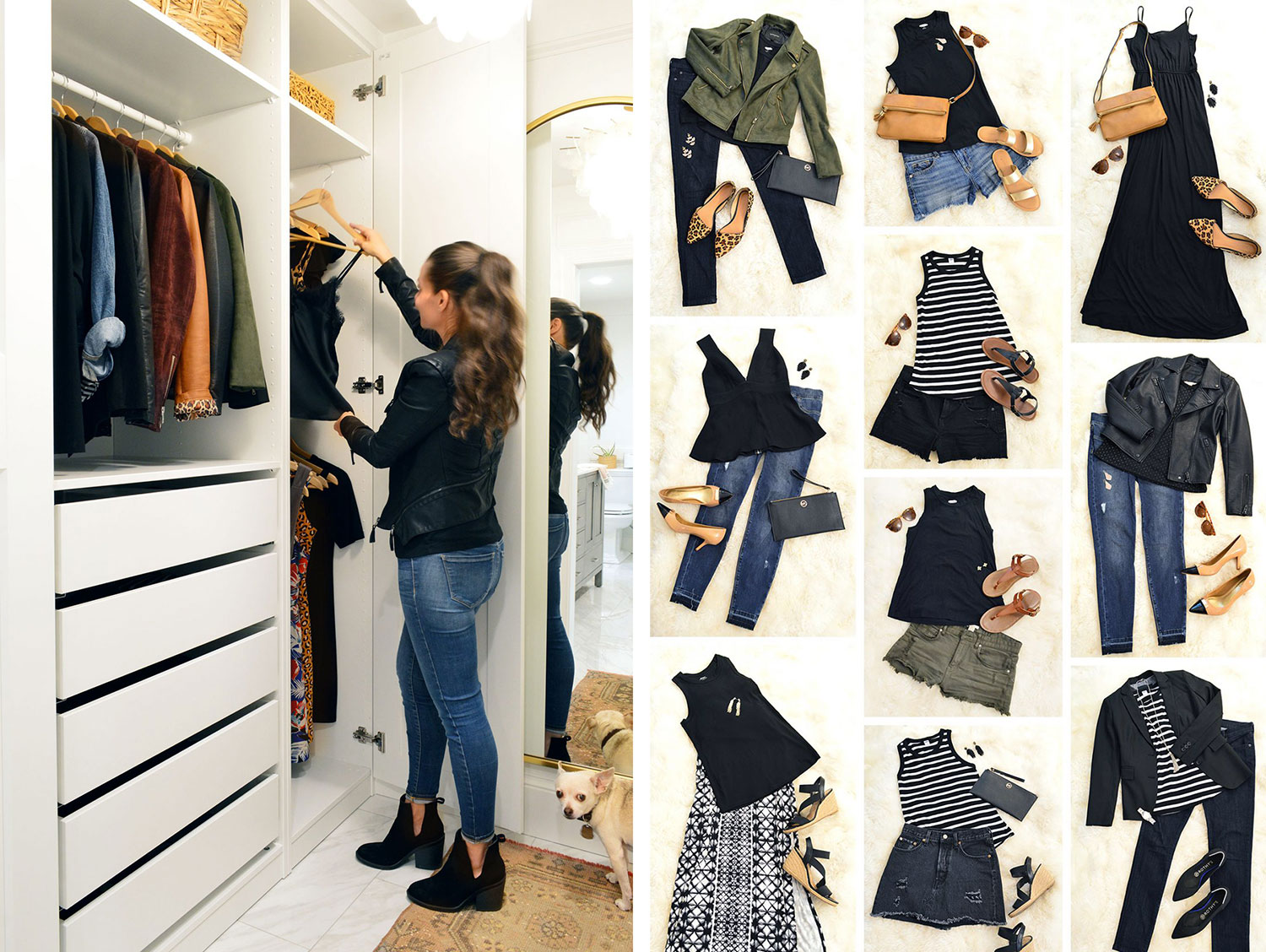 If you'd like to see more peeks inside our closets, or get more organization tips, you might enjoy some of these posts:
*This post contains affiliate links, so we may earn a small commission when you make a purchase through links on our site at no additional cost to you.
More posts from Young House Love