It's the penultimate episode: Project Runway season 20 has anointed its final four, and I'll be personally offended on behalf of Law Roach if their avant-garde looks don't live up to his exacting standards. The remaining designers—Brittany, Bishme, Laurence, and Rami—have been anticipating this particular test all season long; avant-garde is a PR classic, so they're prepared when Christian makes it official at the top of SUMMIT One Vanderbilt in Midtown Manhattan. Amongst the ceiling-to-floor windows and mirrored walls, the crew has little trouble dreaming up some wild ideas.
After stocking up on neoprene and leather and tulle, they settle into a rhythm of cutting and stitching, and Christian dips into their focus sessions with feedback: He urges Bishme to push his vinyl baseball cap in an edgier direction; he nudges Brittany to up the drama of her coat sleeves; he suggests Laurence add a "surprising element" to an already technically difficult look; and he frets over the "risky" nature of Rami's layered gown.
When he returns later with models, the dreaminess of SUMMIT One Vanderbilt's brainstorming has crystallized into stress, and a lot of it. The outfits are starting to come together, but none approximate works of art just yet. The group's concerns seem to rub off on Christian, who quirks an eyebrow at Brittany's "dinosaur-arm" sleeves and frowns at Laurence's simple silhouette. "The next few hours are some of the most important in the competition," he tells them, only further ratcheting up their anxieties.
More From ELLE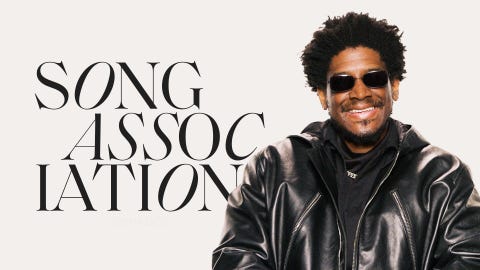 The next morning, Brittany apologizes over breakfast for how "shot" her nerves will remain throughout the rest of the day. But, in spite of their communal apprehension, none of the competitors project it onto one another. "I'm thankful as hell because, literally, fashion has always saved my life," Bishme says, reflecting on what I'm sure is true for the whole cohort. "And I think I'm happy that this is the beginning of a journey that I have to kinda continue trusting." Even Laurence joins in: "I am so impressed with you guys," she says as they return to the workroom. That's quite a pivot from her remarks last week.
As the models undergo their final fitting, Christian squeezes in a few one-liners ahead of the runway show. ("I like boobs, excuse me!" is a particular standout.) Eyeing Bishme's cap—crafted exactly how Christian suggested earlier in the episode—he raises his voice to its highest register: "Ohhhhh, so you took my advice on that hat, didn't you?" Bishme, smirking, replies, "Yeah, of course, girl. You talk a lot, but I listen." That willingness to adapt just might clinch him the challenge.
Guest judges Law Roach and CFDA CEO Steven Kolb join Nina, Elaine, and Brandon alongside the catwalk this week as the lights dim and the runway show begins. Ahead, a few thoughts:
Bishme: I agree with Christian's one critique of Bishme's look: It's giving BDSM Batgirl. But honestly? I enjoy it—especially the "balloon" shape encircling the model's back like a halo, and the fabulous cap with the eye cut-out. That said, I do wish there were some contrasting element or additional fabric to make this look feel more luxurious.
Rami: Bear with me. I know this isn't the point, but I can't tear my eyes away from the model's hair and makeup. Can we get a GRWM, please?! Anyway, the dress—as with so many of Rami's red-carpet creations, it's cleverly draped, though more experimental than his previous work. (The hood, in particular, brings the entire design together.) But the structure of the gown itself could use a lot more refining, and its fabrics look too messy for a premier event.
Brittany: This elongated-sleeve puffer coat and matching skirt earns an eyebrow-raise of approval from Law himself. The look's both unconventional and commercial—a rare combination—and I think that puffer skirt could hold its own against a number of popular statement pieces.
Laurence: While there's certainly a rigidity to Laurence's work, there's also a freedom of expression within that precision. Her skill is so fine-tuned it makes her creations feel radical. I adore this cinched-waist mini dress with sculptural shoulders and hips, rendered in a mix of vinyl and Laurence's signature leather. It's sexy, elegant, and—woof—so good.
The line-up prompts a long round of deliberation amongst the judges, as they grapple with what's original versus commercial, what fit the challenge and what embraced it, what's reverential versus forward-thinking, and who best deserves their own collection. One decision is obvious: Bishme claims the top honor and a spot in next week's finale. Laurence, rightfully so, grabs a position right behind him. That leaves Brittany and Rami unsure of their fates; the judges determine Brittany's look isn't a true avant-garde design, while Rami's is critiqued for its aesthetic imperfections.
Ultimately, Brittany slides into the last remaining finale slot, and Rami's sent home. As Brittany sobs through the sudden, intense burst of relief, Rami and Christian embrace in the green room, both seemingly overwhelmed by the power of Project Runway in their lives and careers. Rami, too, starts to weep in his parting confessional interview: "It's an honor," he tells those of us watching at home, "and that's it—that's all I'm gonna say."
Next week a winner will finally earn their crown. Who's to say that Batgirl cap won't serve as the diadem? Wouldn't Christian be thrilled.

Culture Writer
Lauren Puckett-Pope is a staff culture writer at ELLE, where she primarily covers film, television and books. She was previously an associate editor at ELLE.