Spoilers below.
Turns out, the reward for making it to week 10 of Project Runway All-Stars season 20 is this: You get to design anything your heart so desires, but it must be trotted out into the dark in the pouring rain, where the judges will need to remove their spotlight-blocking sunglasses just to get a clear image of your work. Also, your models will be toting umbrellas and trying not to teeter in their heels as a few shameless gusts tear through the tree-lined pavement of Franklin D. Roosevelt Four Freedoms Park. But, darling, it will add drama. So…y'know, make it work.
Anyway, our remaining designers have no way of knowing this development is approaching when Christian first informs them they have two days to "make whatever the hell you want." ("You're welcome," he says, to which Prajje replies, "You're welcome!") At Mood Fabrics, they have 30 minutes and $750 to stuff their bags with purple leather and feathers in Easter-candy hues. Everyone's instructed to craft a garment that's fully "them": Kara Saun decides to draw inspiration from the princess-like feel of her "Fashion FairyGodmother" nonprofit, while Prajje opts for emerald-green fabrics in the mood of the snake-like Haitian Vodou spirit Damballa. In turn, Brittany goes for her athleisure signature; Korto chooses a robe; Bishme attaches a veil to a cap; Laurence cuts a leather skirt; and Rami picks a simple, elegant silk for an Oscars-worthy gown.
More From ELLE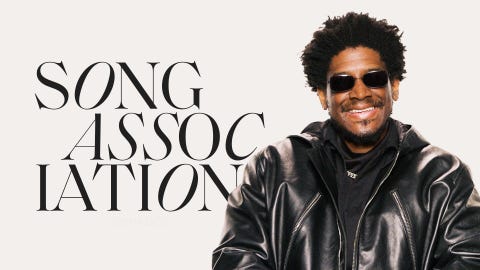 The drama in the workroom is minimal this week—remember, there's a storm brewing—but Prajje takes a moment to express his displeasure at an apparent copycat: Brittany's stitched together a white criss-cross halter top similar to one he showcased in the '90s-themed episode 6 challenge. And while, sure, the resemblance is there, I'm not sure Prajje would win a copyright battle; that exact halter style is practically ubiquitous right now. Thankfully, Prajje decides not to start a fracas between him and Brittany, and everyone makes it to the next morning as friends.
As Christian floats amongst the designers, sprinkling them with editing tips (Kara Saun's over-the-top pastel train, in particular, earns his side eye), Bishme decides to play a prank on the PR mentor. (A bold move, but one I respect.) As the group prepares to shuttle their models to the park, Bishme hides his chocolate-brown satin ruffles and insists he only had time to make a pair of underwear instead. "That is not the gown," Christian deduces, and proceeds to search the entire workroom for the ruffles, which he uncovers stuffed beside a mirror. Bishme's justification is as delightful as his grin: "I love messing with Christian, because low key, he stresses me out sometimes."
And Christian is stressed, y'all, especially as the group descends on the park. The clouds overhead signal trouble, and practically none of these looks are what I'd describe as weather-appropriate. When the sky opens up, Christian quickly declares, "Okay, I need to go," but worry not! He survives the shower and returns in time to sit beside Elaine, Nina, and Brandon as darkness descends and the runway show begins. Ahead, a few thoughts on this week's designs:
Korto: I'm not a huge fan of this week's outdoor set-up. Even with the spotlights glaring on the park sidewalk, I'm squinting to make out the details of Korto's robe, sweater and trousers. The shimmering silver brocade is pretty, but the surrounding darkness prevents a clear view of what's going on underneath it. (And I really wanted a good look at those pants! They got the endorsement of "cool" from Christian!) Anyway, I can see enough to know this is a solid ensemble, one that might not nab a top spot but should see Korto through to the next round.
Prajje: I'm thrilled to watch Prajje send out a gown this week, especially when the rainy elements actually add to its impact: The light filtering through the ballooning sheer ball skirt, the glint of gold from the snake jewelry, and the raindrops dotting the puff-sleeve top elevate its panache.
Brittany: Prajje needn't have worried about Brittany stealing his vibe; her sunset-pink crop jacket and cargo pants are nothing like his '90s streetwear. (If anything, they lean more on the '80s end of the spectrum.) I always appreciate the wearability of Brittany's clothing, and this week's showcase is as beautiful and as utilitarian as we've come to expect. My only critique? It looks a teensy tiny bit like an ostentatious ski suit. But, it's fine, ski suits are supposed to be ostentatious!
Kara Saun: One thing I adore about Kara Saun is that she knows her own aesthetic, and she'll be damned if anyone tries to stifle it. True, I wouldn't have paired her feather-adorned cropped jacket with a sheer, full-length gown and a floral train. It's overwhelming to the eye and on the model's body. But, individually, there's no doubt these pieces are works of art. Remixed into new outfits, they could make for something remarkable.
Rami: This is one of few dresses that might actually look better in a storm. Rami's flawless, effortlessly draped silk slips across his model's skin like oil. His choice of only two fabrics was a testament to the power of restraint, but I do wish there was one additional element of surprise, something that differentiated his silhouette from other red-carpet gowns like it.
Laurence: It never fails to impress me, how Laurence is able to make leather seem breathable, flexible, even light. Her all-leather short-sleeve jacket and full-length skirt might not be particularly comfortable in the rain, but they practically pulse under the spotlights. I could envision this exact look on an upcoming F/W runway.
Bishme: This design is so different, in the best possible meaning of the adjective. And again, in this case, the lighting and the wind and rain all add oomph to an already eye-catching outfit. Bishme's combination of streetwear and couture—here, a veiled cap, a cropped pleather jacket, and sheer bottoms with ruffled leg warmers—is so inventive, yet so organic. This is, without a doubt, my pick for the win.
After everyone rushes inside to dry off and warm up, they gather on the main Project Runway catwalk, where the judges inform Brittany and Korto they're safe for another week. (But Brandon warns them their garments were "a little safe, though, both," to which Korto tells Brittany, "I feel offended.") The judges' top picks, then, are Bishme, Rami, and Laurence, leaving Prajje and Kara Saun in the bottom.
Laurence nearly snags the highest honor, but ultimately Bishme pulls through. (As he should!) Still, Nina gives Laurence this encouragement for the next challenge: "You have this very strict personality, and you're not letting it go. And when I see you move out of that comfort zone, when you play with the strict and the soft, [that's] when the magic really comes out."
Ultimately, it's Kara Saun who's asked to leave the runway one final time. Like the fairy godmother she embodies, she blesses the group with a beautiful parting story: It was her mother who told Kara Saun she should gather the courage to return for All-Stars. Only two weeks after this encouragement, her mother passed away. Through her tears, Kara Saun tells the judges, "I think my mom set this up for me."
Later, as she exits the workroom, she leaves behind little notes of love and motivation for the remaining designers. It's profound to watch this display of grace, of genuine support for her peers. To echo the words of Korto: "Your mother is so proud."

Culture Writer
Lauren Puckett-Pope is a staff culture writer at ELLE, where she primarily covers film, television and books. She was previously an associate editor at ELLE.