With each use, your cast iron cookware will slowly develop a deep, dark patina that indicates a well-seasoned skillet. While food grease builds flavor and acts as a natural non-stick surface, it's still important to regularly clean your cast iron skillet — or else the flavor may turn rancid. "Clean cookware after every use, so food bits don't build up and cause burning, hot spots or sticking," says Nicole Papantoniou, director of the Good Housekeeping Institute's Kitchen Appliances and Innovation Lab.
"No one wants to cook in a dirty pan," adds Carolyn Forté, executive director of the Good Housekeeping Institute Home Care & Cleaning Lab. "Your cast iron skillet should be washed after every use, but never soaked in the sink or put in the dishwasher." To help you care for your cookware without damaging it, we're sharing how to clean a cast iron skillet or Dutch oven — including techniques using coarse salt and dish soap. Keep scrolling for some helpful cleaning pointers, and find out tips for re-seasoning.
What You'll Need
How to Clean a Cast Iron Skillet After Cooking
Before you follow these simple step-by-step cleaning instructions, remember to "never soak a cast iron skillet in water or put it in the dishwasher," says Papantoniou. Avoid scrubbing your cast iron with anything too abrasive, like a steel wool or stainless steel scouring pad, that might scrape off the desired build-up.
While your cookware is cool enough to touch, wash it with a few drops of mild dish soap and a stiff bristle dish brush. Rinse the pan. Reminder: Do not soak the skillet.
Take it back to the burner and turn on the stove for 30 seconds or until the water starts to evaporate. Once dry, turn off the heat.
Re-season the surface by coating its interior and exterior with a few drops of vegetable oil, spreading the oil with a clean paper towel. You may also use a cleaning cloth or dish towel, but note it may stain.
Once cool, put a paper plate or paper towel in the mouth of your skillet to absorb moisture and store. "Always allow your cast iron to fully dry after use or before putting it away," says Papantoniou, who sometimes leaves her skillet on the counter overnight before storing it.
How to Clean a Cast Iron Skillet With Salt
Coarse salt is a great alternative to using dish soap, and it's actually a better option for maintaining your skillet's seasoning. "Cleaning your cast iron with salt is a good way to help preserve the patina and reduces how often you need to season the pan," says Papantoniou. When deciding which method to follow, Papantoniou says it ultimately comes down to preference. "Cleaning with soap and water offers a better clean, but I prefer the salt method to build up the non-stick coating."
Empty the pan, pouring out any drippings or residue food into the trash.
Create a thin layer of kosher salt, coating the entire skillet. Kosher salt is coarser than table salt, making it a better option for cleaning.
Use a wooden spoon or spatula to scrape any burnt-on bits or stuck-on food. Note: This process is best performed on the stovetop, so there's no risk of scratching the countertop.
If bits are difficult to remove, allow the salt to heat up as you continue scraping.
Wait for the salt to cool completely before tossing it into the trash. Wipe the pan clean with a paper towel or cleaning cloth.
How to Remove Rust From a Cast Iron Skillet
Don't worry: It's easy to bring a rusty cast iron skillet back to life. A regular cleaning should be enough to remove rust, but you may need to swap your bristle brush for something a bit stronger.
Use a few drops of mild dish soap and a non-metallic scrubber or a stainless steel chainmail scraper, which work best for tackling a rusty cast iron.
Clean, dry, re-season and store your cookware as directed above.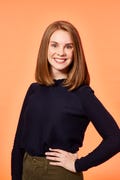 Amanda Garrity is a lifestyle writer and editor with over seven years of experience, including five years on staff at Good Housekeeping, where she covered all things home and holiday, including the latest interior design trends, inspiring DIY ideas and gift guides for any (and every) occasion. She also has a soft spot for feel-good TV, so you can catch her writing about popular shows like Virgin River, Sweet Magnolias, Hallmark Channel's When Calls the Heart and more. 

Associate Lifestyle Editor
Alyssa Gautieri (she/her) is the associate lifestyle editor for Good Housekeeping, where she covers all things home and interior design. Prior to joining GH in 2022, she wrote for publications including ELLE Decor, Chairish, BobVila.com, Unique Homes Magazine and LODGING Magazine, in addition to crafting product copy for home brands like BrylaneHome and VIGO Industries.