In terms of cleaning, your microwave may be the appliance you overlook most often. Over time, food, dirt and grease build up, making it harder to scrub or easily wipe away any spills or splatters. If you've had enough of your smelly and grimy microwave or are unsure of how to get it back in tip-top shape, follow our easy guide below on how to clean a microwave.
Carolyn Forté, executive director of the Good Housekeeping Institute Home Care & Cleaning Lab, and Jodhaira Rodriguez, Home Care & Cleaning Lab reviews analyst, share the best ways to clean stuck-on food. You can use everyday cleaning products, like dish soap and Mr. Clean Magic Eraser, or opt for more natural ingredients, like baking soda, lemon and vinegar. "Vinegar works well on grease," Rodriguez says. "The lemon-water method for the interior helps steam up the inside and loosens up any food that's stuck."
We even share tips for all types of microwaves — think over-the-range, built-in and countertop models. Plus, you'll learn how to rid your microwave of unpleasant smells (lemon can help here!), and we'll share pointers on washing over-the-range filters and turntables.
So, go ahead and follow our detailed directions to make the microwave cleaning process as easy as possible.
How to Clean the Inside of a Microwave With Lemon and Vinegar
Splatters can leave your microwave looking sad. To target your microwave's interior – turntable included — consider this step-by-step:
Combine 1 cup water and lemon, lime or orange slices (squeeze juice from the fruit slices into the water) in a microwave-safe bowl. Or, if you have white or apple cider vinegar on hand, combine a few tablespoons and 1 cup of water in a microwave-safe bowl.
Place the bowl in the microwave and turn it on high power for several minutes until the mixture boils and the window steams up.
Let it cool for five minutes before opening the door, then remove the bowl and wipe the inside clean with a sponge.
---
How to Clean Greasy Microwave Doors With Dish Soap and Baking Soda
It's not just the inside that counts: Remove smudges and grease from the microwave's exterior with these tips and tricks.
Clean the entire door — edges, both sides and where it seals the oven — with a sponge dampened with water and dipped in a little baking soda. Wipe with a damp cloth or sponge to rinse.
Clean a greasy window with a 50/50 mixture of vinegar and water. Rinse and wipe dry.
For heavy grease build-up and stuck-on splatters, wipe your microwave door down with an all-purpose grease-cutting cleaner (like Mr. Clean Deep Cleaning Mist ) or a sudsy mix of dish soap and water. Apply the cleaner with a cloth or sponge to prevent the cleaner from getting into the vent holes. Scrub with a non-scratch pad (such as Scotch-Brite), if needed. Similarly, to avoid damage, never spray electronic controls directly with the cleaner. Always apply the cleaner to a cloth first, then wipe the controls.
---
How to Clean a Microwave Filter
If you have an over-the-range microwave, clean the filter at least monthly. The filter is meant to catch grease, so leaving it uncleaned will lead to a sticky mess on the filter and walls. "These filters are similar to the ones in kitchen range hoods and can be removed and washed in the sink in warm, sudsy water," says Forté. Keep it submerged for at least 10 minutes. If the residue is still there or is resistant to scrubbing, add 1/4 cup of baking soda to the water and soak it again. Also, be sure to always follow your microwave manufacturer's cleaning recommendations.
---
How to Get a Burnt Smell (and All Smells, Really) Out of the Microwave
When cooking something smelly in the microwave, the smell comes back as soon as you turn the oven back on. That means it's best to get rid of the stench right away.
For light odors (spicy food with a strong aroma, for example), air out the oven by leaving the door open, or place a bowl of baking soda inside with the door closed to absorb smells.
For strong odors (think: burnt popcorn), clean any leftover residue and place an odor-absorbing gel, like Fresh Wave, inside until you run it again.
---
How to Remove Stuck-on Food from the Microwave's Interior
To get rid of dried-on food, use Good Housekeeping Seal Star Mr. Clean Magic Eraser. Place the turntable in the dishwasher or wash it by hand with sudsy water and a non-scratch scrub sponge.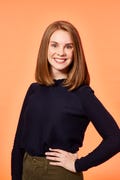 Amanda Garrity is a lifestyle writer and editor with over seven years of experience, including five years on staff at Good Housekeeping, where she covered all things home and holiday, including the latest interior design trends, inspiring DIY ideas and gift guides for any (and every) occasion. She also has a soft spot for feel-good TV, so you can catch her writing about popular shows like Virgin River, Sweet Magnolias, Hallmark Channel's When Calls the Heart and more.