The excitement of building a new home can easily lead to headaches and frustration without the proper process in place. Companies like GL Homes have focused on making the building process as simple as possible for each buyer, whether it's their first home or a forever home. 
While the homebuying process might vary, most companies follow a standard procedure. Building a new home involves many more decisions than buying an existing home. Following a fairly standard process makes decision-making more manageable.
Preparation and Pouring Foundation
A lot of specifics go into building a new home that only quality companies know how to navigate. This can be going over any zoning issues, applying for and acquiring permits, and checking up on potential roadblocks regarding electricity or plumbing. The first steps to actual home-building begin as soon as everything is squared away.
Builders like GL Homes start by putting wooden forms down to form a template for a foundation. After that, digging holes in trenches is the next step. Once footings go in, foundation walls become formed and poured. 
Based in Florida, GL Homes knows how to create the perfect foundation built to last. Once everything gets poured, there's a waiting period to let it cure.
The final step with the initial setup comes down to waterproofing and installing plumbing. Doing this first before working on the rest of the home makes life much easier for everyone. A strong foundation truly makes or breaks a home.
Framing
The floor system, walls, and roof system, usually called the shell or skeleton of a home, must be completed after the foundation is ready. Depending on the weather, it generally takes one or two months to accomplish. 
If the weather is poor, it's more challenging to get the skeleton of a home ready to go in the allotted time. Many homebuilders focus on a specific time of year when getting to this stage. Because GL Homes only builds in Florida, there are typically fewer weather delays than in other areas in the U.S. 
It's essential during the framing process to have a bit of protection around the home. Many companies use house wraps to protect the home during this stage of building. Even if the weather is perfect, it's still crucial to have proper protection.
Plumbing, Electric, and HVAC
These essential parts of a home are the next steps in the home-building process. That means installing pipes, sewer, water supply, and shower units. Electrical wiring is intricate, and the ductwork and vent pipes that go into an HVAC system complete the essential parts of a home.
One of the final steps before putting a roof on a home is to install the HVAC system. The pipes go in through the roof, and insulation goes into the floors, walls, and ceilings. Installing a roof is a significant milestone during the building process as it makes the home "dried in" and more protected. 
Electricians will follow up with proper installation and running wires, so the home becomes fully connected. HVAC and plumbing are handled before electrical wiring because it's easier to go around pipes and ducts with wires.
Insulation
To keep an indoor climate consistent, there needs to be quality insulation. GL Homes will always opt for the best thermal performance from their insulation. The standard setup is insulation on all exterior walls and areas connected to other rooms.
The main options for insulation include fiberglass, foam, and cellulose. Mineral wool can also be used, as well as concrete blocks. Heavy-duty insulation will do better than something put in without much care.
Drywall and Interior Fixtures
Drywall is straightforward to hang and secure on all interior walls. GL Homes take extra care to ensure that seams are never visible and there's a consistent finish to ensure quality work. Once installed, a primer coat of paint and any finishes goes on.
Aside from the interior of the home, exterior finishes are solidified and installed, whether brick, stucco, stone, or traditional siding. It's up to the buyer and the homebuilder to decide the best look during the design process. 
Trimming and Minor Touches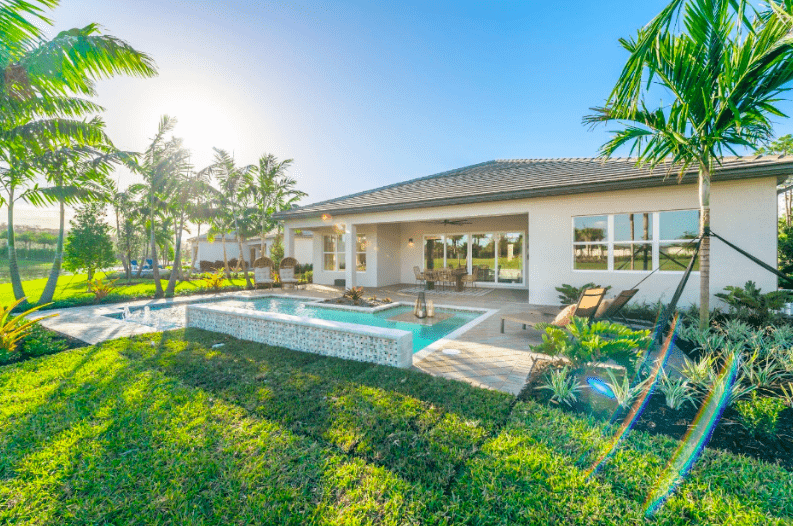 [Alt text: A picture of the exterior of a GL Homes home.]
A lot falls under this category; trim and minor touches are essential since it makes so much of a difference in how a home looks. It can be broken into three different sections. Homeowners should first consider adding trim to the doors and windows. Adding all of the little things to the exterior makes a home look ready to move into. 
Decorative trim can be expensive, but the highest cost might be setting up a kitchen. Depending on the materials used, cabinets can run quite expensive, plus it takes a significant amount of labor to install them. 
Flooring and countertops come next. Waiting until near the end will proect the flooring from damage during construction. If the floor is exposed, countertops can be installed shortly after picking out the flooring.
Equipment and Final Fixtures
One of the last steps in the home-building process is bringing in all the equipment and fixtures necessary to live in a home safely. That means installing light fixtures and putting toilets and sinks in place.
Once that's finished, some of the minor details can be last on the list. While important, a home doesn't necessarily need mirrors or other small details installed before the homeowner moves in. However, it completes the home and makes it ready to move in instead of having to handle minor details after the fact.
A Final Walkthrough
After completing all the steps above, GL Homes will take care of a final walkthrough to show people how everything works. This is important to pay attention to because it helps with a property's overall maintenance and upkeep. If anything is wrong, the final walkthrough ensures that it gets taken care of before the owner moves in. Damages are much easier to treat if found during the walkthrough.
How Companies Like GL Homes Simplify the Process
The average person may need to learn more about the home-building process. It can initially seem overwhelming, but that's where a quality company like GL Homes comes in to help. 
The team at GL Homes has built so many homes over the years that they know when to involve people in building the home and when to take care of things themselves. While every customer can be as hands-on if they want to, there's a lot of behind-the-scenez work that isn't the most glamorous.
Homebuilding doesn't have to be challenging as long as you find a builder committed to quality work and excellent communication. GL Homes prides itself on its extensive history of turning dreams into reality.