I'll start this post with a confession: I resented our kitchen porch when we finished it last fall. Resent is a strong and, admittedly, strange word to use for a porch. But I'll explain it later on in this post. The good news is that I no longer harbor any ill will toward it. In fact, it has become one of the spaces I'm most grateful to have in our smaller home. Especially after some functional additions that we've made to it over the last year since you saw it.
I love this space so much, that I'm actually writing this post from it right now. Call it Method Blogging. I'm fully immersed in my character.
A Kitchen Porch Renovation Recap
You can read a full post of this porch's previous updates, but the quick version is: this used to be a porch off of our bedroom, which had 8 glass doors leading outside (yes, eight whole doors in one room). We closed off two of the doors that led to this porch, which you see in the photo below (which also created a wall for our bed). Then we swapped that black window for a door that connects this porch to our kitchen.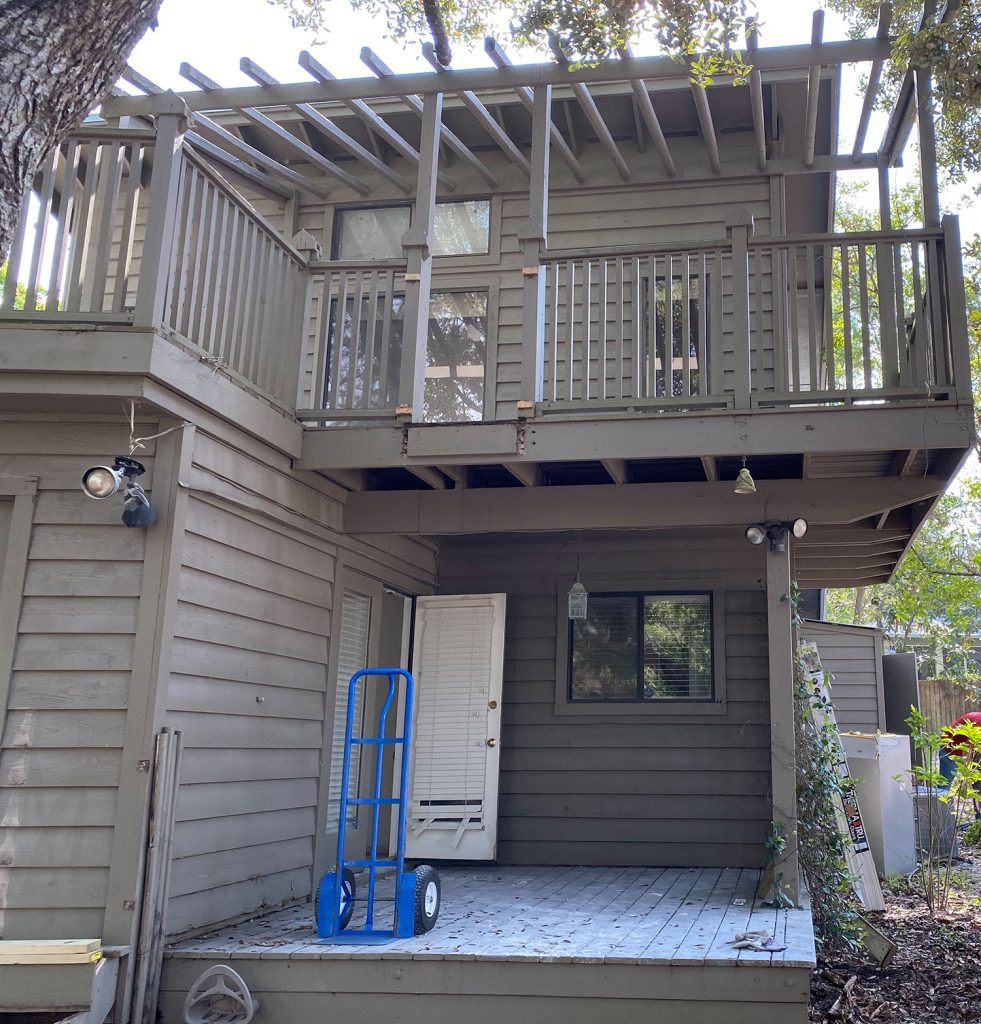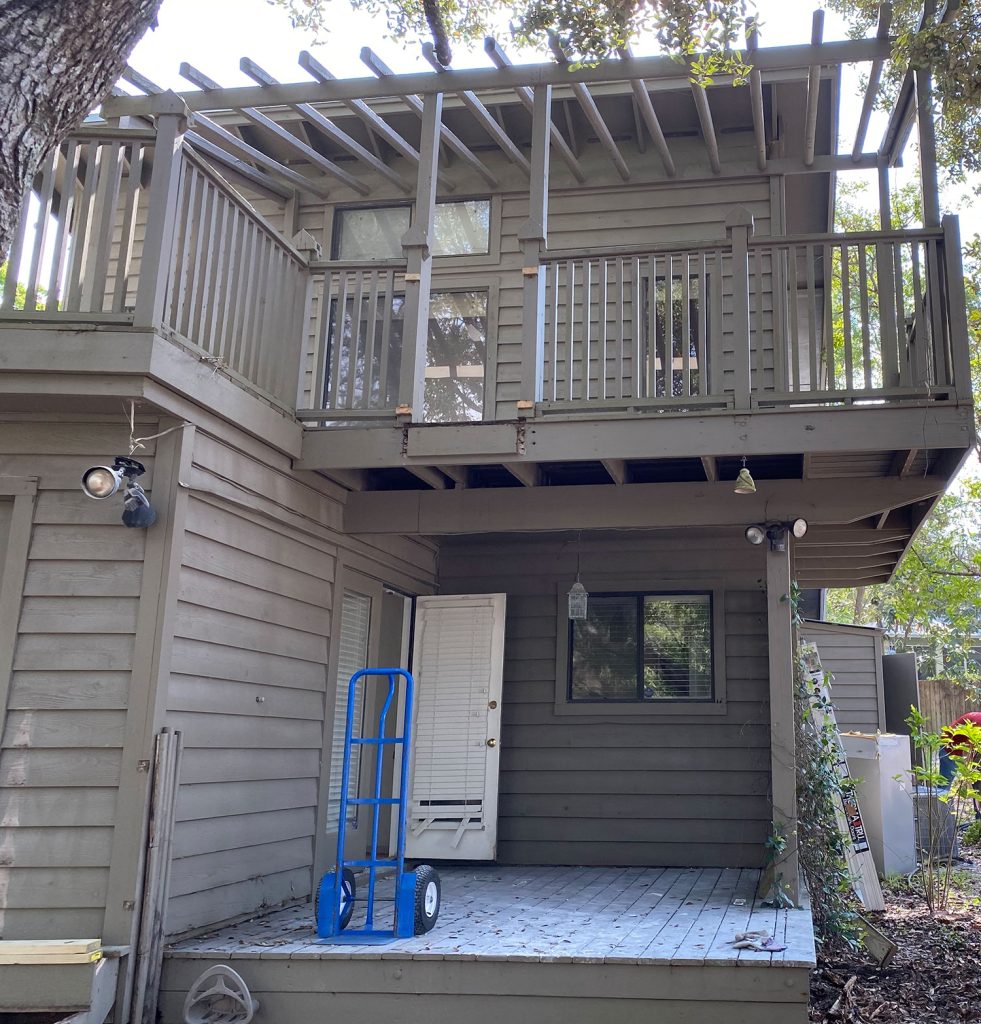 Taking this from "unused bedroom porch to "heavily used kitchen porch" has been a complete game changer. We love that this update created a quick path from our driveway to the kitchen, which makes bringing in groceries a whole lot easier.
You can see below how we park our car just outside the gate beyond this porch. There are still parking spots for guests in the front yard (they get to walk up our pretty front porch and enter into the sitting area, which feels nice for people visiting), but this little side yard parking spot has been so great for us. It's a much more direct route into the house, and the porch is covered, so it's a dry spot to run under if we're coming home in a downpour.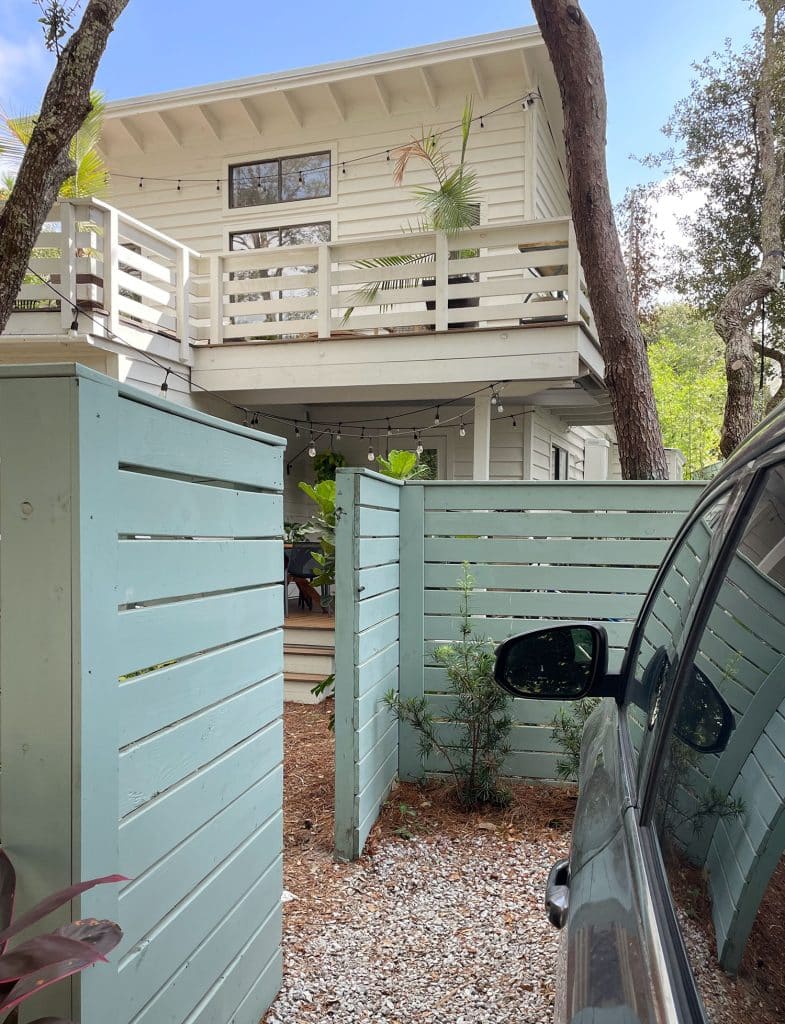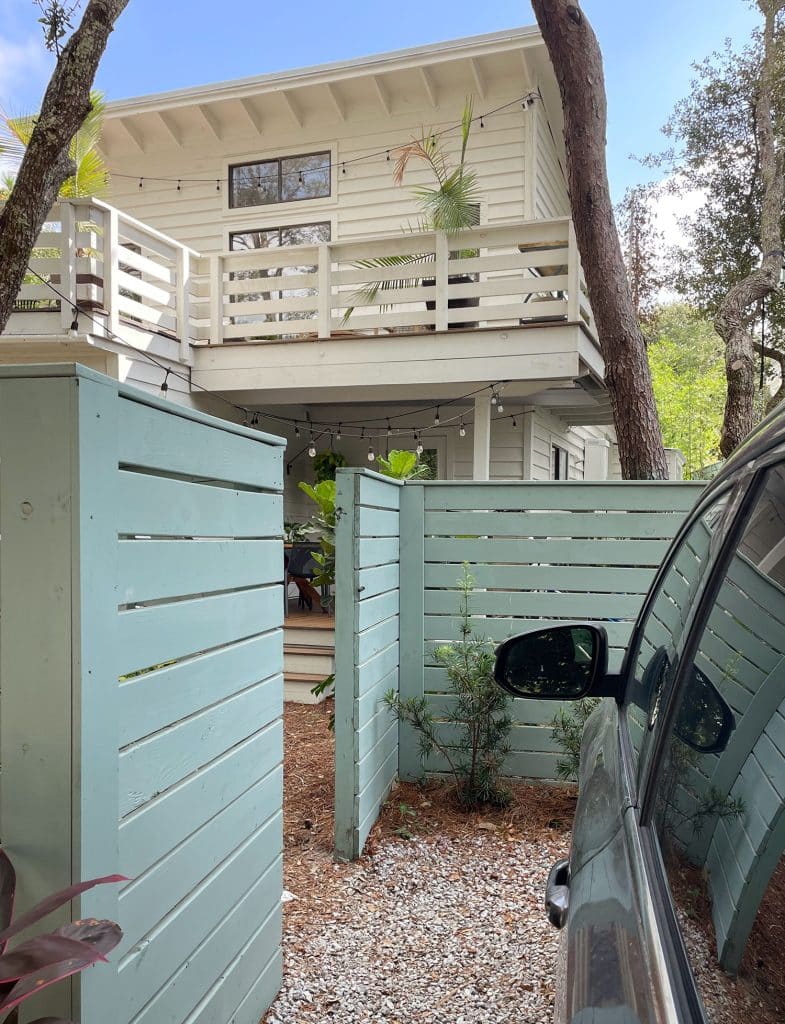 We also love the easy access to our outdoor grill that's just steps away from our kitchen's cooking area.
By comparison, this is what we had going on when we bought the house: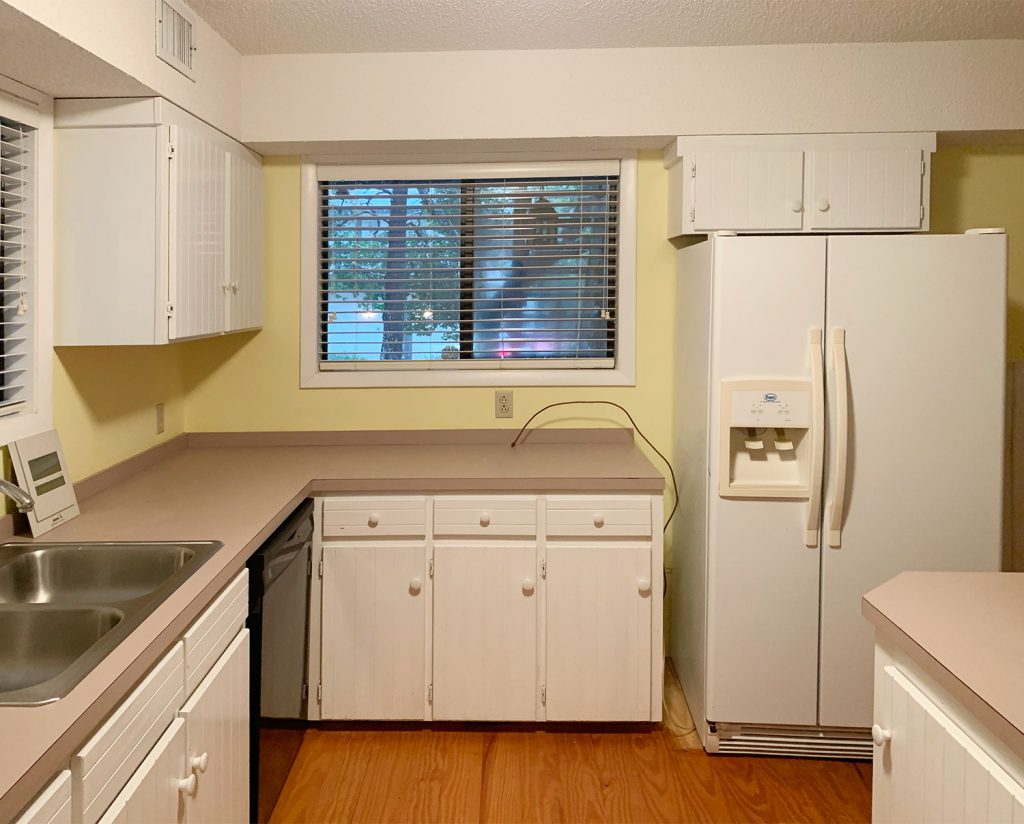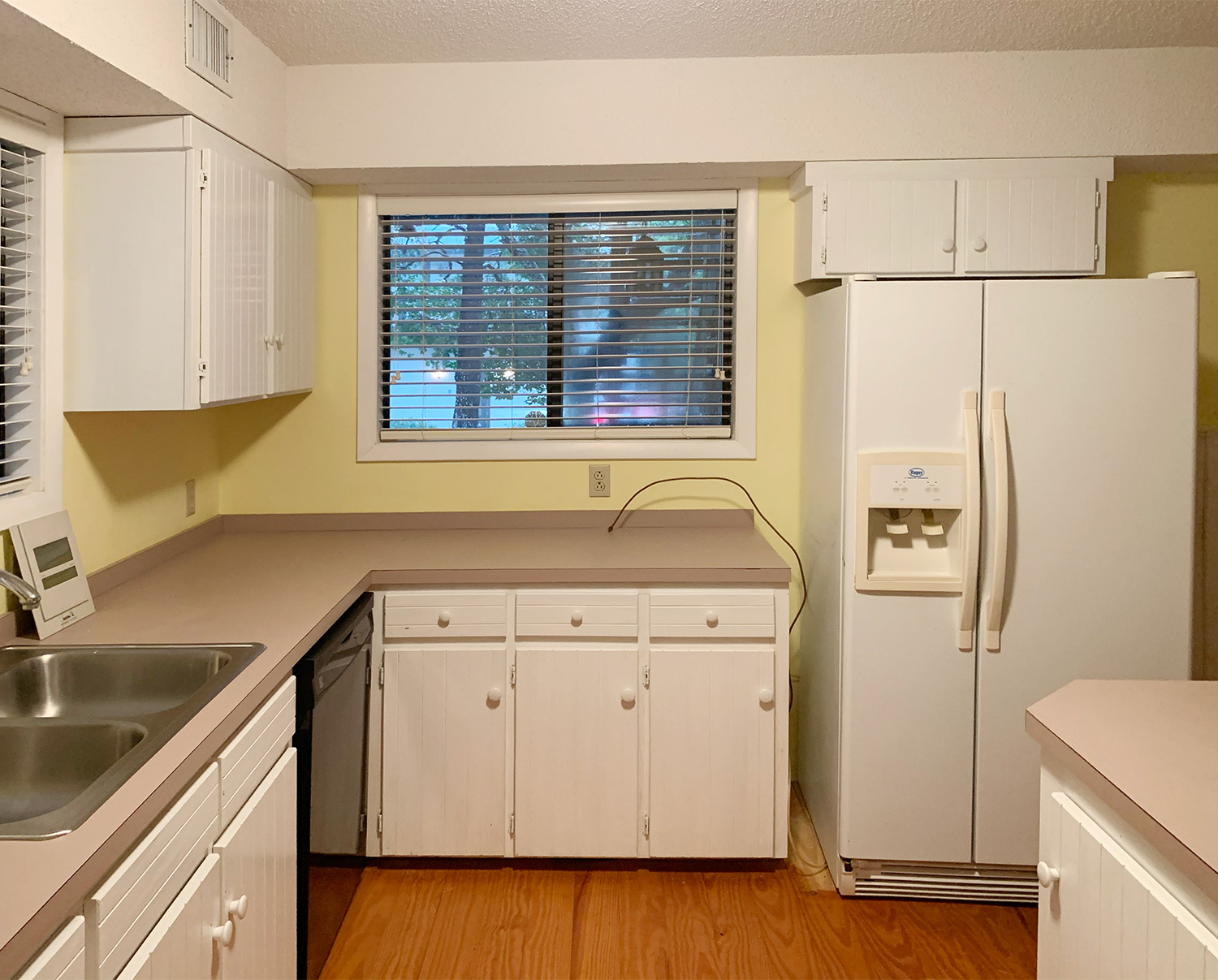 It's hard to articulate how much convenience this setup has added to our lives, but again, game-changer is the word that keeps coming to mind.
So How Did We Improve It?
To see the changes we've made over the last year, and to get a sense of how functional this has become for us, you can watch this quick video tour Sherry filmed (keep an eye out for my cameo). It'll give you a better sense of the flow and you can see some of the added function in action:
Note: You can also watch this video on YouTube.
Adding Outdoor Cabinets For Shoe Storage
As you saw in the video, the biggest improvement we've made since you last saw it was the addition of these two cabinets. They're specifically made to be outdoors and they slip perfectly into the space, in a spot that used to be taken up by a wicker console table that Sherry found on the curb, which was pretty but offered us about 89% less function (zero concealed storage and a woven rickety top).
The #1 thing these outdoor cabinets do is provide convenient outdoor shoe storage. Since we don't have a mudroom or a foyer, having not one but two places where we can keep our shoes has been really helpful (we have a cube cabinet next to the front door with baskets where we also store shoes).
I know keeping them outside may seem like a recipe for disaster, but it has been several months (some of the hottest/most humid) and we've had zero issues with bugs/smells/moisture. Sherry jokes that the bugs would rather be in our lush plant-filled yard, and our shoes get some nice ventilation through the tiny cabinet slivers that are built in for airflow (again, these are made to be outside, so that bit of moving air is likely why they don't swell/warp/fall apart). You can see more about that if you watch the video tour Sherry made that I shared earlier in the post, which is also where you can see Sherry open the other cabinet to show you what's in that one.
The nice thing is that this is BONUS shoe space thanks to also having that indoor storage in our cubby by the front door. Plus, keeping our shoes outside helps minimize the amount of sand and dirt that gets tracked in.
The cabinets also create bonus counter space, which has been especially useful as a prep area whenever we're grilling (you may have noticed my case of grill tools stored above the shoes). And the wood-framed concrete counter has proven to be very durable and weatherproof so far.
Beyond their function, they just fit so nicely in this space and we love that they look like an outdoor extension of the cabinets inside. It's like our kitchen counter got lengthened by five and a half feet (and since the porch is covered, it's usable year-round).
Adding A Water Feature
Maybe "water feature" is a bit of an oversell, but we've grown to appreciate the running water sound by our pool so much that we wanted to try to incorporate something that sounds nice on this side of the house too.
So we bought this water fountain as a self-contained, all-in-one kit (you literally just put the ball on top, fill it with water, and turn it on). Super easy. We especially like that the green patina ties into our copper rain chains and the sound is really nice (you can hear it in the video).
We're considering moving it down into the yard at some point, we just have to figure out the electrical situation first. But for now, it's just plugged into the outlet up here.
Creating A Hammock Zone
Sherry mentioned on Instagram that we doubled our backyard pool area by shifting the fence back (we'll write a post about that as soon as it's more settled). And as soon as we earned that much bigger pool yard, we moved our firepit over there, which means we can do more entertaining all in one spot. Think kids swimming while adults enjoy a fire, which we often do at our friends' houses so we knew we'd like it.
Moving the firepit left an unused zone in our side yard – which is just beyond the kitchen porch. The kids have been excited to have a hammock, so we bought one and it fit perfectly right in the old firepit spot.
Actually, we bought two hammocks. The fabric one we ordered first turned out to be really uncomfortable (IMO, at least – your back can't arch very much so you feel like you're splayed out and kind of flat) so we returned it and got a much-cheaper-yet-superior traditional rope hammock instead. It has quickly become a favorite reading spot for all of us (and a stellar napping spot for me). The only downside is that I feel like I'm cheating on our outdoor daybed, which used to be my go-to spot for such leisurely activities.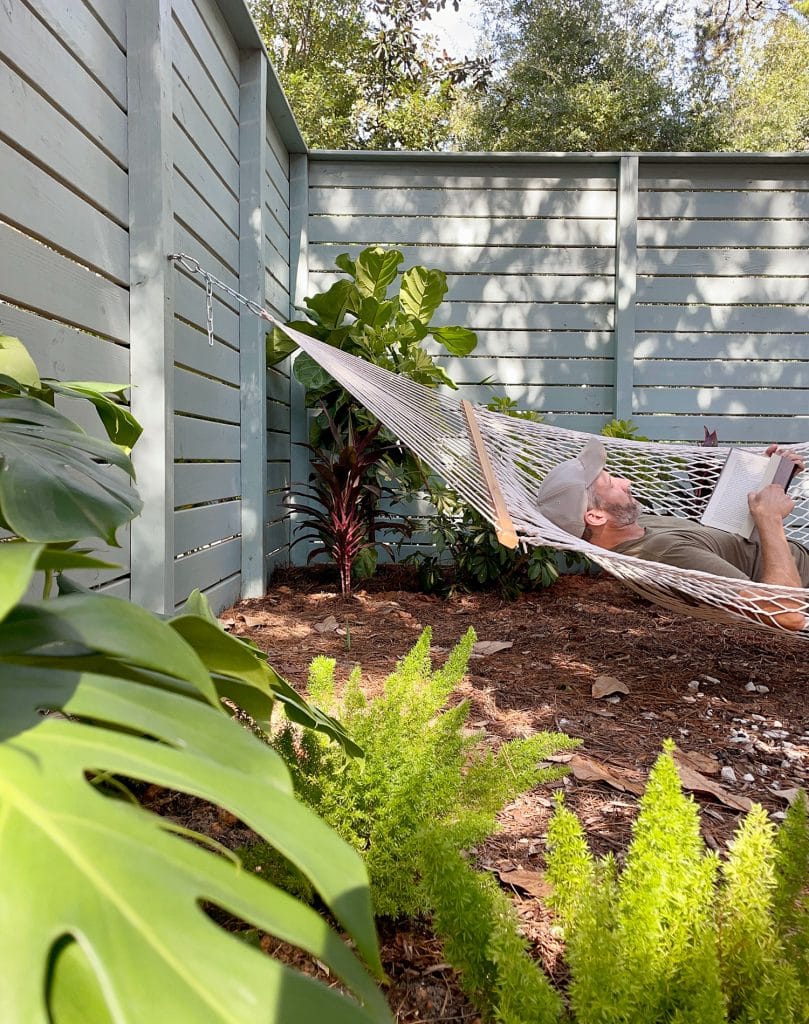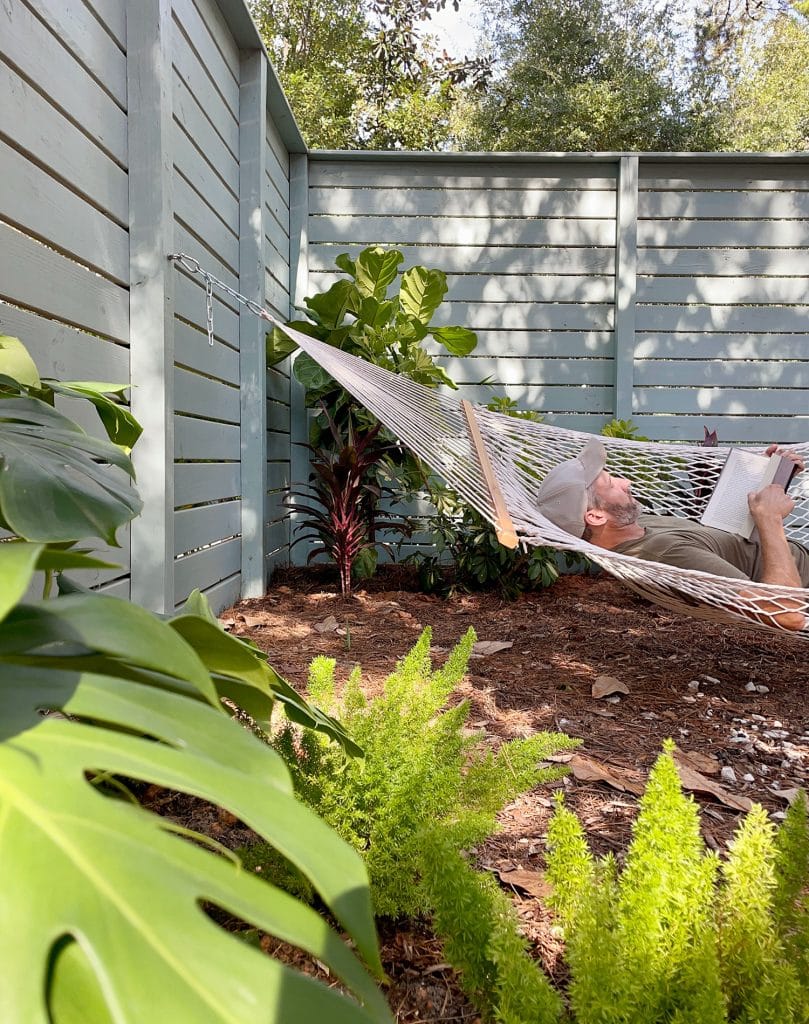 It has been especially great these last several weeks thanks to the fall weather around here. There's like no humidity, but it still gets into the 70s and 80s each day. But even when it's on the hot side, the hammock gets some great shade!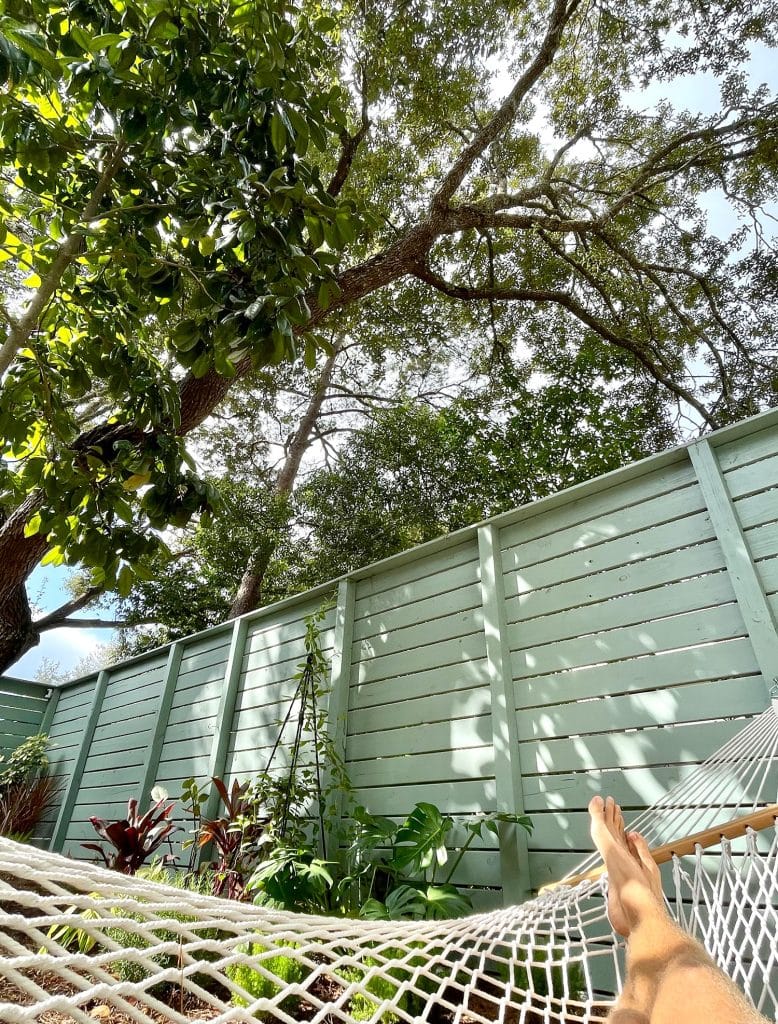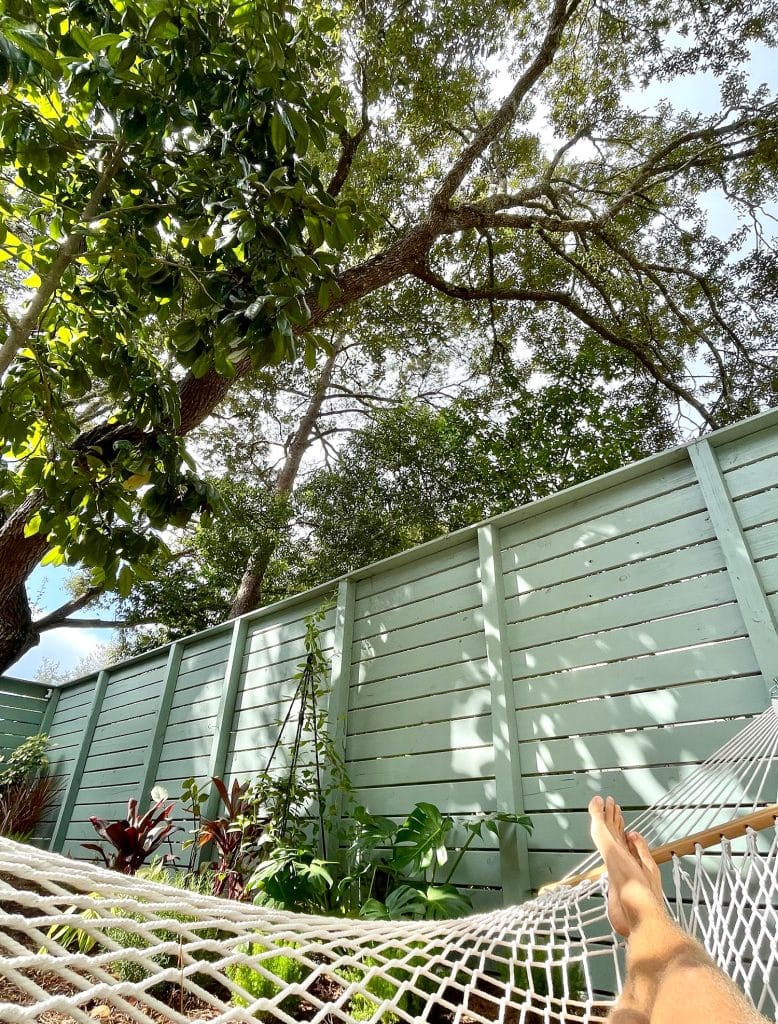 I know it sounds like I'm gushing (bragging?) but again, we've just been really happy with how this whole side of the house has come together. Next on our list is to get some more permanent walkways and then just continue to turn it into a plant-filled haven (as you can imagine, Sherry is ON IT every time we go anywhere near a plant store).
So Why Did I Resent This Porch At First?
Okay, back to my confession about having mixed feelings about this space at first. It really had nothing to do with the space itself, just the timing of… things. Part of the reason we embarked on updating this zone – fencing the side yard, adding the new door, redoing the porch, etc – was for our 15-year-old dog, Burger. We wanted to create a fenced area where he could easily go to be outside, sleep in the sun, go to the bathroom, etc. Up until then, he'd been using the front door for those "activities" and, since that yard wasn't fenced and was right by the street – it always required supervision. And, in the case of bad weather, also an umbrella.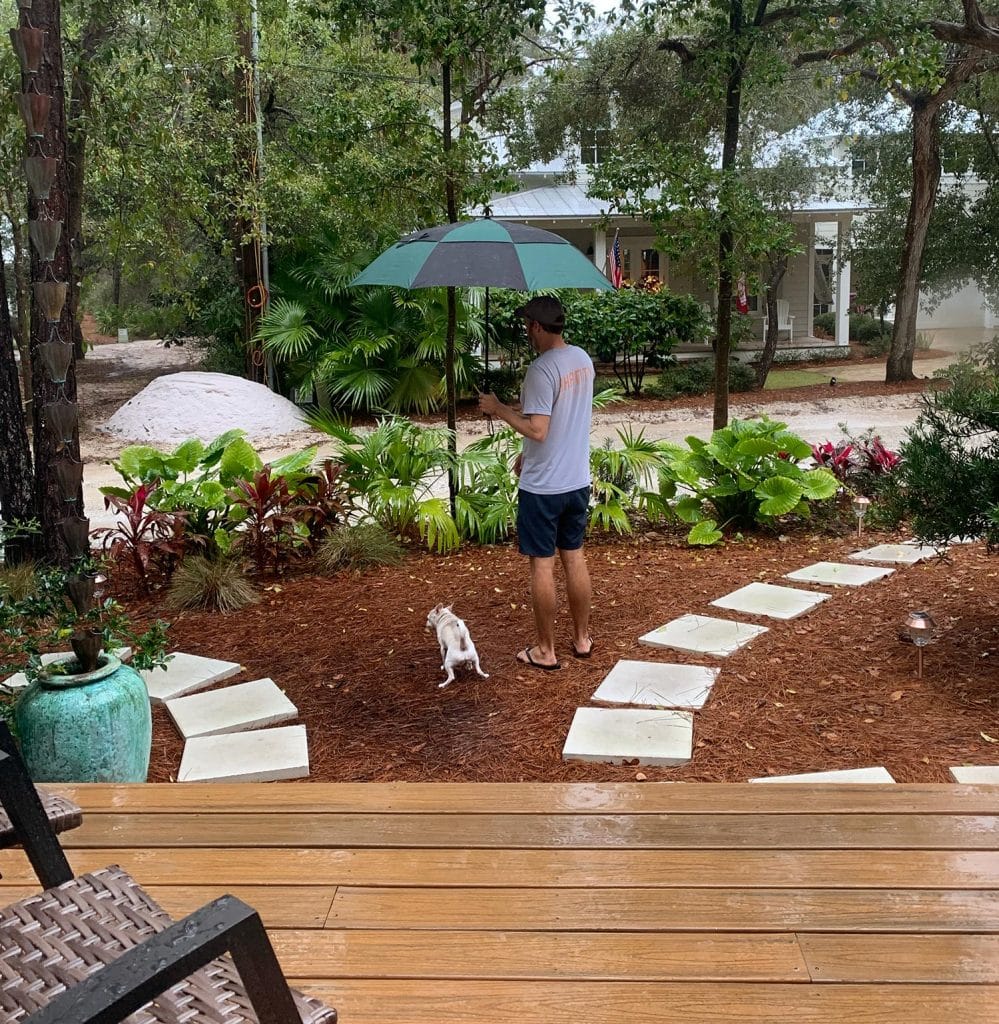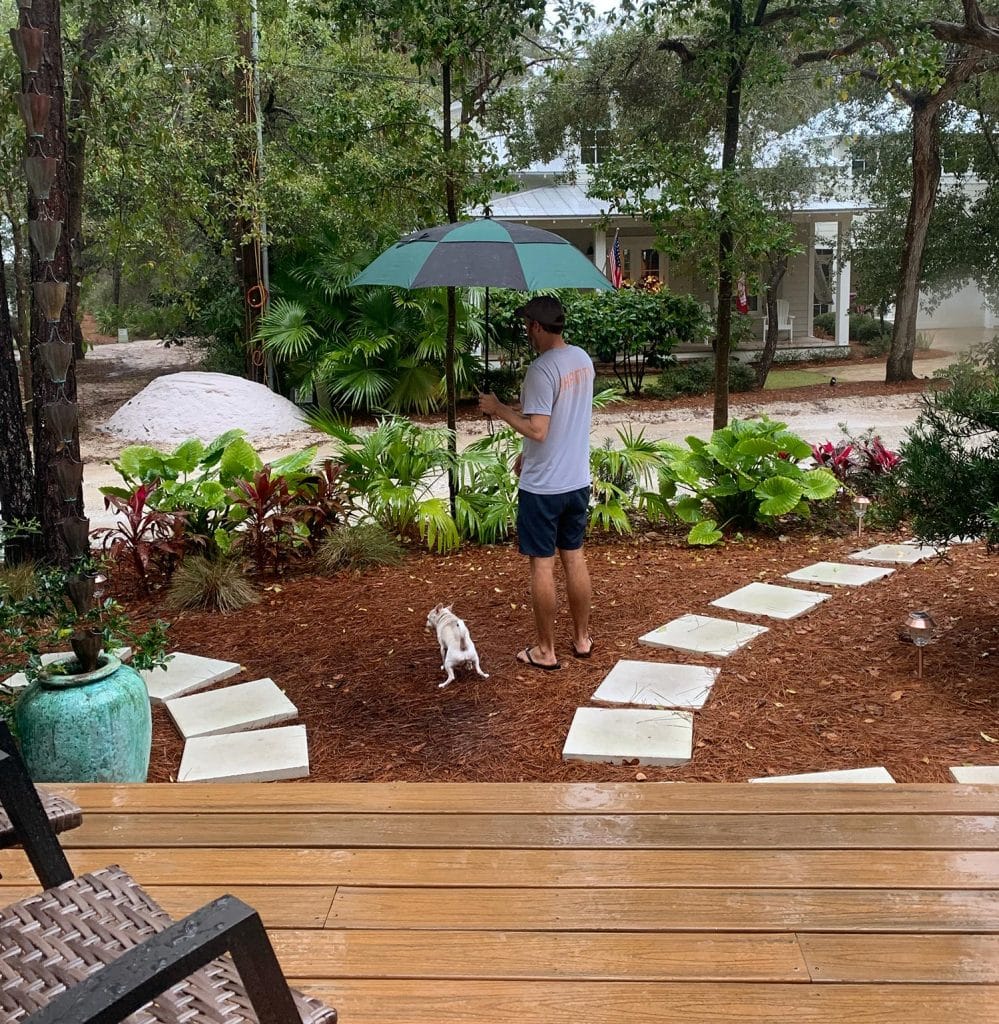 Yes, I was the Fonzworth Bentley to Burger's P Diddy. Or should I say his Pee Diddy?
Anyway, renovating this porch was definitely for us human Petersiks too, but it was also specifically for Burger. Sadly, he died less than a week after we finished it. We're grateful he got to use it for a few days (look how happy he is in the photo below) but somewhere in the grief of his passing, I felt like I hated this porch sometimes. I don't know if I was mad at us for not renovating it sooner, or at the universe for the cruel timing of it all. I'm fully aware that the feelings were misdirected, but that's the best way I can explain how it felt at the time.
It's been over a year now and thankfully my feelings have sorted themselves out. We still love and miss Burger every day, but it's easy to fully appreciate how vital this space has become for our family every time we walk out there – the convenient door, the added storage, the extra counterspace, the grill near the kitchen, the closer path to the car, etc. We also find a lot of comfort in how much our dog Penny enjoys the space. It has been great seeing her use it in all of the ways we had hoped Burger would. Especially when they hang out "together" (note the little metal chihuahua we put in the corner in Burger's honor).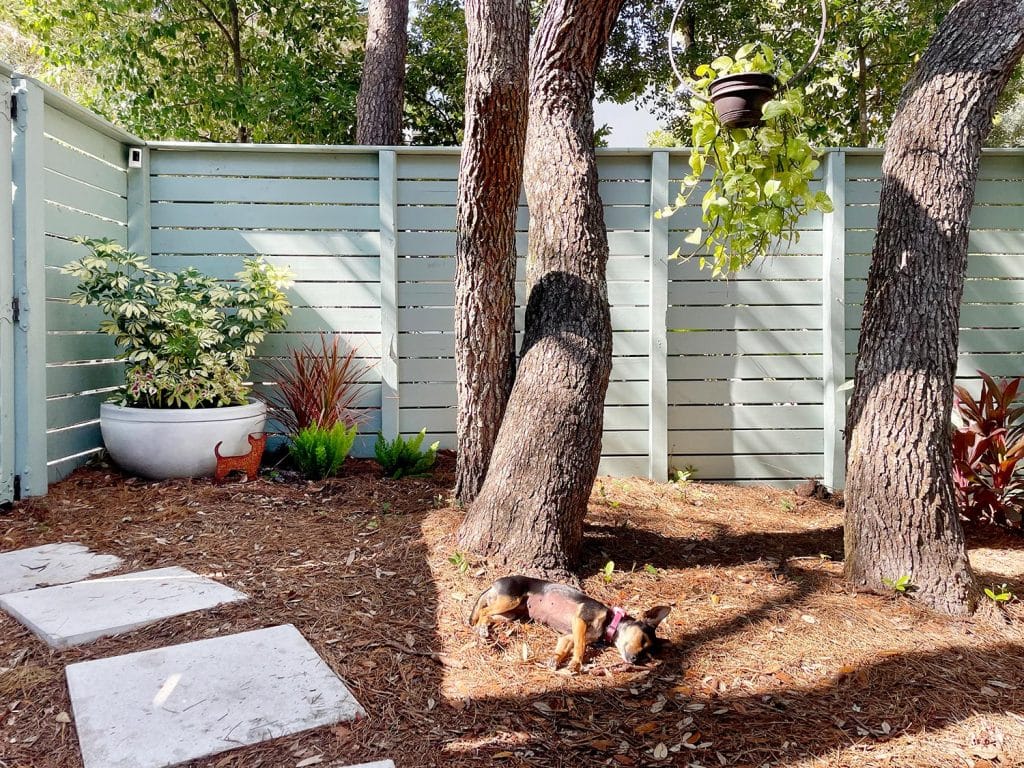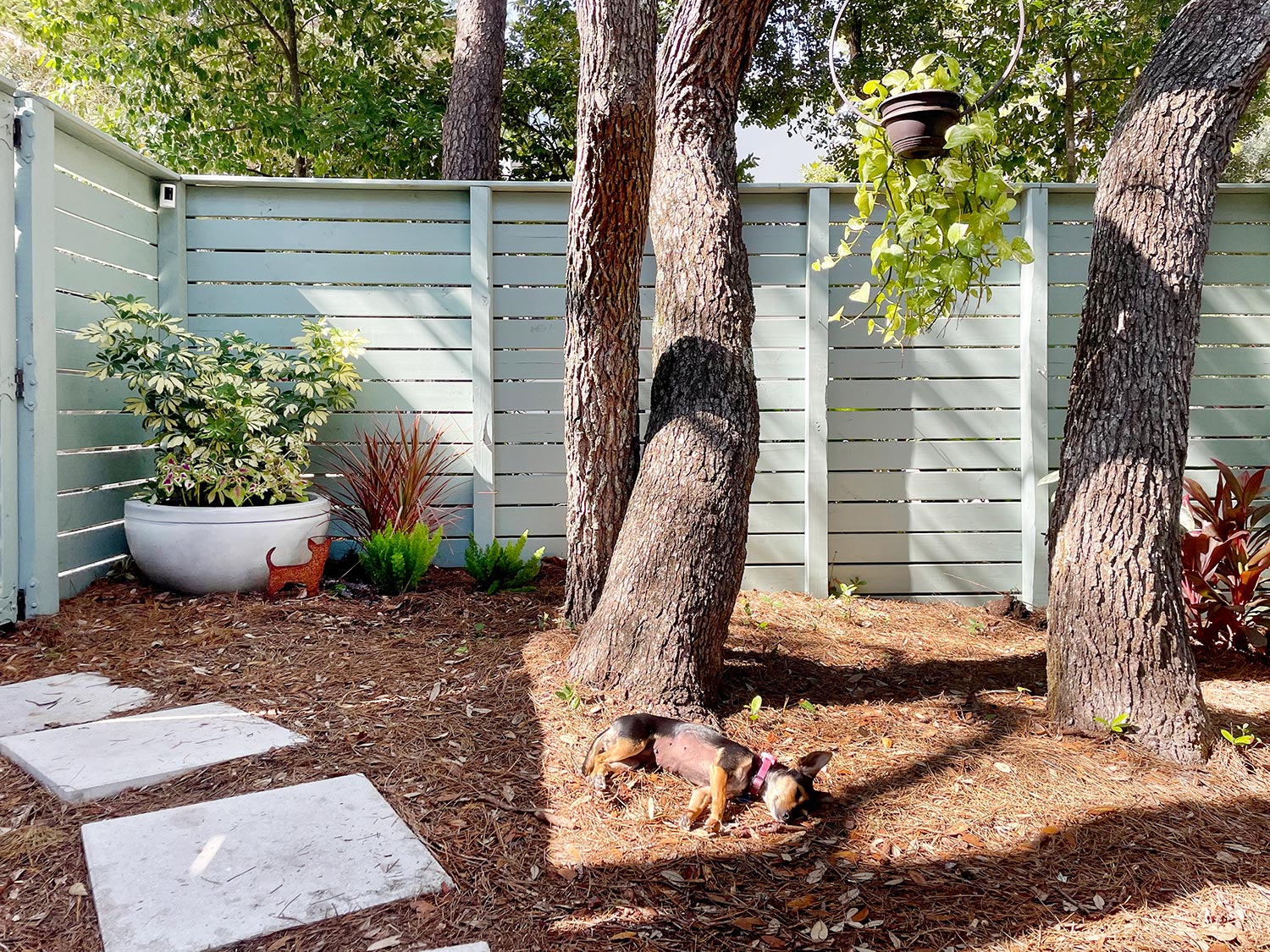 I hope that's not a bummer way to end this post (about a simple porch, no less!) but it feels nice to be able to appreciate how hard this area works for our family, and to reflect on how much we all enjoy it now (even if it took me some time). This whole side of our house was pretty useless when we moved in, so we're proud of how it has come along. Now if you'll excuse me, I have a nap to finish in the hammock.
*This post contains affiliate links, so we may earn a small commission when you make a purchase through links on our site at no additional cost to you.
More posts from Young House Love